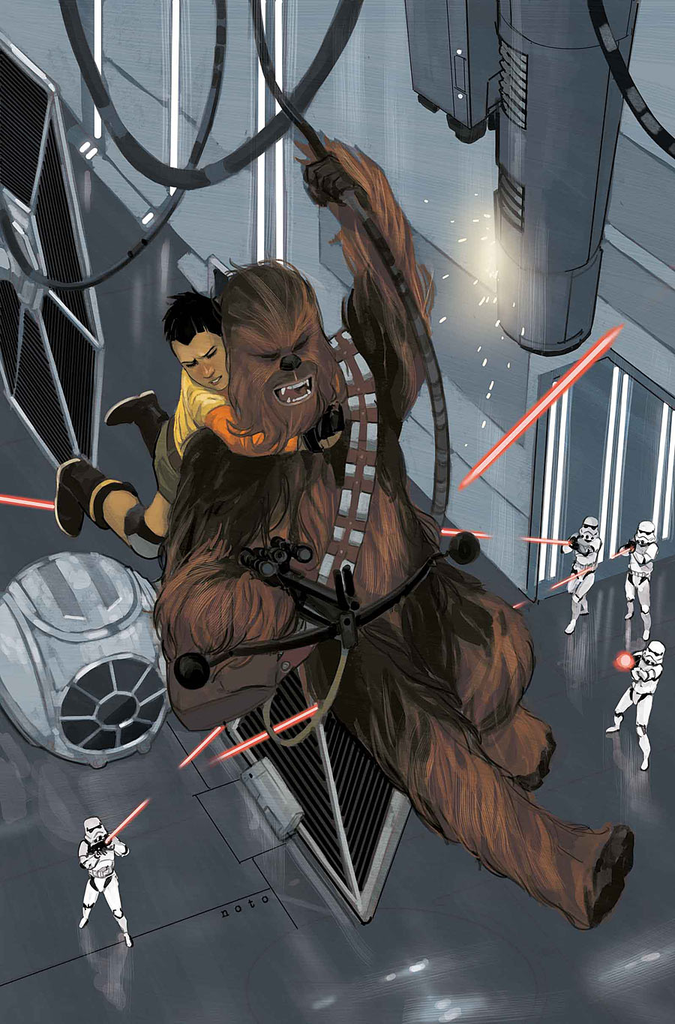 This content contains affiliate links. When you buy through these links, we may earn an affiliate commission.
The world of Star Wars can be a little overwhelming. There's so much media stretching back to the release of the original trilogy (a little before it, actually) that the idea of jumping into the Star Wars print universe—with old canon and new canon and ever-expanding storylines—can be a daunting prospect for any fan. If you're overwhelmed and looking for a good place to start with Star Wars comics, this list is for you!
First, a brief and painless guide to understanding the wacky world of Star Wars canon. Star Wars used to have a complicated canon hierarchy, but we're not going to get into that here. All you need to know now is that Disney bought Lucasfilm in 2014 and a simple, new canon was officially established. Everything published after April 24, 2014 is considered canon. Everything published before isn't. Pretty easy, right?
All that means is that only the books/media published after April 24, 2014 are considered actual Star Wars lore. Which isn't to say that the old EU stuff isn't worth a read! It definitely is. (Check out the Thrawn trilogy if you're looking for a good place to start there.)
All right, now that we've got that covered, let's get on with the comics! Here's a quick and easy guide to get you started on (some) of the Star Wars comics.
Star Wars Canon Comics
First, for the canon comics.
If you want more personal character development of Leia…
Star Wars: Princess Leia by Mark Waid, Terry Dodson, Rachel Dodson, Jordie Bellaire, and Joe Caramagna
Finally, a story addressing Leia's post New Hope grief and how's she processing the loss of her planet. And that's…pretty much the premise of the entire comic. It explains why Leia seems so stoic as she sets out on a (very much unsanctioned) mission to rescue the remaining Alderaanian refugees before the Empire can wipe them out entirely. Also featuring: rebellious and headstrong Leia, aka Leia at her best.
A great, fun comic to start with, and as long as you've seen A New Hope you shouldn't have any trouble following the story.
If you want an original trio adventure…
This is a great comic for anyone who wants a Luke, Leia, and Han adventure with an original trilogy feel. It's set between New Hope and Empire during a rebel mission that goes awry—what else is new?
Bonuses: learn how Vader discovers Luke is his son, great sexual tension between Han and Leia, and peak angsty Luke. This is a really great place to jump in if you're interested in exploring a lot of the Star Wars comics since it follows pretty much everyone.
If you want some great flyboy adventures…
Poe Dameron is the hotshot flyboy of the sequel trilogy, and don't pretend you don't love it. This comic gives a little backstory on the events leading up to The Force Awakens as well as a deeper introduction to Black Squadron, Poe's team of flyboys and flygirls.
As long as you've seen Force Awakens, this comic should be easy to follow and a fun read.
If you want to see the darker side of Star Wars…
Star Wars: Captain Phasma by Kelly Thompson, Marco Checchetto, Andres Mossa, and VC's Clayton Cowles
Phasma is the mysterious new antagonist of the sequel trilogy (like Boba Fett, but with a shinier outfit). And if you feel like the movies don't do her justice, this is the comic for you! This Phasma-centric adventure shows the Stormtrooper captain at her ruthless best as she goes to extreme lengths to prevent anyone from discovering her role in the destruction of Starkiller Base.
This is an especially great comic for anyone who's read Delilah S. Dawson's Phasma, as it makes a few references to Phasma's backstory on Parnassos. No worries if you haven't, though—it's definitely not necessary to understand the story.
If you want more Star Wars antiheroes…
Star Wars: Doctor Aphra by Kieron Gillen, Kev Walker, Marc DeerinG, Salvador Larroca, Antonio Fabela, Edgar Delgado, Joe Caramagna
Imagine if Indiana Jones existed in the Star Wars universe and was also kind of a bad guy—that's pretty much Aphra. Former associate of Darth Vader and dubiously qualified archaeologist, Aphra is just trying to stay under the radar, pay off her debts, and survive in this rough-and-tumble galaxy. Although she has quite a bit of backstory in some of the Vader comics, this is the perfect place to jump into Aphra's story as she sets out on her own adventures.
This one is perfect for you if you like: rogue archaeologists, ancient Jedi mythology, murder bots, and angry Wookies. It also features Triple-Zero, a protocol droid who is basically C-3PO's evil cousin.
If you're a Han Solo fan…
Star Wars: Han Solo by Marjorie M. Liu, Mark Brooks, Olivier Coipel, Dexter Vines, Sonia Oback, Joe Caramagna, Kamome Shirahama, and Matt Milla
This comic captures Han Solo at his stubborn, reckless, good-hearted best. Even when he's insisting he's only in it for the money and mouthing off to Leia, at the end of the day he always comes through. If that's the Han you love (and, come on, who doesn't?) then this is the comic for you.
Not to mention, there's an insane spaceship race as cover for a rebel mission, a healthy dash of Han/Leia banter, and Chewbacca being the galaxy's best co-pilot (and friend).
If you want to see the beginnings of Vaders turn from the Emperor…
Post–New Hope and the destruction of the Death Star, Darth Vader is trying to return to the Emperor's favor while also searching for answers about the young, force-sensitive pilot he recently encountered. Spoiler alert: the Emperor's favor is easy to lose and difficult to regain.
This comic introduces some important characters and storylines, including rogue archeologist Dr. Aphra and the events leading up to Vader learning that Luke is his son. It's definitely a great jumping in point for anyone who is really only familiar with the movies but wants to start getting into a lot of the Star Wars comics—especially since it introduces some important characters and storylines AND has a crossover with the Star Wars series (see below).
If you want to see the rebels facing off against Vader…
Star Wars: Vader Down by Jason Aaron, Kieron Gillen, Mike Deodato, Salvador Larroca, Frank Martin Jr., Edgar Delgado, Joe Caramagna, Chris Eliopoulos, and Mark Brooks
While this comic is a great, contained storyline, it does draw a bit more on past comic events since it's collecting issues from both the Star Wars series and the Darth Vader series. Still, if you don't mind going with the flow a little bit, it tells a pretty fun story about what happens when Vader crashes on a rebel-occupied planet. It also features a bunch of your other favorites: Luke, Leia, Han, Chewie, 3P0, R2D2, as well as Dr. Aphra and her murder bots.
If you're really loving the sequel trilogy…
The story of The Force Awakens in comic book form. This might be a good jumping off point for anyone who is feeling a little nervous about starting in on Star Wars comics or comics in general. The comic follows the plot of the movie very closely, and while the art is lovely you're definitely not going to find yourself wondering who a character is or what's going on since it doesn't really add anything new. A very easy, low-risk place to start.
If you want to know more about the galaxy's scariest looking Sith…
Dive into the psyche of one of the scariest looking (and shortest-lived) villains in the Star Wars universe: Darth Maul.
This one isn't personally my favorite, but if you're looking for some darker prequel trilogy material, this would definitely fit the bill. And as long as you've seen Phantom Menace you'll follow along with the story of Jedi-hating Maul just fine.
If you always wanted more of Lando being a lovable scoundrel (and who doesn't)…
Star Wars: Lando by Charles Soule and Alex Maleev
What happens when Lando Calrissian steals a ship from the Emperor? Well, nothing good. Especially with a bunch of Sith artifacts on board and a bounty hunter after them courtesy of Emperor Palpatine himself. It'll take blasters, teamwork, and some major bluffs to get out of this mess alive. Fortunately nobody knows how to bluff better than Lando Calrissian.
It's full of heart and that classic Lando charm. This is another great one for anyone who wants more original trilogy action.
If your favorite character has been (rudely) referred to as a "walking carpet"…
One of the most fun and purely enjoyable comics on this list! It's a self-contained mini-series about an adventure Chewbacca has post Battle of Yavin. He crash-lands his ship and is enlisted to help free a planet and take on Imperials by a young girl names Zarro. Just a very fun and kid-friendly comic. I highly recommend it for anyone who is a Chewbacca fan or who just wants something that isn't too terribly dark set during the original trilogy time period.
Star Wars Comics, Non-Canon
Now, for some non-canon, old EU (aka Star Wars Legends) stuff.
If you were obsessed with Timothy Zahn's Thrawn trilogy…
Star Wars: The Thrawn Trilogy by Mike Baron, Olivier Vatine, Fred Blanchard, Edvin Biuković, and Terry Dodson
This is a fairly recent old EU comic, but it's based on an even older (and much beloved) Star Wars series set just after Return of the Jedi. You definitely need to be familiar with the original trilogy and prepared for some deep world-building and storytelling before you dive into this comic. It's a long, wild ride, but definitely worth it. Especially if you're interested in learning more about Thrawn, an old EU character who is also a part of the new canon and has a new book by Timothy Zahn (yes the Timothy Zahn who wrote the original Thrawn trilogy) telling the origin story of the inimitable Grand Admiral in Thrawn.
If you want a very military take on the rebellion…
Another recent-ish Dark Horse Star Wars comic. This is another post New Hope comic, though with an alternate take on what the trio is up to after the Battle of Yavin. It's very focused on the rebellion's search for a new base and a secret task force led by Leia to uncover a possible Imperial spy in their ranks. Definitely some different characterizations and a lot of information jam-packed into this volume.
If Empire will always be your favorite Star Wars film…
A true throwback to the early days of Star Wars comics. The original run of this comic lasted from 1977 to 1986 and was recently remastered into this volume. The art definitely has that old school feel, and it's particularly interesting to see some of the inconsistencies and changes since this comic was created before the movie came out. Yoda, in particular, is hilariously small—about the size of a squirrel. And you'll just have to read it to find out what else is different.
And honestly, that barely scratches the surface. There are hundreds—I'm not kidding, hundreds—of different Star Wars series. Yes, series, not even individual Star Wars comics. But this list should provide a good starting point for anyone ready to dive into the comics—the other hundreds of Star Wars comics are up to you to explore!
As you may have noticed, the comic creators on this list are, overall, quite white and quite male. Here at Book Riot we make an effort in our articles to reflect a diverse and inclusive list of authors and creators. Unfortunately, Star Wars and Marvel (and frankly the comic book industry in general) have quite a lot of catching up to do on that front. So here are a few awesome ladies I'd love to see involved in future Star Wars comics:
Nnedi Okorafor. She wrote one of my favorite stories in From a Certain Point of View, and I'd love to see her dive even deeper into the Star Wars universe. We already know she has the sci-fi chops (see: Binti), not to mention her new Black Panther run. Come on, Marvel. We all want to see this happen.
G. Willow Wilson. Ms. Marvel is truly one of the most fun, heartfelt, and relevant comics out there right now. I'd love to see what Wilson would do with a character like Ashoka Tano, Paige Tico, or Rey.
Noelle Stevenson. I'm imagining some kind of fun Lumberjanes-esque Jedi padawan adventures. Yes, please.
Sana Takeda. Marvel already snatched up Marjorie Liu (the phenomenal writer behind Monstress), so now they just need to snatch up the brilliant artist behind that series, as well. I mean, the artwork in Monstress is so intricate and gorgeous—can you even imagine the kind of breathtaking planetscapes she could bring to life for us?
Fiona Staples. Is it blasphemous to mention a sci-fi series as amazing as Saga on a post about Star Wars comics? I don't care. Saga is glorious and I'd love to see the kind of artwork Staples might give us for another beloved sci-fi universe.
Babs Tarr. Between Motor Crush and Batgirl? I'm in.
Not enough Star Wars comics for you? Check out these recommendations of Star Wars books and comics to read? These new Star Wars characters who deserve their own comics. This Star Wars reading list. Comics for Poe Dameron lovers. And this quiz to help you determine which Star Wars book you should read next.
Sound off in the comics and let us know what your favorite Star Wars comics are or who you'd love to see involved in Marvel's Star Wars in the future.