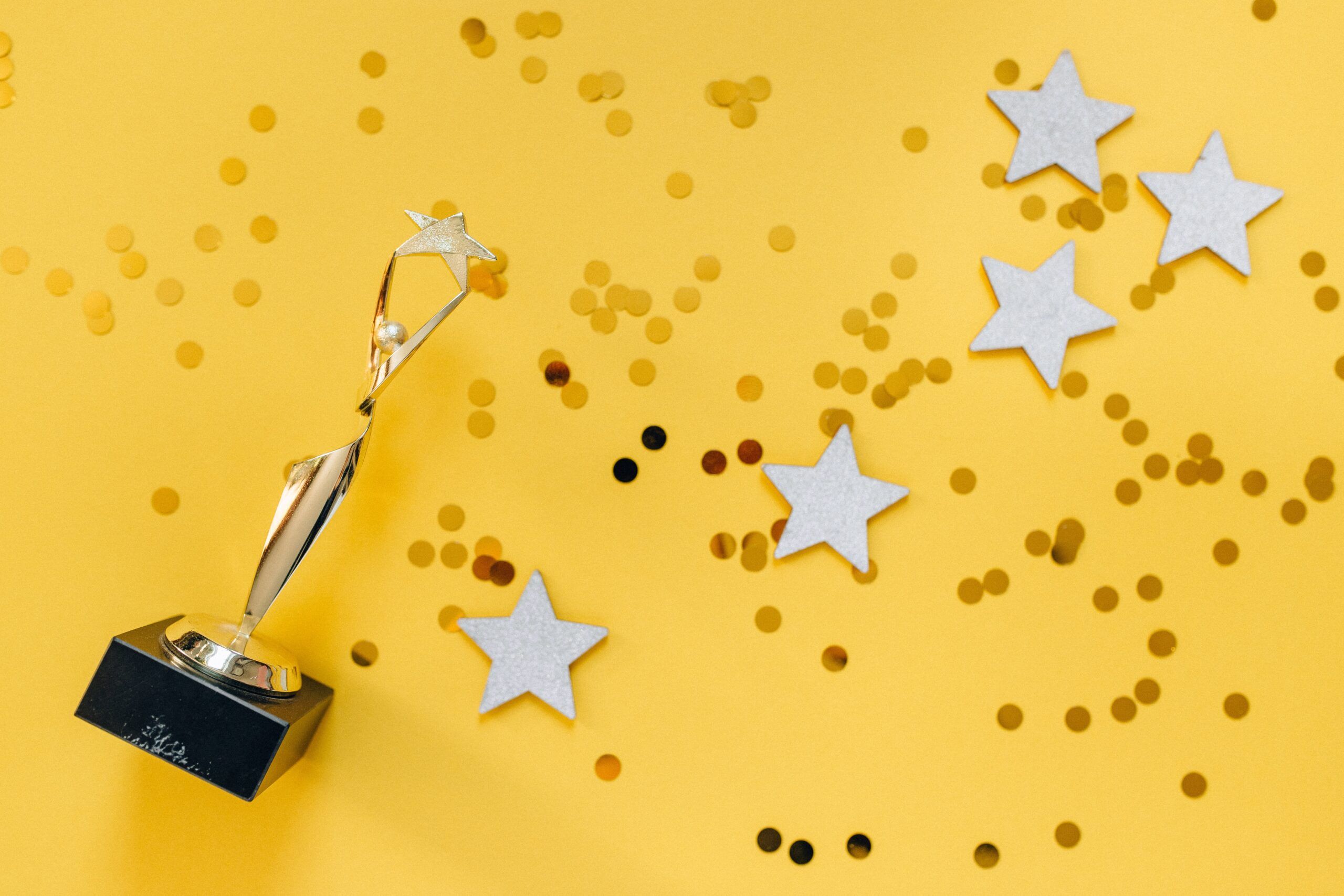 If you're an avid reader, you have probably seen awards logos stamped on the covers of books. Maybe you're even one of those readers who await the long and shortlists of prize nominees, hoping to then buy or borrow the books. But apart from their names and the overall categories and genres they cover, how much do you really know about all these book awards?
I always took them for granted, assuming respectability due to their reputations. But there's more to them than just their longlists and winners, in fact, many of these awards have background stories that fit them squarely into book history. Often, these prize competitions have a long history of awarding excellence — the Pulitzers have been around since 1917, the National Book Award since 1950, and the Booker since 1969.
In this guide to major bookish awards, I tried to give you a short-but-detailed rundown of each. Alongside the basic historical background, I also provided categories, submission process basics, and nominee consideration timelines.
The Pulitzer Prizes
The Pulitzers were established in 1917 thanks to an endowment to Columbia University by newspaper owner Joseph Pulitzer. Pulitzer published The New York World and St. Louis Post-Dispatch, and he wanted the newspapers to be seen as credible sources of information; the Prize's History Page explains that he was the first to dictate that journalists should be trained at a university level.
The awards, given out by Columbia University, are split into four major categories, including Journalism, Books, Music and Drama, Special Citations, and then split into smaller ones such as journalism's Investigative Reporting, Feature Photography, Breaking News Reporting, etc. There are 21 total categories and the Pulitzers prioritize writing by Americans and/or about American-focused topics. Also, to be considered, authors need to enter their own work into the competition.
GENERAL
The Booker Prize
Once upon a time, this was known as The Man Booker Prize, but that was altered in 2019 after Man Group PLC, an investment management firm, passed sponsorship on to the charitable foundation Crankstart. Now it's simply the Booker Prize, and no matter its name, this is one of the big ones. Judges decide on "the best sustained work of fiction written in English and published in the UK and Ireland," and the award guarantees the long-and-shortlist nominees will all see a bump in sales. As anyone working in books can tell you, that is not hyperbole. Past winners include V.S. Naipaul, Hilary Mantel, Ruth Prawer Jhabvala, Iris Murdoch, Ali Smith, Kazuo Ishiguro, and many, many more — after all, this competition has run since 1969.
The International Booker Prize
The Booker Prize is not an only child in this respected bookish award guide; it has a sibling in The International Booker Prize. Begun in 2005 as the Man Booker International Prize, this award has shifted more than just its name. From 2005-2015, it was a bi-annual prize that awarded authors for their acclaimed overall literary output. Since 2015, however, it gets awarded annually and covers only one title — a book that is written in another language and translated into English.
National Book Critics Circle Award
The NBCC began in 1974 at the Algonquin Hotel in New York City. The founding members, John Leonard, Nona Balakian, and Ivan Sandrof, were inspired by the concept of the Algonquin round table and wanted to inspire literary conversations. Now who are these national book critics judging the competition? According to the NBCC, they "serve nearly 800 member critics, authors, literary bloggers, book publishing professionals, student members, and friends. Membership is open to freelance and staff book reviewers, associate nonvoting members, student members, and friends."
Announced each March, the National Book Critics Circle awards celebrate works published in the United States. There are six categories — autobiography, biography, criticism, fiction, nonfiction, and poetry — and multiple achievement awards, such as the Nona Balakian Citation for Excellence in Reviewing, the Ivan Sandrof Lifetime Achievement Award, and the Toni Morrison Achievement Award.
National Book Awards
This award is presented by the National Book Foundation, a group that celebrates American literature while also hoping to create buzz and excitement around the topic of reading. The National Book Awards were founded in 1950 at a literary star-studded gala held at New York City's Waldorf-Astoria Hotel.
So how does one submit a book? Submissions open each March and to be considered for their awards for Fiction, Nonfiction, Poetry, and Young People's Literature, the work "must be written by an American citizen or approved via the petition process. For the Translated Literature Award, neither author nor translator is required to be U.S. citizens." Then, after a summer season of judges reading many a submission, the longlist is announced in September and the winner is chosen in October.
Women's Prize for Fiction
Another one that underwent a name change in the last few years. This was the Orange Prize for Fiction between 1996-2012 and the Baileys Women's Prize for Fiction between 2014 -2017. The Women's Prize Trust provides a number of very necessary support for women in the arts, including through producing development programmes and writing workshops. Judged exclusively by women and created in response to the Booker Prize competition of 1991, a year "when none of the six shortlisted books was by a woman, despite some 60% of novels published that year being by female authors."
The longlist for 2023 was announced in March, the shortlist announced in late April, and the winner will be announced on June 14. The books can be chosen from the works of female authors anywhere in the world as they are allowed to be translated from languages other than English.
PEN America Awards
PEN America is an organization with the mission to "unite writers and their allies to celebrate creative expression and defend the liberties that make it possible." Their membership is made up of over "7,500 novelists, journalists, nonfiction writers, editors, poets, essayists, playwrights, publishers, translators, agents, and other writing professionals, as well as devoted readers and supporters." The organization does some amazing work on intellectual freedom and artistic freedom, so check out their story. They also have created the Online Harassment Field Manual, a very useful tool.
Since 1963, the PEN America Literary Awards have celebrated authors in the fields of translation, fiction, poetry, science writing, essay, sports writing, biography, children's literature, and drama. They have 20 awards, all listed here, including the PEN/Bellwether Prize for Socially Engaged Fiction and the PEN/Diamonstein-Spielvogel Award for the Art of the Essay. Book submissions open in summer, are read in the fall, and nominees and the eventual winners are announced in the winter. Then there is a shindig to celebrate.
GONE but not forgotten
The Costa Book Awards
Formerly known as The Whitbread Book Awards, they ran under that name from 1971-2006. The name came from the Whitbread Breweries, their sponsors, and the judging was through the Booksellers Association of Great Britain and Ireland. Costa, a major coffee chain in the UK, took over in 2006 and the competition was renamed the Costa Book Awards. Five prizes were distributed each year — Best Novel, Best First Novel, Best Biography, Best Book of Poems, and Best Children's Book. Authors who had lived in Great Britain or Ireland for over three years were eligible and the award was one of the highest paying for prizes. Unfortunately, the Costa Book Awards ended for good after the 2021-2022 season.
Genre Writing
The Edgars (Mysteries and Crime)
Presented by the Mystery Writers of America, this prize is named for Edgar Allen Poe and covers mysteries and crime writing. The Mystery Writers of America group was formed in 1945 and the Edgar Awards have existed since that time; since 1946, the Edgar Awards have been announced at a prestigious dinner party in New York City.
To win, the work must be submitted by the publisher or producer and the author of the work must have an active membership at the time. This is one of the bigger awards, with categories including Best Novel, Best Fact Crime, Best Short Story, Best Original/Ebook category, Best Juvenile Mystery, Best Young Adult Mystery, Best Television Series Episode Teleplay, as well as some awards in partnership with specific authors.
The Hugo Award (Science Fiction)
According to The Hugo's biographical page, they are the most prestigious science fiction award. Unlike many of the other awards listed, this isn't made up purely of authors or critics. Any interested reader can sign up to attend WorldCon and be granted the right to vote. Nominees are selected by members of the World Science Fiction Convention, and the award was first presented in 1953. Anyone can be nominated, and works in other languages will be considered as long as their English translation is within the first year of publication.
Nominees are chosen between January and March and then the shortlist is announced in April. The winners are announced at WorldCon in July. The categories include Best Novel, Best Novella, Best Novelette, Best Short Story, Best Series, Best Graphic Story or Comic, Best Related Work, Best Dramatic Presentation, and more.
Bram Stoker Awards (Horror)
This prize is bestowed annually upon the spookiest books recognized by the Horror Writers Association, a group of writers of horror and dark fantasy. Since the award's founding in 1987, these authors have recognized books in categories like Super Achievement in a Novel, Graphic Novel, Young Adult, Long and Short Fiction, Anthologies, and many others. Plus, their trophy is the best aesthetically, moulded in the shape of a fantastically detailed haunted house complete with gargoyles.
Eisner Awards (Comics)
The Will Eisner Comic Industry Awards are the most respected awards of the comic book industry; since 1985, the awards have taken place at Comic-Con International: San Diego. During the earlier years, this was during conference programs, but in the 1990s it became its own big Friday night celebration — originally with a banquet but eventually becoming more of a gala. Each year, judges choose some creators to be automatically entered into their hall of fame. Another four creators are selected out of an additional 16 nominees. After all that, winners are added to the Will Eisner Comic Awards Hall of Fame. Enthusiastic comic fans can register to become voters and take part in the competition.
INDIES
Best Indie Book Award
This competition is fully centred around works from small presses, ebook publishers, and self-published authors. While nominated books can be from anywhere in the world, the actual submitted work does need to have been written in English. There is a long list of categories to submit to, including but definitely not limited to Action/Adventure, Fantasy/Paranormal/Supernatural, Historical Fiction, Humor/Satire, LGBTQ2, Mainstream/Non-Genre/Literary Fiction, Nonfiction-Cooking, and many others that you can see here.
The International Rubery Book Prize
The Rubery Book Prize is an international book award organization that aims to provide indie authors with their own Booker-Prize-esque award. They accept book and ebook submissions across all genres and topics and with no specific publication time restriction. Authors are asked to let the judges know which category they would like to compete in, then the book is judged within its category. In the final round, the Book of the Year is chosen from across all the category winners. That final decision is usually announced in July. Learn more about the prize at their site.
I hope that this mix of book award competitions gives you some reading ideas for your next visit to your local library or bookshop. Hopefully, reading about them connects you more in-depth with book history and helps in finding new beloved authors.