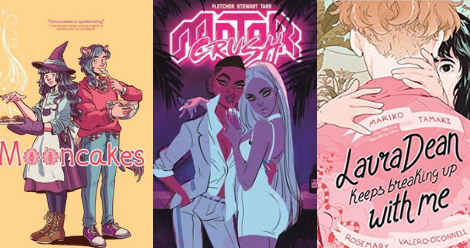 This content contains affiliate links. When you buy through these links, we may earn an affiliate commission.
Whether you're looking for a girl falling in love with a mermaid, an illustrated guide to queer and trans identities, or an action-packed adventure, these 2019 LGBTQ comics and graphic novels have got you covered.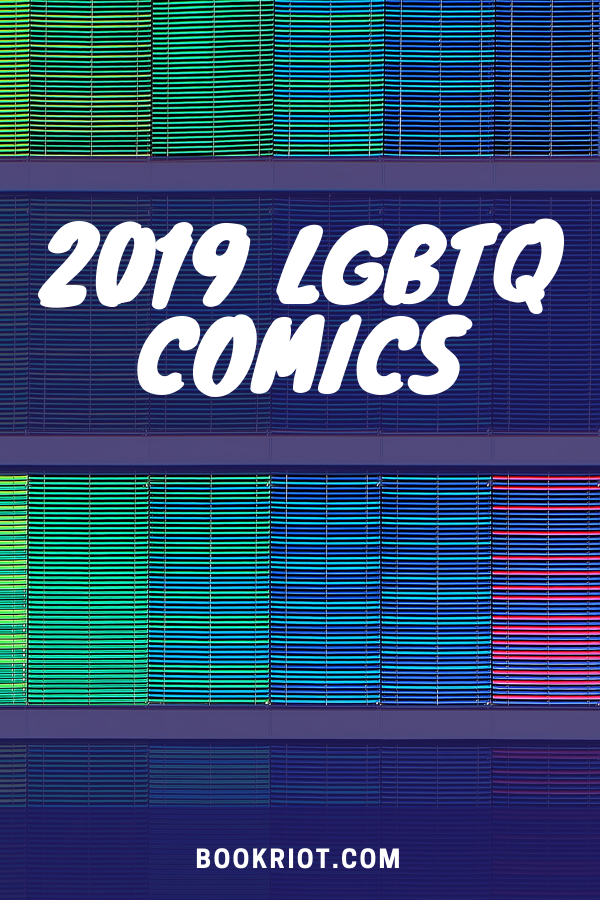 Bloom by Kevin Panetta and Savanna Ganucheau (February 12, 2019, from First Second)
Ari is ready to quit his job at the family bakery and move on with his band to try and make it in the big city. But first he has to help find his replacement. Enter Hector. Hector loves baking as much as Ari loves music and seems like the perfect replacement. Love begins to bloom over kneading bread and it seems like everything might just be perfect after all—that is, if Ari doesn't ruin everything first.
The sequel to My Lesbian Experience with Loneliness in which Nagata Kabi learns that living alone is harder than she ever expected. Making friends and building relationships is a challenge too, but she's doing her best to grow and become a warmer, more compassionate person.
Moonstruck vol. 2 by Grace Ellis, Shae Beagle, and Kat Fajardo (February 26, 2019, from Image Comics)
If you're into adorable magical creatures, girls who love girls, enby characters, and supernatural hijinx, then Moonstruck is the comic for you! Werewolf barista Julie and her friends gets caught up in some trouble when a fraternity of fairies throws a party with some more sinister plans in mind. The first volume of Moonstruck was so cute, and I'm sure the second volume will be full of more of the same.
Meg, Jo, Beth, and Amy: A Graphic Novel: A Modern Retelling of Little Women by Rey Terciero and Bre Indigo (February 5, 2019, from Little, Brown Books for Young Readers)
A modern take on Little Women featuring a blended family living in NYC. From the little things—struggling with homework and discovering new crushes—to the big—battling leukemia—these sisters are there for each other through it all.
Kiss Number 8 by Colleen AF Venable and Ellen T. Crenshaw (March 12, 2019, from First Second Books)
Amanda just doesn't understand the appeal of kissing. All seven of her kisses have been horrible in their own way. But none of that prepares her for the monstrosity that follows kiss number eight. Colleen AF Venable and Ellen T. Crenshaw explore sexuality, faith, and family in this new coming of age tale full of heart and humor.
Cartoonists Mady G and J.R. Zuckerberg provide a quick and easy guide to understanding queer and trans identities in this graphic novel. It covers important basics of the LGBTQ world like sexuality, gender identity, coming out, and navigating relationships. It's great for those on their own journey or just trying to gain a better understanding of queer and trans identities in general.
Laura Dean Keeps Breaking Up With Me by Mariko Tamaki and Rosemary Valero O'Connell (May 7, 2019, from First Second Books)
A new graphic novel from the author of This One Summer. Laura Dean is not the best girlfriend, even if she is the girl of Frederica's dreams. But Freddy's life is about to get even more complicated with a girlfriend who perpetually breaks up with her, a cryptic warning from a medium, and a whole lot of self-discovery.
The Legend of Korra: Ruins of the Empire Part One by Michael Dante DiMartino, Bryan Konietzko, Michelle Wong, and Vivian Ng (May 21, 2019, from Dark Horse Books)
On the eve of an important election, the Earth Kingdom finds itself haunted by wars of the past. While Kuvira stands trial for her crimes, her imperial ambitions threaten the kingdom's hopes for democracy. Even more troubling, Team Avatar isn't seeing eye to eye on how to handle the situation, and drastic measures will have to be taken to prevent a new war from toppling the Earth Kingdom.
As a fan of the original show, I really enjoyed The Legend of Korra: Turf Wars series and can't wait to see where this new storyline takes us.
This new gothic horror comic full of mystery and eroticism from Emily Carroll is sure to make your skin crawl. Because the horrors that hide in the Countess's castle and the mysteries underneath its turrets have eluded all those who've sought to snuff out its dangers before her…and now she's arrived. But how could she ever prepare herself for what she finds inside?
Motor Crush Vol. 3 by Brenden Fletcher, Babs Tarr, Cameron Stewart, and Rob Haynes (July 23, 2019, from Image Comics)
Domino's mysterious past and dangerous present continue to collide in the third volume of this amazing sci-fi comic. Between her tumultuous relationship with past girlfriend Lola, dangerous street races, and growing, unwanted attention from the Producers who run Nova Honda, Domino's life and her quest to understand her origins aren't likely to get easier anytime soon.
The Avant-Guards Vol. 1 by Carly Usdin and Noah Hayes (September 3, 2019, from BOOM! Box)
Carly Usdin, the writer behind the adorable Heavy Vinyl, is back with a new comic. As a transfer student to Georgia O'Keeffe College of Arts and Subtle Dramatics, Charlie struggles to find her place among her artist classmates who seem to know what they're doing and where they're going in life. But then she finds herself exactly where she needs to be…on the school's terrible basketball team.
Mooncakes by Suzanne Walker and Wendy Xu (October 2, 2019, from Lion Forge/Roar)
Originally started as an adorable webcomic and described as a "queer Chinese-American paranormal romance" (I mean come on—what's not to like??), Mooncakes is getting its graphic novel debut later this year. It follows long-lost childhood crushes, Nova and Tam, who just so happen to be a witch and a werewolf. The webcomic was too cute for words, and I can't wait to read the rest of this story!
The Midwinter Witch by by Molly Ostertag (November 5, 2019, from Graphix)
The thrilling conclusion to Molly Ostertag's The Witch Boy series. When dark forces invade the Midwinter Festival, will Aster, Ariel, and the rest of the witches be able to stand strong against their powerful magic? Or will the long awaited reunion of the Vanissen family be torn apart?
Fabiola and Ylini by Juliet Kahn and Amanda Scurti (2019 from Oni Press)
When nerdy Fabiola meets an actual, honest-to-God mermaid named Ylini, her life gets turned upside down. An instant crush turns into something more, but their interspecies relationship will have to withstand adolescence drama, traditional families, and some last minute cosplays if it's going to make it.
I'm sure I've missed a few great queer comics coming out in 2019, so let us know in the comments which ones you're excited to read this year!
You might also want to check out: 25 of the best queer comics, queer webcomics you can read now, lgbtq comics for kids, and our most anticipated LGBTQ books of 2019.
Ed.'s Note: Removed incorrect attribution of SuperMutant Magic Academy by Jillian Tamaki to Mariko Tamaki.