This content contains affiliate links. When you buy through these links, we may earn an affiliate commission.
What better time to celebrate kid-friendly LGBTQ comics than Pride Month? Whether you're 10, 20, or pushing 100, you won't be able to resist falling in love with these adorable comics and graphic novels.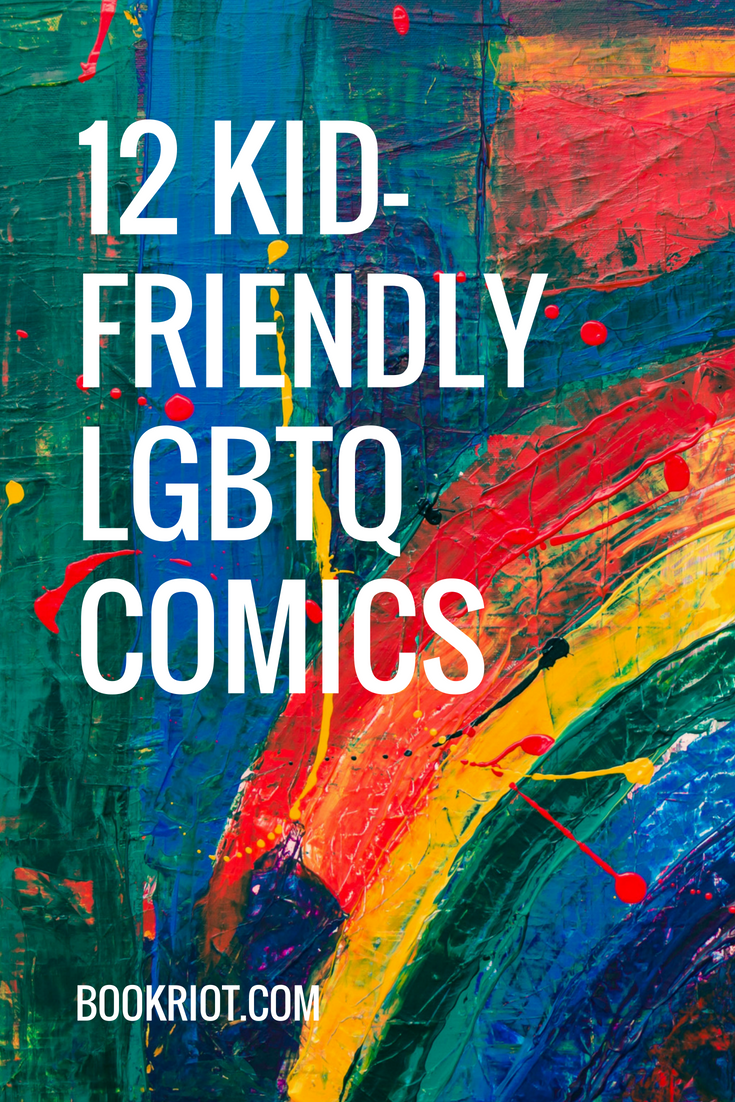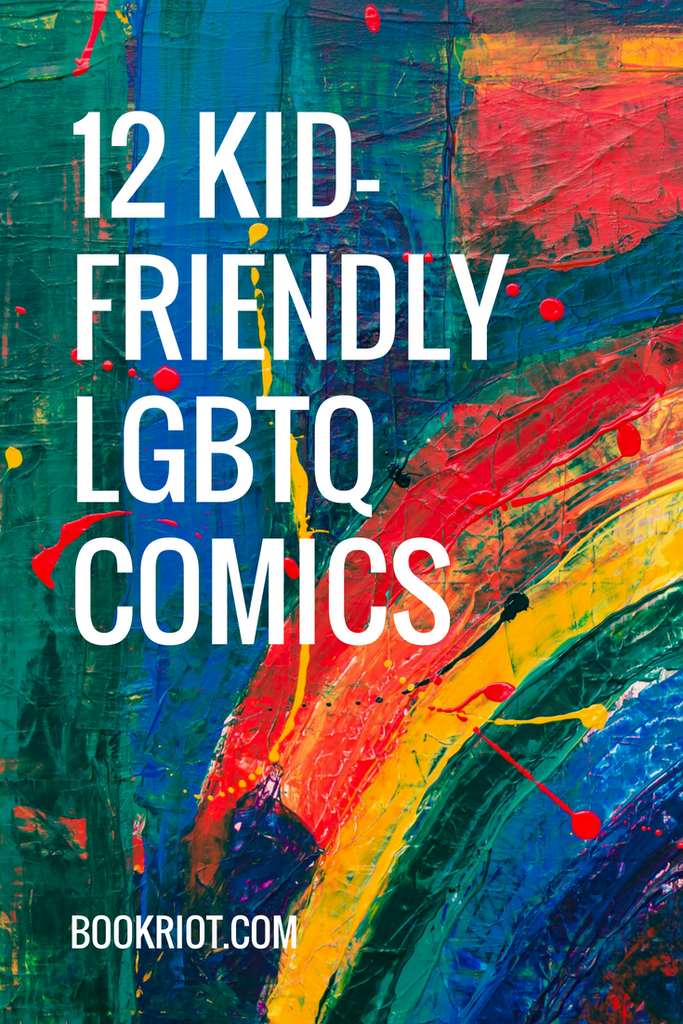 Have you ever wanted an adorable, miniature pet dragon? How about an adorable, miniature pet dragon that grows tea leaves? Well in the world of the Tea Dragon Society, you can! When Greta rescues a lost tea dragon in the market, she meets Hesekiel and Erik who teach her about the dying art of tea dragon care. She discovers a passion she never quite felt for blacksmithing and makes some incredible new friends– including with Hesekiel and Erik's shy ward, Minette.
Heavy Vinyl by Carly usdin and Nina Vakueva (wlw)
Fight Club meets the Babysitter's Club in this adorable comic about Chris who's just started her dream job working at Vinyl Mayhem. She's prepared to deal with endless unruly customers and musicians since it means she gets to work alongside her crush, Maggie. But when the lead singer of a visiting band mysteriously vanishes, Chris learns the shop is actually a front for a teen vigilante fight club. And that, she's definitely less prepared for.
Moonstruck by Grace Ellis and Shae Beagle (wlw and nonbinary)
Magical coffee shops, werewolf girlfriends, nonbinary centaurs, oh my! Julie and Selena are planning their second date, but things don't go quite to plan when Julie drags along her best friend Chet with them to a magic show that turns out to be a little more real–and sinister–than expected. Now, the gang–including Cassandra a girl with the ability to see the future–are on a mission to trick an annoying ghost, take down an evil magician, and return Chet to his natural, centaur form.
Prince Sebastian is looking for a seamstress, but when he hires Frances, he gets more than that; he also gets a friend. Because Frances not only agrees to keep the prince's secret–the fact that some days he'd prefer to wear dresses–but begins designing fabulous dresses for him that make him the talk of the town! But all the secrets they're keeping begin to put a strain on their relationship, and Frances and Sebastian both how to figure out how to be true to themselves– even in the face of disapproval and disappointment.
An exceedingly adorable graphic novel that I guarantee you won't be able to put down from start to finish!
Kim Reaper by Sarah Graley (WLW)
Art history major Becka has a major crush on Kim, the goth girl in her class. But when Becka accidentally follows Kim through a strange portal she learns that her crush isn't just goth, she's a part-time grim reaper. Add in a botched cat reaping, an energy drink guzzling crazy cat guy with a grudge, an accidental ghoul possession, a zombie horde, and Kim's boses, a bunch of interfering grim reapers who kind of have it out for her, and this whole crush thing might be just a little too much for Becka to handle.
Lumberjanes by Noelle Stevenson, Grace Ellis, Faith Hicks, Shannon Watters, Kat Leyh, Brooke A. Allen, Carolyn Nowak, Carey Pietsch (wlw and transgender)
It's summer camp like never before! At Miss Qiunzella Thiskwin Penniquiqul Thistle Crumpet's Camp for Hardcore Lady Types, it's all about friendship to the max! The girls from Roanoke Cabin find adventure and a lot of suspiciously magical creatures while working to earn their merit patches. Trouble lurks around every corner, but at least they have each other!
Bingo Love by Tee Franklin, Jenn St-Onge, Joy San, and Cardinal Rae (WLW)
Hazel and Mari first met as middle schoolers during bingo night. Their friendship quickly turned into a crush and that crush turned into a kiss that had both their families forcing them into unwanted marriages. Almost half a century later, after marriages and children, the two women find each other again during a game of bingo.
Fair warning: this one may be better suited for slighter older kids since it deals fairly heavily with homophobia and biphobia and also makes some non-explicit sexual references.
Joyride by Jackson Lanzing, Collin Kelly, and Marcus To (wlw)
Uma and her best friend (along with several mostly unintentional stowaways) steal a spaceship to get away from the awfulness of Earth and the World Government Alliance. But the galaxy is a weird, weird place and it's only getting weirder with Uma out loose in it. This impromptu crew isn't exactly prepared for life outside of our solar system, but it's too late to go back now, what with the entire World Government Alliance after them. Really, at this point, they're all just along for the ride.
Sylvania by Kristin Kemper
Three sisters with tree magic set out on a journey of self-discovery, as they learn more about themselves, their magic, and each other. From falling in love to going on space adventures, this comic is full of lovely artwork and a lot of heart. You can also read Sylvania as an ongoing webcomic.
Goldie Vance by Hope Larson and Brittney Williams (wlw)
What would you get if you mixed Nancy Drew, Veronica Mars, and Eloise at the Plaza? I don't know, but I imagine it'd be pretty close to Goldie Vance. Goldie is a part-time hotel employee and a full-time amateur mystery-solver. Between work and helping Detective Walter Tooey solve cases, Goldie still finds the time to meddle in her best friend's love life–and maybe even find a bit of love for herself.
The classic princess in a tower fairy tale, only this time it's another princess who comes along to do the rescuing. What follows is an adorable adventure about finding happiness and doing what's right.
This is another incredibly sweet queer comic from Katie O'Neill.
Nimona by Noelle Stevenson (MLM)
No list of kid-friendly LGBTQ comics would be complete without the gloriously fun graphic novel by Noelle Stevenson. This story about Ballister Blackheart, an "evil" scientist, and his shapeshifting sidekick Nimona is fanciful and heartfelt and an all-around good time. Just try not to fall in love with these wonderful characters and the sci-fi medieval fantasy world they live in, I dare you!
Want even more kid-friendly comics featuring queer characters? Check out these 9 queer comics for kids, 7 all-ages LGBTQ graphic novels, and these queer heroes in all-ages comics.