LGBTQ
10 2019 Bisexual YA Books to Put on Your TBR Right Now
This content contains affiliate links. When you buy through these links, we may earn an affiliate commission.
These are certainly not all of the 2019 bisexual YA books coming out, but they're the ones I'm most excited about. Have I mentioned that this list features books with girl, boy, and nonbinary bisexual and pansexual characters? Get ready to add all of these to your TBR.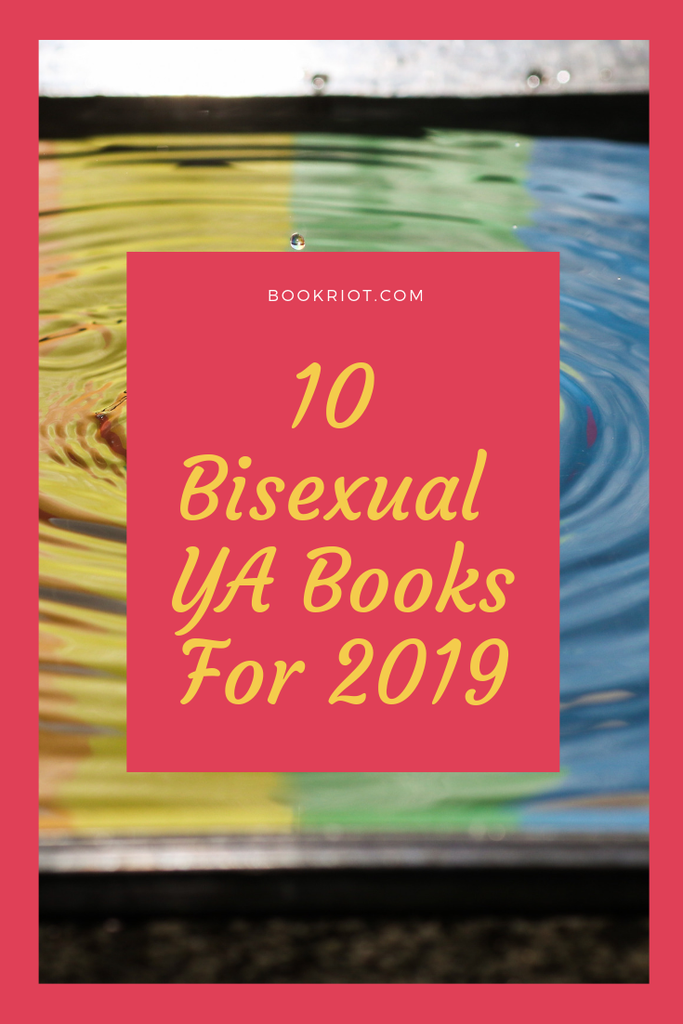 Song of the Dead by Sarah Glenn Marsh (January 22)
Song of the Dead is actually the second book in the acclaimed fantasy series which started with Reign of the Fallen. The heroine, Odessa, has to grapple with the blurry line between the living and the dead. Now that she's left her home kingdom of Karthia, she's going to be able explore the lands beyond it for the first time—by land and sea. This book is #ownvoices bi representation and also has a unique twist on necromancy!
The Last 8 by Laura Pohl (March 1)
Wish your YA post-apocalyptic thrillers had more queer characters of color? Here you go: The Last 8 is about Clover, a Latina bisexual aromantic pilot who is one of the eight teens who are the sole survivors of a sudden alien attack. When she teams up with the other survivors, though, she's weirded out how none of them is ready to fight back like her. The discovery of a hidden spaceship leads her to suspect everyone and distrust everything she's heard.
Bisexual Jewish main character Ariel's life is dedicated to being the valedictorian, the perfect college applicant, and a future Harvard graduate. When a failed calculus test is only the beginning of a dangerously slipping grade, he resorts to getting a tutor, Amir. Amir is definitely crush-worthy. But the last thing Ariel has time for is a relationship.
Every bisexual person knows that the idea that you can't be "just friends" with someone because of their gender is crap. This YA novel about 17-year-old Vetty tackles just that. Vetty is pumped about moving back to her hometown of London; she's especially excited about reconnecting with her childhood boy best friend, Pez. But she's got two things on her mind. First: she's not out about her bisexuality. Second: everyone says their relationship can never be the same because friendship between guys and girls is doomed.
Belly Up by Eva Darrows (April 30)
Hey, are you looking for bisexual, biracial, fat, and ace representation in your teen pregnancy fiction? Look no further. Belly Up centers on 16-year-old Serendipity, who got drunk and accidentally pregnant at the party the night before moving to a new town. What's worse than being the new girl? The new girl who's pregnant.
The real story about what happened between Nate and Cam is way more complicated than anyone thinks. Nate used to be the perfect son, until Cam came into his life and encouraged him to loosen up and break the rules. They got close fast and their relationship turned into something neither of them expected—like Nate nursing a stab wound and Cam sitting in prison. Explicit, thoughtful representation of a bisexual boy!
Fit is a 17-year-old bisexual teen who is (internet) famous for her eccentric videos. Her schtick is that she's always wearing some kind of elaborate accessory made of tinfoil. What she really wants to be famous famous. When her mom comes back into her life, it looks like a reconciliation on screen with her might be the way to fame. But Fit doesn't want anything to do with her, because she tried to kill 3-year-old Fit when experiencing postpartum psychosis.
Listen up: this 2019 bisexual YA book has a nonbinary bisexual main character and a bisexual guy love interest!! When Ben comes out to their parents as nonbinary, their parents kick them out. Living with their estranged sister, dealing with anxiety, and trying to keep a low profile are a lot to deal with. But when the charismatic and friendly Nathan decides to take Ben under his wing, it's impossible to fly under the radar anymore.
Kalyn and Gus are probably the last two teens you'd expect to become friends. Their families are enemies, after all. To be specific: Kalyn's dad is in jail for the crime of murdering Gus's dad. But this defiant lesbian and mild mannered pansexual guy somehow strike up a friendship. And then they begin to look for the truth of what is at the root of their families' long-standing feud.
Excuse me, this book is set in a queernormative San Francisco post-punk fairy tale world!! Xochi, the main character, is a 17-year-old bisexual Latinx governess. Her charge is Pallas, a tween genius. Xochi is trying balance her job with grieving her grandmother and crushing on Pallas's dad. Her past and present come together in unexpected ways when she and Pallas accidentally conjure "the Waterbabies" while doing a riot grrrl ritual.
While you're waiting for these 2019 bisexual YA books to be released, read these 10 Must-Read 2018 Bisexual YA Books. You probably also want to check out 100 Must-Read Bisexual Books and 100 Must-Read LGBTQIA YA Books. Want YA with bisexual boy characters in particular? Have a look at 13 Awesome YA Books with Bisexual Boys.