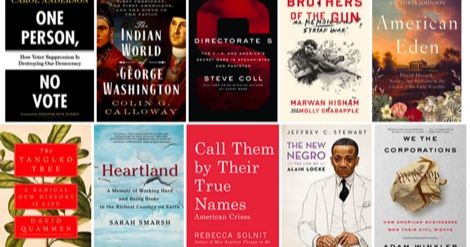 News
The 2018 National Book Award Longlist for Nonfiction
This content contains affiliate links. When you buy through these links, we may earn an affiliate commission.
The National Book Foundation has released the 2018 National Book Award longlist for Nonfiction. This year, politics is on everyone's mind. The longlist definitely reflects that, with contenders from social justice memoirs to vital American histories. This list represents what everyone is talking about, and it offers a few more points to add to the conversation.
The 2018 National Book Award Longlist for Nonfiction
Voter suppression is a big issue in America's democratic system, but many don't know about the problem. Anderson takes that ignorance to task in this very readable history of voting rights and disenfranchisement in the United States.
Biographies of the founding fathers often gloss over their interactions with Native Americans. In this book, Calloway gives us the real story: the Iroquois called Washington "Town Destroyer."
The war in Afghanistan seems neverending. Directorate S gives readers a look inside the covert operations that formed this victoryless war.
In this memoir about coming of age during the Syrian war, Hisham tells the story of revolution, bloodshed, and siege. Crabapple's ink drawings illustrate the story.
I don't know about you, but I still have Hamilton fever. This biography will take you one step further. It follows David Hosack, Hamilton's personal physician, whose goal was to create the new nation's first botanical garden.
The world takes on a new shape—and new wonder—when you look at it from the molecular level. Since the dawn of molecular biology to the innovations that brought us CRISPR, science has advanced in great leaps. Quammen follows not just those leaps, but also the real people who made them possible.
Smarsh lived a difficult life growing up poor in middle America. With it, poverty brings added stigma that sometimes makes it difficult for even the most ambitious to rise above their circumstances. In this memoir, Smarsh does so and comments on the American dream along the way.
Solnit is queen of the political essay. In Call Them by Their True Names, she really shows her stuff. This book collects her writings from during the 2016 presidential campaign and beyond, detailing the crisis of heart that is gripping America.
Alain Locke is a great you may not have heard of, but you have heard of his protégés: Langston Hughes, Zora Neale Hurston, and Jacob Lawrence. This biography illuminates the life of the father of the Harlem Renaissance.
Companies are people, don't you know? At least in America they are. You may remember some Supreme Court cases about this head-scratcher, but, as you'll find out in We the Corporations, the notion didn't start there.
After learning about these books, I feel smarter already. The National Book Association will announce its finalists from this list on October 10, and the National Book Award for Nonfiction will be announced on November 14. In the meantime, tell us what you think: which is your bet for the National Book Award for Nonfiction?
And here are more longlists released for the 2018 National Book Awards: Young People's Literature Longlist, Translated Literature Longlist, and Poetry Longlist.