Fiction
The 2018 National Book Award Longlist for Fiction
This content contains affiliate links. When you buy through these links, we may earn an affiliate commission.
The National Book Foundation just released its picks for the National Book Award for Fiction longlist. There are so many great books on this list that it's certainly going to be a tough match. As with the nonfiction and poetry longlists, social justice is a major theme. But as always, important subjects are nothing without phenomenal storytelling.
The 2018 National Book Award for Fiction Longlist
A Lucky Man by Jamel Brinkley
In these nine stories, the deepest connection is between fathers and sons confronting the past. With characters that are both tough and tender, Brinkley describes a world shaped by painful histories where people are just trying to go on living.

Gun Love by Jennifer Clement
Pearl France lives a hard-luck life of scrounging in Florida, but her life takes a turn when "Guns for God" brings Eli Redmond to town. In this story about violence and family, Clement takes on America's fateful love affair with guns.
Florida by Lauren Groff
The state of Florida isn't the place you think it is. In this multifaceted short story collection, Groff captures all of the state's strange beauty. From the North Florida suburbs to grungy beach towns, this collection will make you fall in love with the real Florida.
The Boatbuilder by Daniel Gumbiner
Berg Koenigsberg finds himself in dire straights after a head injury leads to a reliance on opiate painkillers. In this story of resilience, friendship and community may be just the thing to save Berg.
Where the Dead Sit Talking by Brandon Hobson
When his mother goes to jail, Sequoyah, a Cherokee teenager, ends up in foster care. There, he meets Rosemary, another Native American teenager. They bond over their dark pasts.
An American Marriage by Tayari Jones
Has anyone not read this book? Jones's story of protagonist Roy's wrongful imprisonment will have you rethinking the fairness of the American justice system. Add to that a complicated love story, and there's no surprise Oprah picked it for her book club: it's that good.
The Great Believers by Rebecca Makkai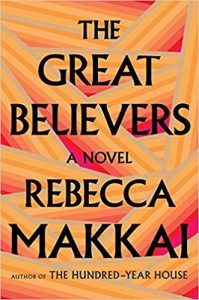 Present-day Paris and 1980s Chicago are superimposed in this story of love, loss, and friendship that tackles the AIDs epidemic. Add to that a mysterious cult, and you have the recipe for a powerful narrative.
The Friend by Sigrid Nunez
What more could you want than a book about the bond between a woman and her dog? The fact that it's a traumatized Great Dane, and this is a story of grief and magical thinking only makes it better.
There There by Tommy Orange
In this multigenerational story about violence and recovery, Orange illuminates the plight of urban Native Americans in the U.S. This novel is complex and interwoven with tragedy, a truly meaningful read.
Heads of the Colored People by Nafissa Thompson-Spires
In this collection of darkly funny short stories, Tompson-Spires class, race, and identity in America. Her voice is satirical, bold, and poignant, a counterpoint to the grief of our times.
With all of these fantastic books, I'd hate to be the one who had to choose between them. The National Book Association will struggle through somehow and announce its finalists from this list on October 10, The National Book Award for Fiction will be announced on November 14. In the meantime, tell us what you think: who will you put your money on to win the National Book Award for Fiction?
Read the other longlists released for the 2018 National Book Awards: Young People's Literature Longlist, Translated Literature Longlist, Nonfiction Longlist, and Poetry Longlist.