Interviews
A Bookseller Becomes a Town's Apothecary
Tiffany Phillips, owner and founder of Wild Geese Bookshop in Southern Indiana, can attest to the medicinal elements of books. Her shop is celebrating its second birthday this summer and it has become the intellectual apothecary to the town of Franklin, Indiana. Wild Geese feels exceptional in a clinical sense. Not cold. Entering the store feels like you've just received good news you weren't expecting. This is all the work of Phillips, who took a risk opening such a progressive bookshop in a region synonymous with the Pence family.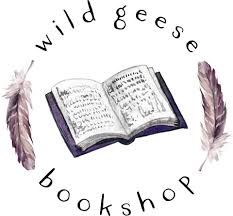 Franklin's middle class has steadily risen over the last fifteen years, and so came the usual creature comforts of gentrification. The downtown was lacking a bookstore despite its juicers, cyclist shops, craft brewpubs, high end athletic boutiques, and hipster coffeehouses. The closest retailer was a twenty-minute drive to a Barnes and Noble. Franklin College, a small private arts university, occupies a corner of the town, but its bookshop offers only a small selection of non-academic works. The town was starved for a retailer and this was not lost of Phillips.
The process of opening was therapeutic for her. "I was restless, in a new town, in my home office all day or with the kids. I wanted my own space." That anxiety pushed her to look for her own private offices until she realized the potential for a space in Franklin. Yet it was her adolescent daughter, she insists, that pushed for her to open Wild Geese.
"I couldn't
not
do it while my daughter was watching. I wanted her to see me, a woman in this time, start a business. It was so important to me that she saw that."
I admit to laughing out loud when she described the process of opening a business as "restorative." However, the guaranteed horrors of leases, loans, and stock purchasing were a non-issue for Phillips, who works as a lawyer by day. The shop centered her life and purged her doubts. "I want to feel like an embrace," she said about how it should feel when you first enter the small store.
Phillips's attitude explains her stock as well. She mixes interfaith works, Malcolm Gladwell–esque nonfiction, Social Justice anthologies, and self help books on her shelves ("we're so quick to put things into genres"). She believes the compulsion to help one another is not exclusive to one particular sub-genre and is aware that even in this egalitarian shelf-mixing, some of the works grate against each other; Audre Lorde's Sister Outsider was only a few titles away from Jordan Peterson's 12 Rules For Life.
"I want people who would never step into a traditional bookstore be able to find faith [books] here. And I want people who would never step into a faith bookstore to be surprised. […] It's important to me that books about God and Social Justice are not far apart"
This isn't a cynical business cover for catering to Franklin's conservative population. It's earnest. A subtle maneuver to provide relief to those who might not even bother to pick up Danez Smith or The Shack. Even Phillips admits that the anxiety of post-2016 America was a contributing factor to opening Wild Geese.
"After 2016, I…" She stops herself. "We need more light in the world. I want a space, no matter what size. It's enough to love. It's enough to breathe."
Phillips understands the therapeutic powers of a space like Wild Geese. "I feel a great responsibility to reach out to everyone in the town." She takes her new role in the community not as a merchant like the juicers, coffee shops, and cyclist retailers. It shows for that the hours I spent in Wild Geese, everyone who entered had something private to share with her. Every patron came in with good news.
After the morning with Tiffany, I reread the Mary Oliver poem from which Wild Geese takes its name. After speaking with Tiffany, someone who holds the reader in such high esteem, the poem now reads as anthem for all bookstores:
"Whoever you are, no matter how lonely,
The world offers itself to your imagination,
Calls to you like wild geese, harsh and exciting
Over and over announcing your place
In the family of things."