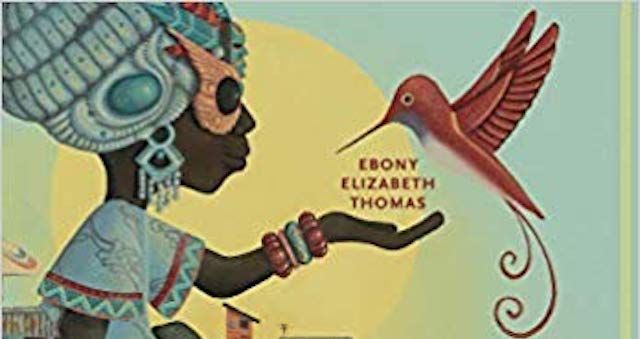 Nonfiction
Entering the Dark Fantastic with Ebony Elizabeth Thomas
This content contains affiliate links. When you buy through these links, we may earn an affiliate commission.
"We read and listen to stories not only to be informed but also as a way to enter worlds that are not like our own. Stories provided mirrors, windows, and doors into other existences, both real and imagined. A sense of the infinite possibilities inherent in fairy tales, fantasy, science fiction, comics, and graphic novels draws children, teens, and adults from all backgrounds to speculative fiction—also knowns as the fantastic. However, as Ebony Elizabeth Thomas highlights, when people of color seek passageways into the fantastic, the doors are often barred."
In fact, Thomas reveals in The Dark Fantastic: Race and the Imagination from Harry Potter to the Hunger Games, while the warning "there is no magic" is one most famously attributed to Vernon Dursley, it is something her own mother said to her starting when Thomas was very young. Her mother, Thomas continues, was informing her daughter that, as a young Black girl, magic was inaccessible to her; that there was enough trouble in the very real late '70s Detroit to occupy her time and attention.
But that very reality—the ashes of the Civil Rights movement, the crack epidemic, and the dissolution of urban America—drove Ebony to find an escape, a magic ticket, a secret passageway. She, as so many of us do, needed magic to survive.
She found it in books.
But she didn't find herself in them.
What she did find is what she has come to understand as an imagination gap:
9/10 books published into juvenile market feature the same kinds of characters that have been spotlighted since since the inception of children's publishing in the United States.
There is an imagination gap in which we cannot fathom a young Black girl could be the symbolic mockingjay who inspires a revolution…
There is an imagination gap in which one of the most visible Black female characters on teen television is stripped of agency, marginalized within the story, and becomes a caricature of her literary counterpart…
There is an imagination gap when a Korean Canadian woman's slam poetry critique of a popular character from an iconic fantasy series was seen by many fans as more of an issue than the author's troubling handling of one of her few characters of color in Harry Potter.
There is an imagination gap when children's and young adult literature critics' and sensitivity readers' perspectives on fantasy novels misrepresenting Native and First Nations people are seen as more problematic than the world building itself.
All of this coalesces into a pattern, a stereotype, a legend that, Thomas explains, affects not only the cultural mythology of fiction, but cultural mythology as a whole, though it has existed for so long and its introduction occurs at such a young age and in such an insidious manner, very few are even conscious of it taking up residence in their psyches:
In the Anglo-American fantastic tradition, the Dark Other is a spectacle, the monstrous Thing that is the root cause of gestation, ambivalence, and the uncanny.
The Dark Other is the present-absence that lingers at the edges of every fairytale. She stalks the margins of the imaged magical pasts of high fantasy, and renders the uchronia of alternate history into a nonsensical viper. What is most chilling is that even when those who are endarkened and Othered dream in the fantastic, the Dark Other is still the obstacle to be overcome. And most chilling of all, even in stories where all of the characters are "white and blue-eyed," The Dark Other is always already there.
There is much, much more to The Dark Fantastic and I want to let you discover it for yourself; we humans are far more likely to absorb when we are learning directly—and besides, I am not expert on the topic while Thomas has spent years of her life making a study of it, both personally and professionally. Her examples of Rue from the Hunger Games, Gwen from BBC's Merlin, Bonnie from The Vampire Diaries, and Hermione from Harry Potter are wisely chosen to be embedded in pop-culture, but never given their due in the scholarly realm—until now.
The Dark Fantastic will entirely change the way you read science fiction, fantasy, horror, and the other, more speculative genres, and I can absolutely assure you it will be for the better. Changing the way you read can, of course, be a daunting task, so I thought I would give you a place to start:
Diné monster-hunter Maggie Hoskie walks a post-apocalyptic landscape filled with myths and monsters, doing what she can, if reluctantly, to help her people survive while trying to avoid a past that just. Won't. Die.
Zane Obispo finds himself embroiled in a war with and then enslaved by Ah Puch, one of the Maya death gods. Brooks, his guide through a supernatural world he never knew existed, does what she can to guide him, but it turns out everyone owes a debt to someone in the land of tricksters and giants.
An outcast and the school's golden girl discover they aren't so different—and that their differences, when combined, can do magical things. Or at least influence the laws of quantum physics. I love the way Spanish is seamlessly integrated into this book. As it should be.
Women are second-class magic users in Zen Cho's novels, if they're permitted to do magic at all. When England's magic begins to disappear altogether, however, and drastic measures must be taken, the Sorcerer Royal finds the only person who can assist him is Prunella Gentleman, who dares to be not only prodigiously powerful but of mixed race at the same time. In Cho's second book, we travel to Janda Baik, where sisters Muna and Saki wake up on the beach, bereft of their memories and with only Prunella to assist them in the search for their pasts.
The first Legacy of the Orisha novel likely needs no introduction to the majority of you, but in case you missed it, Children of Blood and Bone is an absolute masterpiece and Adeyemi is a force of nature. In this series, Zélie has the opportunity to bring her people's magic back, magic once stolen when a ruthless king slaughtered every mage in the kingdom, including Zélie's mother. That simply will not stand.
Twelve-year-old Sunny, raised in America and now living in Nigeria, has always been an outcast because of her albinism. But when she suddenly learns she is a "free agent," an individual living with latent magical ability, and is joined to a quartet for magical instruction. Her world changes completely. Is this magic as wonderful as it seems, she wonders, when she and her friends are sent on a mission to capture a serial-killer whose abilities far outpace their own.
Before Carol Danvers took the name, it belonged to Monica Rambeau. From a first meeting with Spider-Man, Monica rose through the superhero ranks to become leader of the Avengers, though she eventually relinquished the name and struck to on her own. Why? You'll have to read to find out.
Lost Stars is one of my favorite new canon Star Wars novels and was released in the lead-up to The Force Awakens. Both Ciena Ree and Thane Kyrell attend the Imperial Academy; Thane eventually breaks off to join the Rebellion, though his reasons are, at least initially, suspect. Ciena remains with the Empire and, while she doesn't agree with all of their policies or with her superiors, maintains the deeply held conviction that she has a responsibility to fulfill her oath, to change things from the inside. As one of the first women of color to have a major impact on the galaxy far, far away (along with Rae Sloane), Ciena deserves to have a much more well-known place in the canon.
Need more recommendation? I've got 'em. Have recommendations? That's what the comments are for.
The Dark Fantastic: Race and the Imagination from Harry Potter To the Hunger Games by Ebony Elizabeth Thomas (NYU Press) is available now.