Horror
120+ Stephen King Short Stories and Where to Find Them
This content contains affiliate links. When you buy through these links, we may earn an affiliate commission.
That's right. 120 Stephen King short stories, and then some.
One. Two. Zero.
Stephen King, who is as well known for his prodigiously prolific output of fiction as he is for his finely crafted horror, has written over 120 short stories in his career (so far). Many of which have been captured in 11 anthologies of short fiction spanning 1978 to 2015. You can find an alphabetical list of every short story on his website, each with a date and location of publication, and a list of anthologies as well.
Like King's novels, his short stories range from the carefully rendered mundane (straight, literary fiction short stories like "Herman Wouk is Still Alive," though there's nothing mundane about that horrific ending) to the wildly supernatural (I am obsessed with "The Mist" in all its incarnations). Lengths vary, subject matters vary, and you will never find a more comprehensive list of ordinary objects turned into terrifying monsters (A laundry press! He turned a laundry press into a monster in "The Mangler").
I would even argue that King is strongest in this abbreviated form. Something about the succinctness of the short story brings out the best in his writing. (And no, that's not just my excuse for not reading all 1116 pages of It.)
But where do you even begin, with 120+ Stephen King short stories just waiting to be read? If you google you'll find any number of lists of top picks: 16 scary short stories, 13 stories you've never read, 7 stories perfect for Halloween…the list goes on. We've even included him in a list of Classic Short Stories here on Book Riot.
This mini-guide should help you get under way. I've included each short story title, so if you're looking for a particular work make good use of that ctrl-F function and you'll find the story's corresponding anthology or online location.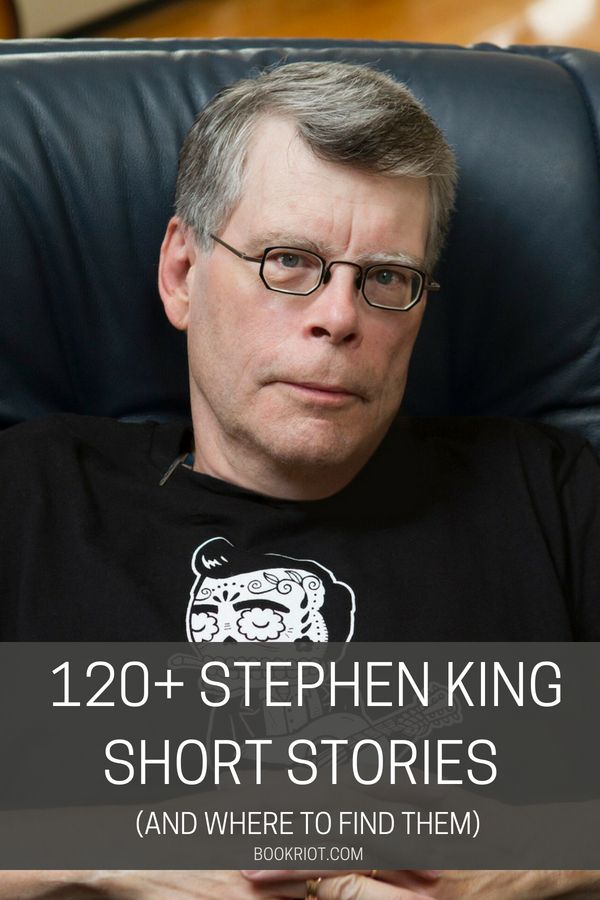 Stephen King Short Stories Online
There are a few of King's stories that are available to read for free online, if you want to take a test drive before you commit to purchasing a whole anthology. This handful of short stories is predominantly without supernatural elements. Like "The Reach," they're starkly human. Any elements of horror derive from King's brilliant use of small town secrets and the human condition. So if it's creepy clowns or undead children you're after, these Stephen King short stories may not be your preference. But they are each uniquely compelling.
By which I mean horrifying and alarming.
King contributes fairly regularly to The New Yorker, his last story appearing in 2015. All of his stories published in the magazine are listed on his contributor page, and the first four are available to anyone. Earlier stories are available to subscribing members.
King also published a short story, "Herman Wouk is Still Alive," in The Atlantic in 2011, and just recently he tweeted the link to a brand new short story "Laurie," which he called an "appetizer" for his newest book, The Outsider, out May 22.
I'm posting a brand new short story, if you want to read it–think of it as an appetizer to the main course, THE OUTSIDER, coming next week. The story is free. Read, print, share, whatever. Go to my website or click the link. Enjoy! https://t.co/tfHIWTPoNw

— Stephen King (@StephenKing) May 17, 2018
Stephen King Short Stories in Print and eBook
The bulk of King's short stories exist only in the series of 11 anthologies he's published during his career. Technically, four of these collections contain a handful of novella length stories rather than 20 or so short stories. But I am including them for two reasons: King lists them with his short story collections on his website, and they contain some of his best known and most incredible works.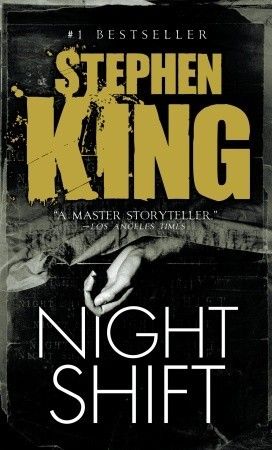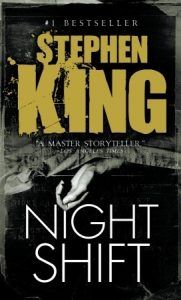 Night Shift
The very first anthology of Stephen King short stories, published in 1978, Night Shift contains several familiar pieces, such as "Children of the Corn" and "Jerusalem's Lot." As well as 18 other chilling stories, including "The Mangler" (the one about the possessed laundry press!).
Other titles include: "Battleground," "Graveyard Shift," "I Am the Doorway," "I Know What You Need," "Night Surf," "One for the Road," "Quitter's Inc.," "Sometimes They Come Back," "Strawberry Spring," "The Boogeyman," "The Last Rung on the Ladder," "The Lawnmower Man," "The Ledge," "The Man Who Loved Flowers," "The Woman in the Room," "Trucks," and "Grey Matter."
Second to be published, in August of 1982, Different Seasons includes of one King's better known short stories: "Rita Hayworth and Shawshank Redemption." It also contains a short story called "The Body," in which four boys travel into the Maine woods, which of course became the premise for the 1986 film Stand by Me. The other two stories in the volume are "Apt Pupil" and "The Breathing Method."
Skeleton Crew
Skeleton Crew came next in 1985. This is going to be my first anthology buy because it includes my personal favorites, "The Reach" and "The Mist." Among the other 20 stories is also the chilling "Gramma," a horrifying story about a young boy and his bedridden grandmother, with whom there is something terribly wrong. As John Saavedra over at Den of Geek! pointed out, devoted horror fans will recognize aspects in the short story that place it firmly in Lovecraft's Cthulhu Mythos.
Other tales include: "The Monkey," "Beachworld," "Big Wheels: A Tale of the Laundry Game," "Cain Rose Up," "Here There By Tygers," "Morning Deliveries," "Mrs. Todd's Shortcut," "Nona," "Survivor Type," "The Ballad of the Flexible Bullet," "The Jaunt," "The Man Who Would Not Shake Hands," "The Raft," "The Reaper's Image," "The Wedding Gig," "Uncle Otto's Truck," "Word Processor of the Gods," "For Owen," and "Paranoid: A Chant."
Like Different Seasons, this 1990 anthology of Stephen King short stories, Four Past Midnight, contains—you guessed it—only four tales. These are longer, novella-length tales, including the well known "Secret Window, Secret Garden" and "The Langoliers," both of which have been adapted to film. The other two stories in Four Past Midnight are "The Library Policeman" and "The Sun Dog."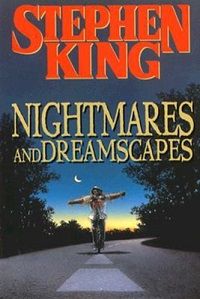 Nightmares & Dreamscapes
This 1993 anthology contains probably some of King's oddest short stories. There's one about a pair of evil Chattery Teeth (you know those toy clacking teeth you wind up and then they chatter?), and one about a finger that appears poking out of the drain in the main character's bathroom sink—"The Moving Finger." That one I haven't read, but the premise alone is kind of freaking me out.
Other freaky adventures include: "Head Down," "Sorry, Right Number," "Brooklyn August," "You Know They Got a Hell of a Band," "Crouch End," "Dedication," "The Doctor's Case," "Dolan's Cadillac," "The End of the Whole Mess," "The Fifth Quarter," "Home Delivery," "The House on Maple Street," "It Grows on You," "My Pretty Pony," "The Night Flier," "Popsy," "Rainy Season," "Sneakers," "Suffer the Little Children," "The Ten O'Clock People," and "Umney's Last Case."
A number of people might recognize the title of this 1999 collection of five novellas, as it was also the title of a 2001 film starring Anthony Hopkins. Though the film itself is actually based on a short story within the anthology, "Low Men in Yellow Coats," and not the titular story, "Hearts in Atlantis." Also included are "Blind Willie," "Heavenly Shades of Night," and "Why We're in Vietnam."
Subtitled "14 Dark Tales," 2002's Everything's Eventual is an anthology of actual short stories once again, as opposed to novellas. Among these is "1408," which was adapted into a 2007 film starring John Cusack. This volume also contains "The Death of Jack Hamilton," which was published in The New Yorker in 2001.
This is also the collection where you'll find: "All That You Love Will Be Carried Away," "Autopsy Room Four," "Everything's Eventual," "In the Deathroom," "L.T.'s Theory of Pets," "Luckey Quarter," "Lunch at the Gotham Cafe," "That Feeling, You Can Only Say What It Is in French," "Riding the Bullet," "The Road Virus Heads North," "The Little Sisters of Eluria," and "The Man in the Black Suit."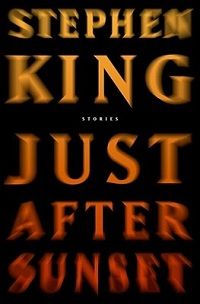 Just After Sunset
Oh, Just After Sunset, with its extremely strange "The Cat from Hell." This 2008 collection of 13 tales also includes "Harvey's Dream," which, like "The Death of Jack Hamilton," was previously published in The New Yorker (2003). "Harvey's Dream" is an odd little tale about a man and his wife that takes place in Castle Rock. This fictional town reoccurs in a number of King's novels and stories, and serves as the setting of Hulu's upcoming series, Castle Rock.
Also included are: "Willa," "The Gingerbread Girl," "Rest Stop," "Stationary Bike," "The Things They Left Behind," "Graduation Afternoon," "The New York Times at Special Bargain Rates," "Mute," "Ayana," "A Very Tight Place," and "N."
Stephen King Goes to the Movies
Published in 2009, Stephen King Goes to the Movies is a reprint of five prior short stories that went on to the big screen: "1408," "Low Men in Yellow Coats," "Rita Hayworth and Shawshank Redemption," "The Mangler," and "Children of the Corn." It also contains some commentary from King on each story, which fans will likely find of interest. Meanwhile, those making the transition from King's films to his fiction might find this collection to be a perfect segue.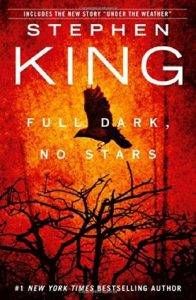 Full Dark, No Stars
Described in the synopsis as "a collection of four intense short stories with retribution as the central theme," Full Dark, No Stars (2010) is a powerful but difficult read. The synopsis also calls these tales some of King's "most graphic and merciless content to date." I would not disagree. That they are also some of his most evocative is supported by the fact that two of the four have been made into films: "The Good Marriage" was made into a film in 2014, and Netflix released a film adaptation of "1922" on their streaming platform in 2017. The other two stories are "Big Driver" and "Fair Extension."
As a side note: Mr. King should feel free to never use rats in one of his stories again, with my kind and fond thanks for the nightmares.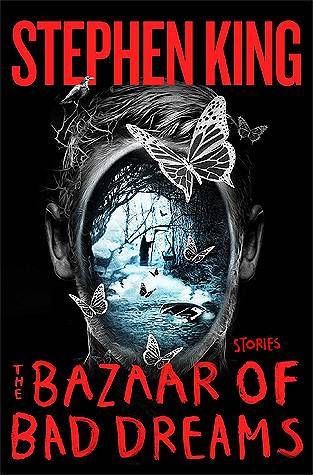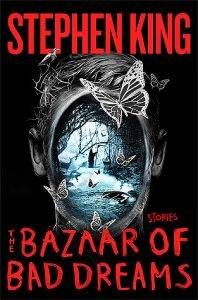 The Bazaar of Bad Dreams
Released in 2015, The Bazaar of Bad Dreams is the most recent compilation of Stephen King short stories. Perhaps because they are so recent, they are less well known. But no less compelling. Three of them—"Premium Harmony," "A Death," and "Herman Wouk is Still Alive"—you will recognize from the list of freely available stories above. For the other 17 you'll just have to pick up The Bazaar of Bad Dreams, with it's eerily appealing cover.
Included are: "Mile 81," "Batman and Robin Have An Altercation," "The Dune," "Morality," "The Bone Church," "Afterlife," "UR," "Blockade Billy," "Tommy," "Little Green God of Agony," "The Bus Is Another World," "Drunken Fireworks," "Bad Little Kid," "Under the Weather," "Mister Yummy," "Obits," and "Summer Thunder."
Conclusion? That's a lot of Stephen King short stories.
It's a lot of everything, really. Not just in terms of numbers, pages, or words, but also in terms of emotions and fears. To try to read all of King's short stories would be quite an undertaking, and one that might be best completed in stages. But hopefully this will give you an idea of where to begin!
When you've finished with all 120+ Stephen King short stories, or if you feel like working some longer works in between anthologies, consider consulting a Stephen King Reading Pathway or this Ultimate Stephen King Reading Guide to get you started.
Happy reading! (With plenty of lights on, of course.)