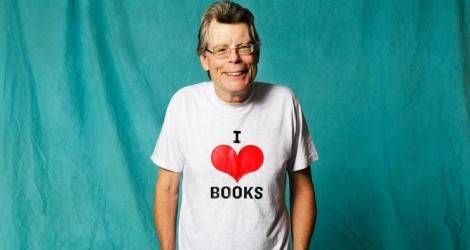 Fiction
The Ultimate Stephen King Reading Guide (From A Constant Reader)
This content contains affiliate links. When you buy through these links, we may earn an affiliate commission.

---
Correction: Being a human who worked on this article for a long while, I realize I have made an error; while reworking a section, I completely deleted where I had written about 11/22/63 and forgot to add it back in. It was always meant to be part of this list. I also made a typo in the Dark Tower series titles.
I've been reading Stephen King for AWHILE. I started reading King when I was 11-ish and I still read his work today, even though I have honestly tried to break up with him a few times. Being a longtime fan (a Constant Reader, as he refers to us out there reading his work), I think I'm in a pretty good spot to write this reading guide.
I've tried to split it into genre (though this is difficult, they overlap), and then separate into the best books and the pretty okay books, in case you're not a completist.
"Hey, where's ____________ ? Why isn't it on this list?" If I've left out a book, it will probably have been 100% on purpose as I don't recommend every single book he's ever written (and neither does he). Or I might leave a book off of one list because it fits better in another. As always, these are studied opinions, not absolute decrees. Please discuss your disagreements in the comments.
Just the Best (Well, the Best As Far As I'm Concerned)
Maybe you don't care about genre and you just want to read his best work. Totally fair. So I'll list out my top picks first, and then break it down by genre. (Yes, fellow Constant Readers, you're going to want to yell at me for leaving out books. My body is ready.)
Carrie, 1974. Carrie was the first book that Stephen King published, and in this case, starting from the beginning is a great thing. It's a tight, solid story that shows King's ability to paint vivid characters and his deftness with psychological horror.
Dolores Claiborne, 1993. A woman living on a small Maine island is accused of murder twice in her life. The first one, she didn't so much mind, but she's determined to clear herself of the second–which means laying out all of her secrets, even the most painful.
Different Seasons, 1982. Even if you haven't read this collection, you're probably familiar with two of its stories: Rita Hayworth and Shawshank Redemption and The Body, the latter of which was adapted into the film Stand By Me. I'm not wild about the second novella, Apt Pupil, but the rest of the book more than makes up for it.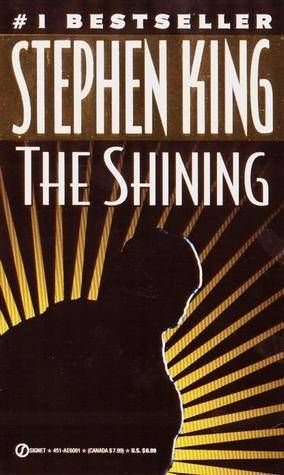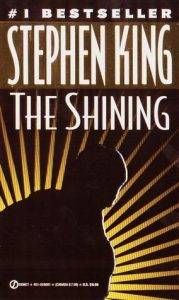 The Shining, 1977. I think this novel is King at his best. It's a masterful suspense horror novel that mixes psychological horror and supernatural horror. (If you like this one, go ahead and read the sequel, Doctor Sleep, because it's also very good.)
On Writing: A Memoir Of the Craft, 2000. Not just a how-to book on writing, this book delves into King's life and inspirations. It's a pretty good primer to understanding his point of view as a writer, which is typically very strong.
Full Dark, No Stars, 2010. A collection of four novellas that I thought were just excellent.
The Stand, 1978/1990. Re-released as an uncut edition in 1990, The Stand is a post-apocalyptic novel. Perennial fan fave with great character-building. Not without plot issues but overall a good read.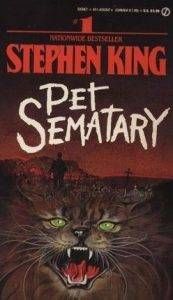 Pet Sematary, 1983. Just the classic story of a man and his cat. Okay, maybe a little more complicated than that, but not very–yet, even in the simplicity of the story, it's one of the few that truly creeped me out.
Misery, 1987. One of his most famous novels for a good reason: it's a tight psychological horror novel with a beautifully drawn villain. A must-read once you start getting into King.
The Long Walk, 1979. Stephen King first published this (and four other books) under the pseudonym Richard Bachman. The horror in his Bachman persona is different from his regular work, which flirts with camp and frequently goes to bed with gore, but it's still very much horror.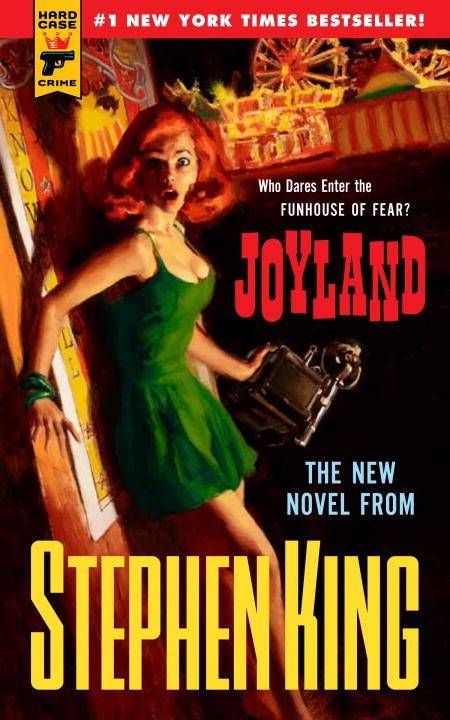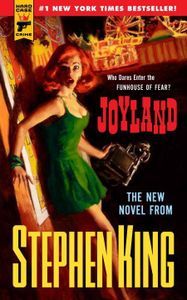 Joyland, 2013. A crime novel meets ghost story, Joyland takes place in an amusement park where a girl had been murdered.
Roadwork, 1981. Another Bachman book, Roadwork is about a man whose home is about to be bulldozed to make way for a highway extension. He, however, is not going to let that happen. King has stated that Roadwork is a favorite of his among the early books.
The Dark Tower Series. See the SF/F list for more information here, because you will probably end up reading the whole list if you like this series.
The Straight-Up Horror List
King's work has spanned multiple genres over the decades, but at its core has been his horror work. If you're in it for the chills, these are your books.
Note: Some of his novels that are great but not actually horror are listed further down.
The Best Horror Books, IMO:
Books from previous sections that belong here: Carrie; The Shining; Full Dark, No Stars; Misery; The Long Walk; Pet Sematary; The Stand; and Doctor Sleep.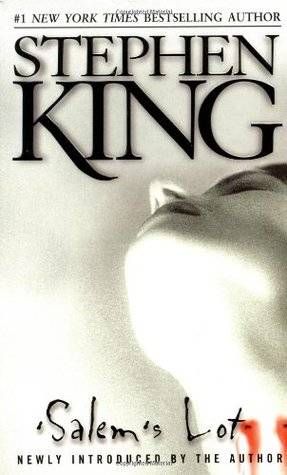 'Salem's Lot, 1975. Stephen King meets vampire novel; can you dig it?
Night Shift, 1978. A collection of short works, including "Children of the Corn", "The Lawnmower Man", and "Sometimes They Come Back".
Lisey's Story, 2006. For me personally? This book isn't ranked on my list of faves, though I didn't dislike it; however, King told Rolling Stone that he thought it was his best book (as of 2014). I think, then, anybody new to King might do well to pick it up earlier than I did.
The Pretty Good Horror Books: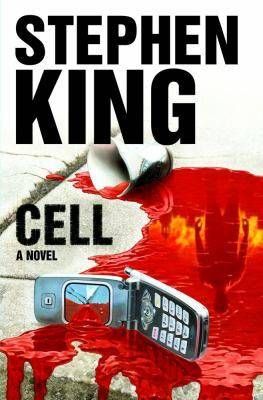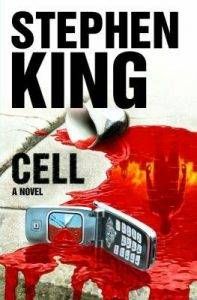 Cell, 2006. Zombies meet technology in a more recent novel by King.
Skeleton Crew, 1985. "The Mist," a famous work by King that has been adapted into a film, is in this collection, along with gems like "Mrs. Todd's Shortcut" and "The Ballad Of the Flexible Bullet".
Firestarter, 1980. A pyrokinetic little girl and her dad are on the run from the government, who wants to weaponize her.
The Dead Zone, 1979. I have to admit, this is one book I missed reading when I was younger. It gets glowing reviews, though.
Under the Dome, 2009. Something encapsulates a town in a seemingly impenetrable dome and shit goes very, very awry when they have to fend for themselves. People love or hate this one–I thought it was pretty solid.
Desperation, 1996. This book is part of a set of two books that are linked; I think Desperation is the better of the two. It's very much a "good vs. evil" kind of story that shows off King's world-building abilities. The other book is The Regulators, which he published as Richard Bachman.
Everything's Eventual, 2002. Another collection–his short fiction is really just very good–with the story "1408," which was scary AF and also was made into a film.
Nightmares and Dreamscapes, 1993. Another collection of stories, the first one of his I ever read.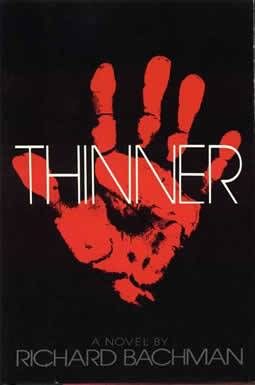 Thinner, 1984. The last book to be written by "Richard Bachman," Thinner smacked too much of King-style horror to keep up the ruse (King was outed as Bachman when someone got wise to his style leaking over). In Thinner, an overweight lawyer is cursed to become thinner to the point of death when he's let off the hook for manslaughter.
Insomnia, 1994. I don't know if it's one of his most popular books but I actually like this book quite a lot, though part of that has to do with its connection to a larger work in the Stephen King Universe. An older man gets insomnia and starts seeing things. A younger man, normally well-liked and well-behaved, becomes abusive and terrifying. These things are not unrelated.
Just After Sunset, 2008. Short horror fiction collection.
Danse Macabre, 1981. This is a work of nonfiction that would mainly appeal to people as geeked out about horror as Stephen King is. It spans movies, books, and television.
The Pretty Okay Horror Books: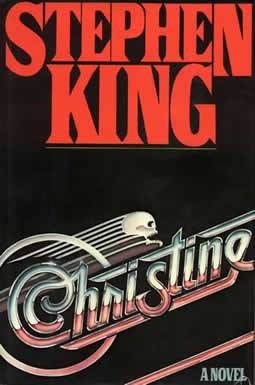 Christine, 1983. A dude gets a jealous car and she wants him all to herself.
IT, 1986. I know if you're a King fan, you're probably mad that I haven't featured this tome about a murderous clown yet. There are parts of that novel that are pants-shittingly terrifying, but there are also parts that are kind of not as good as they could be and there's also [spoilers redacted] at the end, which is kinda fucked up, so. I don't usually recommend it to people, but it's a Big Deal in his oeuvre so I'm including it. ¯\_(ツ)_/¯
Revival, 2014. A book that nods to Shelley and Lovecraft, Revival has a gothic, slightly sci-fi bent to it.
Cujo, 1981. A novel about a rabid dog that still gives me the willies to think about.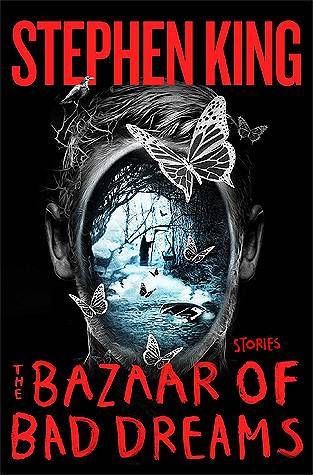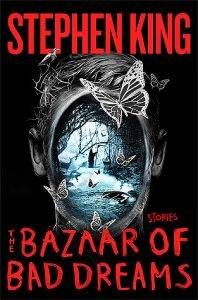 The Bazaar of Bad Dreams, 2015. A recent collection of short works. Great cover art.
The Dark Half, 1990. A writer decides to "kill off" his pseudonym and concentrate on writing books under his own name. His pseudonym does not agree with this plan of action and lets the writer know. Violently.
From A Buick 8, 2002. A group of state troopers in Pennsylvania have a dark secret hanging out back in Shed B, where they keep the Buick Roadmaster. Yep, this is not one but two books about scary cars. There's also a scary car short story in Just After Sunset.
Needful Things, 1991. A man with a shop of desirable curiosities opens up in Castle Rock; soon, the town is in chaos.
Duma Key, 2008. I wouldn't say this is overall King's best book, but there was a part that definitely creeped me out and stayed with me for a long time, and that's not easy for an author to do for me.
The Suspense, Crime, and Thriller List
Even though it's natural to want to peg King's work as horror across the board, many of his works aren't true horror–which, if you're not into horror, might be more your speed.
The Best Suspense/Crime/Thriller Works:
Books from previous sections that belong here: Dolores Claiborne, Different Seasons, Joyland.
Mr. Mercedes, Finders Keepers, and End of Watch, 2014-2016. This is a trilogy of crime novels featuring an ex-cop turned detective and his friends. It starts with a gruesome crime and gets really weird, really fast.
Rage, 1977. Rage is out of print, which is both understandable given its subject matter and also a damn shame, since it's a good book. It's about a boy who takes a gun to school, having broken under the immense pressures in his life, and what happens between him and the class he holds hostage. If you can find an older copy of The Bachman Books, it will be collected in there.
The Green Mile, 1996. First released in six volumes (and I was buying those individually in the mid-90s–memories!), The Green Mile is a crime novel with a hefty dose of magical realism.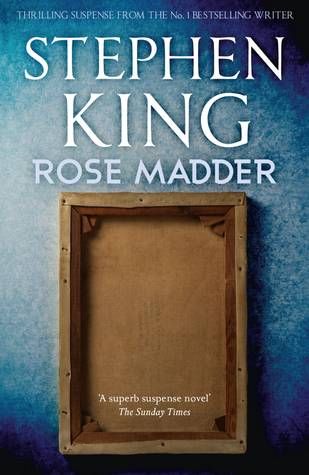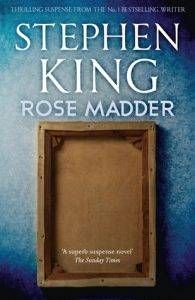 Rose Madder, 1995. Rose Daniels decides one day that she has to escape her husband–her very abusive husband, who is a cop and who comes looking for her with a skill for tracking people down. He doesn't know that she has a lot of help on her side, though.
The Pretty Good Suspense/Crime/Thriller Works:
The Colorado Kid, 2005. A mystery novel that takes on unexplained mysteries, and what might cause them.
Blaze, 2007. Another Richard Bachman work (he uses the moniker these days to denote books written in the style of Bachman), Blaze is another crime-novel-meets-ghost-story about a kidnapping.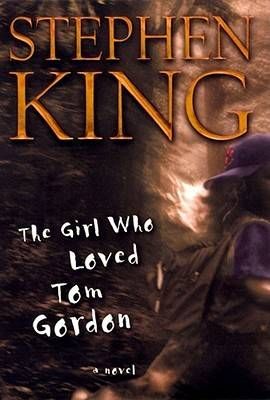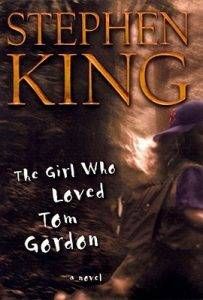 The Girl Who Loved Tom Gordon, 1999. This one is billed by some as horror but, despite having some supernatural elements, it doesn't fit that bill very cleanly when you read it. A young girl is lost in the woods during a family hiking trip, and she has to survive–even though something is out to get her.
Bag of Bones, 1998. This book displays King's love of Gothic fiction, loosely aligning itself with the story of Rebecca by Daphne Du Maurier. A man moves out to his vacation house following his wife's death because he's having nightmares about the place. Those nightmares might have had something to them, as it turns out.
Hearts in Atlantis, 1999. A collection of fiction centered around the Baby Boomer generation, also with ties to The Dark Tower series.
Gerald's Game, 1992. Not my fave, but it has a lot of fans. A woman's husband dies in front of her while she's handcuffed to the headboard, which puts her in a very not-good situation. Even worse, she feels something watching her–is this her panicked imagination or certain doom?
The Science Fiction/Fantasy List
King clearly has a lot of SF/F influences, and they show through in many of his works.
The SF/F Works:
Books from previous sections that belong here: The Stand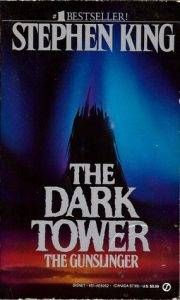 The Dark Tower Series I – VII (Plus The Wind Through The Keyhole). The Dark Tower is one of my most favorite series in the history of ever–so much so that I stopped re-reading it to preserve the memory of how much I love it. (It's problematic in places. I admit that freely.) It's the epic journey of Roland and his eventual companions in another world that runs parallel (?) to our own. It's a mix of fantasy, western, sci-fi, and horror that has ties to King's whole body of work; you'll spend hours poring over the connections once you get into it. (A lot of people hate the first book. In my opinion, you can skip it if you hate it that much.)
The Eyes of the Dragon, 1987. A pure fantasy tome about a murdered king, a framed prince locked in the tower, and an evil magician purring into the ear of the new king.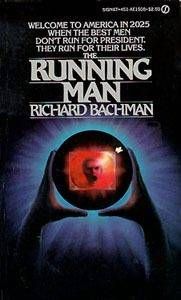 The Running Man, 1982. This is one of my favorites, a sci-fi dystopian work where people can go on TV and earn money on awful reality shows. Because his child needs medicine, Ben Richards decides to try out for the shows and ends up on the big one–the one where the network hunts humans for sport.
The Talisman (With Peter Straub), 1984. A young boy sets off on a journey to save his dying mother and finds an alternate America, full of twins to people in his America. This book is beloved by many long-time King fans and has a sequel, Black House.
11/22/63, 2011. An alternative history meets time travel tome about the Kennedy assassination.