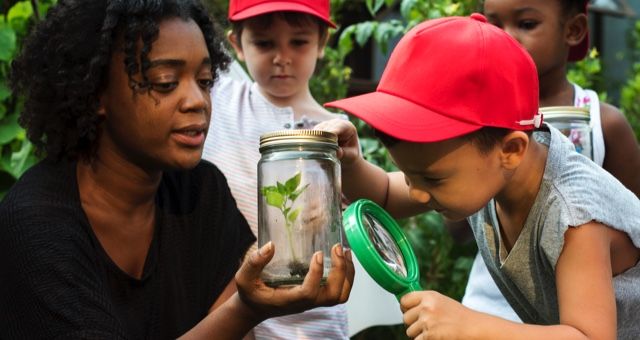 This content contains affiliate links. When you buy through these links, we may earn an affiliate commission.
Science books for kids cover so many different fascinating topics. There are informational nonfiction books that dive into topics ranging from animals to weather to outer space (and so much more). There are biographies of important scientists to inspire young readers. And there are fictional stories where kids who love science can see themselves in characters and learn more about the scientific process. There are even books to start teaching little ones about computer programming! Here is a list of 20 science books for kids perfect for a classroom library or a bedroom bookshelf.
Science Books for Kids: Board Books
Chris Ferrie's Baby University Books are a whole thing. And they are equal parts hilarious and informative. From Quantum Physics to Organic Chemistry, he breaks down difficult scientific concepts for young children. This is his latest title and, in my opinion, one of his most esoteric. But all of his titles are building blocks for future STEM geniuses.
Baby Loves Quarks by Ruth Spiro, Illustrated by Irene Chan
Full disclosure, I didn't fully understand what a quark was until I read this book. With a lot of self awareness, this books sets out to explain the basics of particle physics and chemistry. Going beyond just quarks, it defines protons, neutrons, atoms and molecules. All in a way that fits into the everyday world babies live in. Other fun books in the Baby Loves Science series include Baby Loves Coding, Baby Loves Structural Engineering, and so many more!
Introduce babies and young children to the "Father of the National Parks." This biographic board book tells the story of John Muir's commitment to nature. It explains how his advocacy for land preservation lead to many of our national parks, especially Yosemite. A perfect book for outdoorsy little ones (and their parents!).
Baby Code! Music by Sandra Horning, illustrated by Melissa Crowton
The Girls Who Code board book series makes coding an accessible concept by applying computer language to familiar concepts. This book uses musical experiences like banging on a xylophone or hearing a song from a mobile. Is it a little silly to try and teach programming to a child that can't walk? Maybe. But this is a fun series that often challenges gender norms as well. For example, in Baby Code! Music, the father is the primary care giver.
Bathtime Mathtime by Danica McKellar, illustrated by Alicia Padrón
A counting book all about bath time! It teaches numbers but also reinforces concepts like sequencing, patterns, and basic arithmetic. And it helps teach all of this using one naked baby, two feet, three friends, four ducks and more. Also it rhymes!
This beautiful board book uses collage-style illustrations to teach the names of bugs kiddos are likely to find in their own backyard. It looks at bees, dragonflies, spiders, grasshoppers, crickets, ladybugs, ants, worms, caterpillars, and butterflies. There is even an interactive activity suggested at the end of the book. Jill McDonald's Hello World series explores other nonfiction subjects from the natural world like Dinosaurs, Weather, and Ocean Life.
Science Books for Kids: Picture Books
Georgia wants to become a scientist. And to be a scientist she has to create an experiment. Her family of artists keep giving her advice, but Georgia is convinced that art and science don't mix. After a number of failed recreations of experiments, she learns to listen to her family. She can forge her own path as a scientist, but even science has room for creativity. This is a great primer for the scientific process while reinforcing important lessons, like the many benefits of working together.
A Computer Called Katherine by Suzanne Slade, illustrated by Veronica Miller Jamison
This nonfiction picture book tells the story of Katherine Johnson. As a child, Katherine was a math prodigy but didn't get the same opportunities or respect as her classmates because she was Black and female. She knew this was wrong. And when she grew up, she joined NASA and created computations that helped the first man get to space.
This book of dinosaur facts is informative and entertaining. Each page helps readers understand more about different dinosaurs. A different sound effect also mimics each dinosaurs' fart noise—which is guaranteed to make readers giggle. The battery-powered book definitely gets a little silly. But it's also full of real scientific information about dinosaurs. And I can't think of a more fun way to learn!
Jason Chin's beautiful illustrations explain the importance gravity in small situations, like with objects on Earth, and in the cosmic realm, like with moons and planets. There is humor in his depictions of what a universe without gravity would look like. But these illustrations also help intuitively explain the complex concept of gravity.
I certainly didn't know what a microbe was as a child. I knew there were germs, but didn't totally understand what they were—or that there was such a thing as good ones. This book makes microbes easy to understand in many different contexts. It explains how they don't just make you sick. Microbes also help make your yogurt. And they help make the air easier to breath. A very cool exploration of this relatively dense topic!
Over and Under the Pond by Kate Messner, Illustrated by Christopher Silas Neal
This picture book explores two sides of the same ecosystem. Above the pond there are birds and moose drinking from the edge and the water mirrors the sky. But below the pond, just as much is going on. There are tadpoles growing, fish swimming, and beavers diving. All the elements of the pond rely on one another—and all of them are threatened by pollution and loss of habitat. This is a peaceful book with good information and an important message. For similar themes, the duo also wrote Over and Under the Snow and Up in the Garden and Down in the Dirt.
The Boy Who Harnessed the Wind by William Kamkwamba and Bryan Mealer, Illustrated by Elizabeth Zunon
This picture book tells the true story of William Kamkwamba trying to bring electricity to his village in Malawi in the middle of a drought. After pouring through all the books in the library, William makes a windmill out of scraps from the junkyard. This read will teach children about the power of science, while also exploring issues of culture and economic hardship.
Cece Loves Science by Kimberly Derting & Shelli R. Johannes, Illustrated by Vashti Harrison
Cece loves asking questions and finding out the answers. So when her teacher tells the class to create an experiment, she and her friend Isaac have a lot of ideas. After deciding that learning if a bear is ticklish might be dangerous, they decide to discover if animals eat vegetables. But Cece's dog, their only participant, isn't being cooperative at first. As a scientist in training, with her own treehouse laboratory, Cece refuses to give up. She and Isaac get creative and work together to refine their experiment and get the answers they want. The publisher has a cool tie in activity for classrooms reading this book and the final page of Cece's science facts is sure to aspire other young experimenters.
Ada Twist, Scientist by Andrea Beaty, Illustrated by David Roberts
With delightful rhymes, this book introduces Ada Twist, a curious girl who knows every question has an answer if you look hard enough. So when her house fills with a disgusting, mysterious smell, she creates a series of experiments to discover the source of the stench. When some of her tests lead to even more smells, her parents aren't too happy about it. But after they all take some time to think, they decide to help support her curious, scientific mind. For others in the stem series, read Iggy Peck, Architect and Rosie Revere, Engineer!
Science Books for Kids: Chapter Books
Trouble Next Door by Karen English, Illustrated by Laura Freeman
Calvin is a 3rd grader who wants to win the school science fair. But when his data does not support his hypothesis, he's not sure what to do. And how is he supposed to concentrate on science when the school bully moves into a foster family next door? As Calvin learns more about his new neighbor, Harper, he might have to concede that there are more important things than winning a science fair.
Who Is Jane Goodall? by Robert Edwards, Illustrated by John O'Brien
This illustrated biography tells the story of Jane Goodall: from an animal-obsessed child growing up in London to a determined female scientist who moved to Africa to study chimpanzees. A great book for younger readers who love animals, the story also emphasizes how much patience and determination Jane needed to conduct her research.
Told with graphic novel style, the Mad Scientist Academy is a little different from most schools. For starters, the school pet is a dinosaur named Oscar. On the first day of school, Dr. Cosmic creates a scavenger hunt through a robotic dinosaur exhibit he made over the summer for the students to find Oscar. But chaos ensues when the robots start to come to life. This series is basically the magic school bus, just stepped up a few notches.
Fahama has been kidnapped by an evil scientist who wants to steal her brain for his zombie assistant. If she doesn't learn as much about brains as she can quickly, she won't be able to escape before losing one of her most important organs. Other topics covered in the science comics series include Plagues, Dogs, Coral Reefs, and even more scientific subjects.