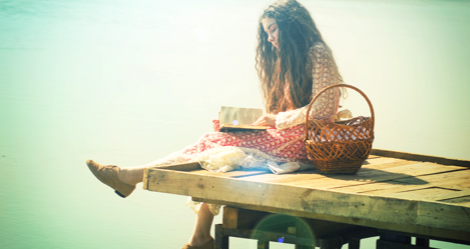 This content contains affiliate links. When you buy through these links, we may earn an affiliate commission.
One of my favorite things about book talking with middle school classes is that the kids I interact with haven't lost their interest in true stories and learning new facts. They love nonfiction if it's presented in an engaging, attractive package, and luckily for all of us, there are so many great nonfiction books for kids on shelves these days. From history to self-help, memoir to gross science, there's something for every kid on this list of the best nonfiction books for kids!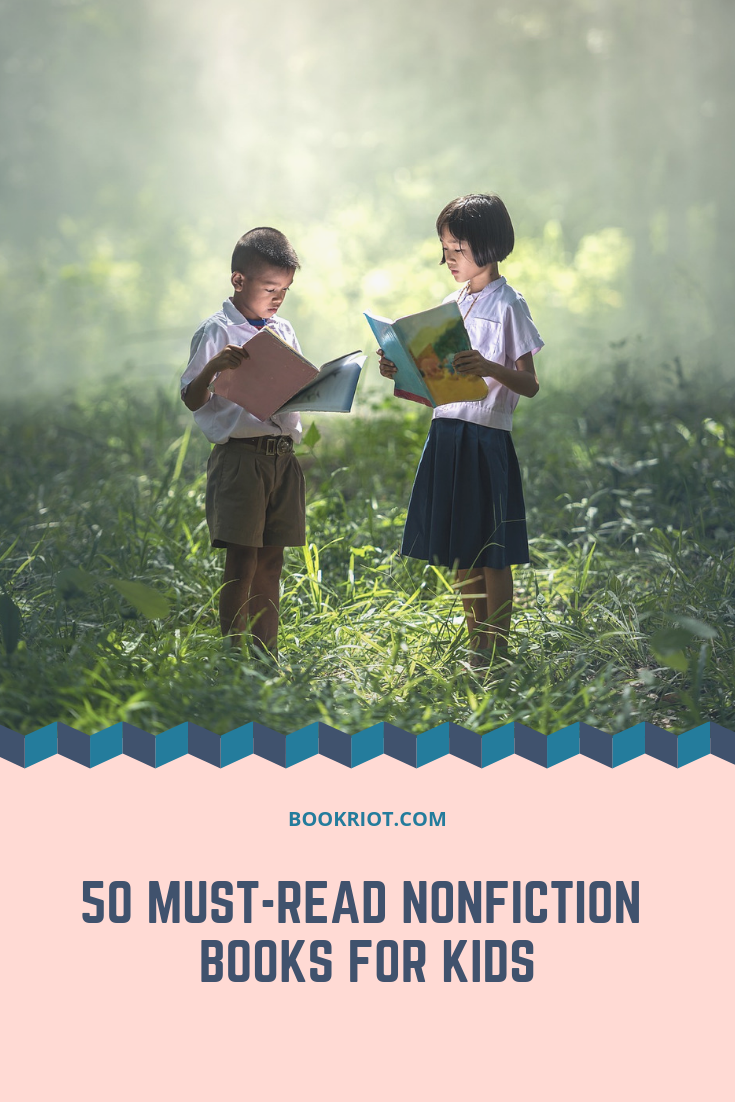 The Best Nonfiction Books for Kds
This inspiring book about social media and activism is by Marley Dias, the kid activist who started the #1000blackgirlbooks campaign. She focuses on empowering other kids, diversity, and the important of literacy.
Madeleine's L'Engle's granddaughters have penned an accessible, intimate look of their grandmother's life from girlhood to success with A Wrinkle in Time, drawing upon her letters and their own memories. The audio edition, read by the authors, is excellent!
This illustrated collection of immigrant and refugee stories reveals the challenges and triumphs of some of the U.S.'s best-known citizens, and a few lesser-known stories as well.
This authorized biography tells readers of the varied and prolific career of beloved children's writer E.B. White. It's richly illustrated and full of letters and family ephemera.
Chambers highlights activists both historical and contemporary, illuminating their challenges and accomplishments in order to inspire kids. This is a great tool for teaching kids about activism and important historical figures, and for motivating them to make positive changes in their own communities.
When Denmark didn't resist Hitler's occupation, fifteen-year-old Knud Pederson and his friends formed the Churchill Club to undermine and sabotage the Nazis. Their incredible efforts launched the Danish Resistance, and are chronicled in this carefully researched book.
Perfect for fans of I Survived…, Olson tells the incredible true story of eight soldiers in World War II whose plane went down in the Pacific, stranding them in three inflatable rafts.
Julisse, born in Mexico, grew up with her siblings close by while her parents lived far away in Texas, working to provide for them. When she joined her parents as an undocumented immigrant, she thrived in the U.S., going on to become a Wall Street executive. This memoir tells her story, and reminds readers that anyone could be an undocumented immigrant.
Before Rosa Parks, Elizabeth Jennings attempted to take a seat in a segregated streetcar, resulting in her removal. With the support of many people in the African American community, including Frederick Douglas, and represented by future president Chester Arthur, she went to court to challenge the unfair law—and won.
Adapted from Diane Guerrero's memoir for adults In The Country We Love, this young reader's edition of Guerrero's story tells of her parents' deportation when she was just a teen, and calls for compassion and reform in the immigration system.
Libby Jackson shows young readers that although Neil Armstrong was most famously the first man on the moon, he wouldn't have gotten there without many talented women. Starting with Ada Lovelace, Jackson tells the stories of many influential women both historical and contemporary.
Perfect for kids who are enthralled by gross science or weird facts, this book looks at everything that can make you itch. The facts and exploration make for a really interesting blend of history, biology, and anatomy!
Never Caught: the Story of Ona Judge: George and Martha Washington's Courageous Slave Who Dared to Run Away by Erica Armstrong Dunbar and Katherine Van Cleeve
Born into slavery, Ona Judge would grow up to become one of George and Martha Washington's most favored slaves. But when she found out she was to be given away, she made the brave decision to run north instead, where she lived as a fugitive. This is the Young Readers' Edition of the National Book Award finalist title.
In 1938, a radio dramatization of Orson Welles's The War of the Worlds shocked and terrified many Americans, who thought it was the real account of alien invasion. Jarrow tells the story of the production, the public's reaction, and draws comparisons between fake news and propaganda then and now.
Bolden takes a close look at Frederick Douglas, digging deeper into his life to see past his famous memoir and include all aspects of his spectacular life.
When the U.S. government ordered the internment of Japanese Americans following the attack on Pearl Harbor, Fred Korematsu refused to be imprisoned. He spoke up, and began resisting the unfair treatment. His story and this book aim to get kids asking questions about injustice in our lives today.
Packed full of facts, stories, and inspiration, Chelsea Clinton talks about how kids can make a difference in their communities. She addresses big and small problems, and encourages kids by telling them you're never too young to start solving problems.
During WWII, women weren't allowed to fly military planes, even though the Air Force was desperate for qualified pilots and many women were very good pilots. Pearson's book tells how women stepped up and helped ferry, test, and repair planes for less pay and recognition than men, and under just as dangerous conditions as those pilots in the line of action.
In the middle grade adaptation of her memoir of the same title, Reyna tells of how her parents crossed the border from Mexico to the U.S. illegally when she a child, and her struggles to assimilate when she and her siblings made the same trek later.
Robin Stevenson explains what "pride" means to the LGBTQ+ community by chronicling the history of the Stonewall Riots, Harvey Milk, and other important moments in LGBTQ+ history. Her book is a beautiful celebration of diversity and inclusivity, and includes stories of real people all over the world.
Jerrie Mock always harbored aspirations of being a pilot. When her husband joked that she should fly around the world, she pursued her dream, competing against another woman to do what Amelia Earhart died trying: to fly around the world.
What started out as an Instagram project is now a book about 40 trailblazing Black women who changed history! Readers may recognize well-known women such as Sojourner Truth and Maya Angelou, but Harrison also includes many lesser-known figures as well!
St. George frames the compelling story of founding fathers Alexander Hamilton and Aaron Burr by comparing and contrasting their lives, which were very similar despite their paths leading them to face off in the most infamous duel in American history.
The Booth brothers couldn't have been more different: Edwin, an actor, favored the Union cause, while John raged against President Lincoln and his politics. When John moved against the president, Edwin's life was changed forever by his brother's actions…and so was the nation.
When a drought destroyed his family's crops in Malawi, William Kamkwamba began looking for a scientific solution to help bis family survive. The result was a windmill, which brought them electricity. This remarkable story tells how William's ingenuity and hard work saved his family.
Sachiko Yasui was only six years old when she survived the American bombing of Nagasaki, which brought about the end of World War II, but her story stretched long after the conclusion of the war. Stelson interviewed Sachiko extensively to tell her remarkable story about the lasting effects of the bombing.
This visually rich biography tells the story of a tennis-playing academic underachiever who would go on to become the first American woman in space. But Sally Ride's accomplishments aren't limited to space exploration: she was a champion for gender equality as well.
In 1970, Jim Lovell and his crew hoped to set foot on the moon. Instead, their journey was derailed by an explosion and their mission became to simply get back to Earth alive. Olson recounts the tense experience with the suspense of a novel, and includes photographs and diagrams to help young readers understand this incredible survival story.
Candace Fleming tells the incredible story of the man behind the Greatest Show on Earth, and his lasting legacy on American culture, with historical posters and photos augmented by Fenwick's artwork.
The daughter of Taiwanese immigrants, Karen Chen learned how to figure skate at age 5, and went on to the Olympics at age 15, where she took home the bronze medal. This memoir tells of her early years and the remarkable beginning of her career.
This Young Readers' Edition tells the story of Irena Sendler, a courageous young woman who smuggled hundreds of children out of the Warsaw Ghetto during World War II, saving them from certain death.
Congressional Gold Medal recipient and activist Melba Patillo Beals tells her story, from questioning injustice at a young age to becoming one of the Little Rock Nine in 1957.
Thimmesh highlights some of history's best thinkers and inventors, and Sweet illustrates their work and stories with brilliant collages.
Sonia Sotomayor, the first Latina woman to sit on the Supreme Court of the United States, tells her story of growing up in the South Bronx, working hard, and achieving her dreams with the support of her Puerto Rican family.
Florence Nightingale subverted Victorian expectations to become a nurse during the Crimean War, where she became legendary. But her story didn't end with the Crimean War, and her work helped define modern nursing standards.
This Young Readers' Edition of the memoir by the same name tells the incredible story of Leland Melvin, a Detroit Lions player turned astronaut. This edition includes experiments that kids can conduct at home, making it entertaining and hands on.
This alphabet book highlights 26 radical women who all did something amazing for women's rights, focusing on lesser-known contributions and women that history has often overlooked.
Laurie Hernandez's life changed when she was chosen to be on the 2016 U.S. gymnastics team for the Olympics, where she took home both gold and silver medals.
What started out as a Tumblr blog and became a bestselling book is now a Young Readers' Edition book about the audacious, brilliant life and career about the most-loved Supreme Court Justice of our time.
When the Nazi party rose to power, Pastor Dietrich Bonhoeffer was appalled by the church's complacency in Hitler's regime of evil. He spoke out against the Nazis, becoming a fugitive who struggled to reconcile religious faith with stopping Hitler by any means necessary.
When the United States decided to erect a monument in Washington D.C. to commemorate those who fought in the Vietnam War, they held a competition for the design. The winner was college student Maya Lin. This book tells the story of her work on the memorial, and beyond.
Sylvia Acevedo tells the true story of how, after family tragedy, joining the Girl Scouts empowered her to become a rocket scientist at NASA.
For the first time in decades, women are able to tell the true story of their work during World War II, breaking and decoding secret messages to help the Allies win the war. This is the Young Readers' Edition of the book by the same title.
This award-winning memoir-in-verse is a moving account of Jacqueline Woodson's childhood.
For the aspiring young writer, this craft book from Newbery Honor author of Ella Enchanted is an excellent introduction to the functions and form of story, with plenty of writing prompts to get the creative juices flowing.
The founder of the organization Girls Who Code tells the significance of coding and getting girls in the field, and offers inspiration and advice on where to start and how to infuse your passion into a career in coding!
Heather Montgomery reveals the fascinating stories behind how roadkill helps scientists make important advancements and discover new species!
White and Atkins tell the story of Bridget Mason, a woman born into slavery who fought against illegal enslavement in California and went on to become a philanthropist and Civil Rights advocate.
The basketball player turned author and activist shares his story in this memoir for young readers.
When Juliane Koepke's flight across Peru goes down on Christmas Eve, she miraculously survives the crash…only to have to survive in the very large, very dangerous rainforest until help arrives.
---
What do you think are the best nonfiction books for kids? Share your favorites in the comments!