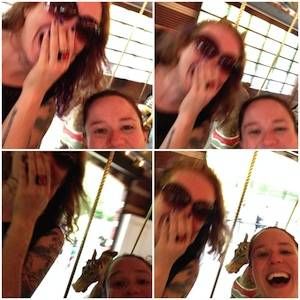 Well-Readheads
Return of the Book Jedis: The Well-Readheads at BEA 2014
This content contains affiliate links. When you buy through these links, we may earn an affiliate commission.
LH: Once again, we have faced the Javits Center and survived! How was your BEA this year, muffin?
RJS: It was pretty great! I went with a "let serendipity lead the way" philosophy, and it worked out well. How about you? Did you have a list of authors to see and books to get?
LH: I spent the majority of it lining up for authors whose books I have read and loved, like Megan Abbott, Amy Bloom, Jesmyn Ward, Jo Walton, Elizabeth Wein, and David Mitchell. I wanted to tell them how awesome they are! And I snagged almost all the books I set out to get, such as Broken Monsters by Lauren Beukes, Belzhar by Meg Wolitzer (with help from fellow Rioter Josh), Neverhome by Laird Hunt, Liar, Temptress, Soldier, Spy by Karen Abbott, and Station Eleven by Emily St. John Mandel. I really, really wanted Rebel Yell, which is not the name of the Billy Idol memoir, though he was at BEA, but the book about Stonewall Jackson by S. W. Gwynne. Sadly, I missed getting it. But I did get the biography about my Civil War boyfriend, William Tecumseh Sherman, called Fierce Patriot! I love the crazy ones. Did you pick up anything amazing?
RJS: I did! I hadn't looked at the lists of books and authors before BEA, so everything was a surprise to me. Fellow Rioter Jeff and I were wandering between meetings when he spied a new Hannah Pittard novel at the Little, Brown booth! She wrote The Fates Will Find Their Way, which I really enjoyed back in 2010, and this new one is called Reunion. It's one of my genre kryptonites, about a family that gets back together for a weekend, this time because the patriarch has died. I devoured it on the flight home. I also snagged Belzhar, and I'm super stoked about it because Meg Wolitzer is the raddest….but I have to read The Bell Jar first! Can you believe I've never put that book in my brain before?
LH: Not at all – we all have gaps in our book education. It's fun when you finally get to a book everyone else has read. One of the highlights of my BEA was definitely getting to meet my hero, A. S. King. And not only is she an amazing writer and the coolest human ever, but I couldn't stop staring at her hair. It's gorgeous! It shines like the briefcase in Pulp Fiction.
RJS: She is so, so awesome. And her forthcoming book, Glory O'Brien's History of the Future, is one of the five (yes, I only picked up five galleys–I'm a 21st-century digital girl now) that I brought home from the show. I just can't get enough of how A.S. King handles Very Real Issues by telling stories that have a touch (or several) of magic and the surreal. And I want to be surprised by it, so I'm not reading the jacket copy or any synopses or anything! While we're on the subject, I'm also avoiding descriptions of is The Book of Strange New Things by Michel Faber. I have loved everything he's written, and New Faber Book Day seems like it should be a holiday. So I'm gonna make it one! What's in your stack that you hope to be surprised by?
LH: I just realized I only came home with books by authors I've already read, so it's more a case of tried and true. There were just so many authors I love there whose new books I couldn't wait to get my hands on. Katherine Howe, of The Physick Book of Deliverance Dane fame, is dipping her toe in YA waters with Conversion, and Susan Jane Gilman, who has written several awesome memoirs, is releasing her first novel, The Ice Cream Queen of Orchard Street. Her book, Undress Me in the Temple of Heaven, is one of my favorites. So, what was the weirdest thing you saw at the convention center this year? Anything weirder than the latex devil guy we encountered a couple years back?
RJS: You know, aside from the usual Scientology book promoters dressed up as pirates, I didn't actually see that much weird stuff. That devil guy still takes the cake! My jaunt through the tech-focused aisled revealed more Book + Suffix businesses than even I could have imagined. BookLikes, Bookarma, BookCapades (not a real thing, but it should be), and even ebooks.com. Wonder how much they paid for that domain?! What about you? Any zany sightings?
LH: Yes. This thing.
RJS: Wow. I feel like they missed an opportunity by not calling it Crapidermy. Where to go from here? Yikes. I need a glass of juice and something soothing. Let's talk about how excited I am for Marilynne Robinson's Lila. Gilead is one of my all-time favorites, and I can't wait to return to that town and some of the characters and put more of Robinson's beautiful words into my eyes.
LH: I encountered a lot of elated people who scored a copy of Lila, and a lot of very sad people who didn't. I am ashamed to admit I have never read anything by her other than Housekeeping…please don't break up with me.
RJS: That's the one I haven't read. Together, we make a good set!
LH: Is it time to talk about how I met David Mitchell yet? Because – SPOILER – I met David Mitchell!!!!! And it nearly cost me my life! But it was worth it.
And then there was the time we nearly got a concussion riding the carousel in Prospect Park, i.e., when smart people stop being smart.
RJS: Oh, yes! David Mitchell! The carousel! People with book smarts and not-so-much spatial skills!
I don't think there are any books that can help us with that, but I did get a psychology-related book I'm into. The Marshmallow Test by Walter Mischel is about that famous study where they give kids a marshmallow and tell them they can eat it now, or wait a little while and have two. Their responses revealed all kinds of personality stuff related to long-term behavior and instant vs. delayed gratification, and I'm excited to check it out. And then to over-analyze myself for a while. That's what you're supposed to do when you read self-help stuff, right?
LH: I thought that's what you're supposed to do when you read erotica.
RJS: Oh girl, that's a conversation for a different day! We better call it quits before we make the bookternet too racy. Til next time…..
Tell us, readers: Did you get to go to BEA? What exciting things did you see?