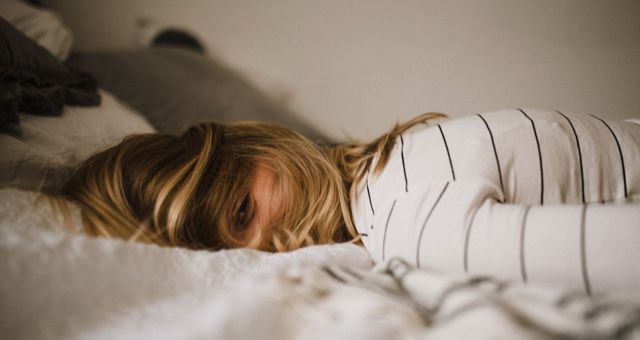 This content contains affiliate links. When you buy through these links, we may earn an affiliate commission.
Every summer, I hit this weird reading slump where comics are basically the only books I can stomach. Last summer, I focused on comics to read in one sitting. This summer, I just went to the library with one goal: Comics to get through the dreaded reading slump. Here are eight comics that helped me get into reading again, and maybe one of them will help you, too.
These little existential comics are cute and sad and funny and moving. Our alien friend is sent to Earth to observe humans, but he only befriends trees and animals. He understands much about life on Earth: we're too busy being busy and not focusing on being happy instead. I highly recommend reading this on the beach or near a pool.
Lucy Knisley does it again. She's created (heh) a gorgeous graphic memoir to tell the tale of her pregnancy, interspersed with bits of history and science. Her art style is one of a kind, and her story is beautiful and scary and real and sad.
Speak: The Graphic Novel by Laurie Halse Anderson, Emily Carroll (Illustrations)
This book jumped off the shelf just when I needed it. I hadn't been able to read for weeks, and bam, here's the gorgeous graphic novel companion to Speak, one of the first books to get me to love reading when I was an angsty teen. And then I found it in a new form, waiting for me, ready to show me how to love reading again. It is perfect.
Teresa Wong writes this graphic memoir as a letter to her daughter, chronicling the hours, days, weeks, and months after her daughter's birth and how hard it was on her (and her husband). It's moving and honest and beautiful. A must-read for all humans, especially those who think women can bounce back into normal life after giving birth.
I will always read Oh Joy Sex Toy, forever and ever, amen! Vol. 4 is another delightful collection of sex toy reviews, among other sex-related topics, and this time there are lots of bonus comics from other creators at the end.
You know that evil little voice in your head that tells you all the reasons you shouldn't do a thing? Lucy Bellwood made a whole book about thwarting that demon's plans. It's a cute little book to keep on hand when you need to tell your own little demon to shut the hell up.
If you can't get enough of Tidying Up, this little manga is just for you! We learn all the steps of the Konmari method through Chiaki, a young woman living in a messy Tokyo apartment. She turns her life around after her (cute!) neighbor complains about the trash on her balcony.
This book is so cute and fun! Katie Vaz has given us a fun little how-to guide for all those moments when we're trapped in a situation with *gasp* another human, and have to find a way out without socializing. It's a wonderful addition to the introvert cartoon collection.
---
If you need even more comics to get you out of a reading slump, might I recommend these short comics, classics adapted into comics and graphic novels, and light-hearted comics to make you smile.