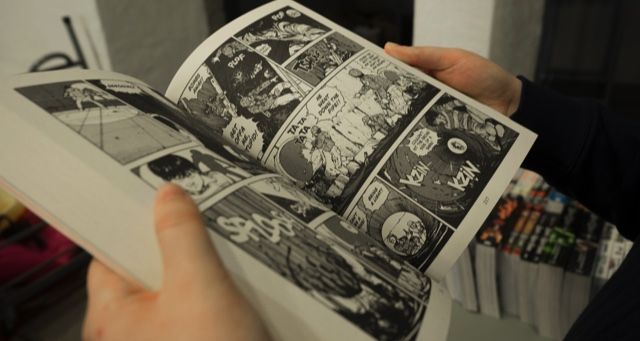 Classics
8 Classic Works of Literature as Graphic Novels and Comics
This content contains affiliate links. When you buy through these links, we may earn an affiliate commission.
During the summer, I always get ambitious with my reading plans, and every year, they usually involve picking up a classic I never got around to reading. But sometimes, big complicated texts are intimidating, or I'd like to revisit an old favorite in a new way. Graphic novels are perfect for poolside reading, and these eight graphic novels and comics are exactly what I want to read this summer when I'm ready to dive into my own personal summer reading assignment.
Jane by Charlotte Brontë, Aline McKenna, illustrated by Ramon K. Perez
I'm a sucker for anything Jane Eyre, so when I saw this stunning cover art and the description of this adaptation, I was sold. A modern reimagining of the classic novel, Jane is in the world of the elite and secretive New Yorkers.
"The Lottery" by Shirley Jackson, Miles Hyman
Shirley Jackson, thanks to Netflix, is more of a household name, though many may still not have read her classic works of horror. If you're looking for a way into her writing, check out this adaptation of "The Lottery," one of her most famous short stories. Raising troubling questions about quiet-neighborhood violence and tradition, this fresh retelling with creep out new Jackson fans and those who've been scaring themselves for years with her books.
The Odyssey by Homer, Gareth Hinds
If someone had let me read the graphic novel of The Odyssey in high school instead of the brain-wrenchingly-long original text, I would have been SO excited. The classic epic, along with its counterpart, The Iliad, have been illustrated in engaging watercolor and bold colors to give new life to one of the most infamous journeys in literature.
Frankenstein by Mary Shelley, Gris Grimly
This stunning macabre graphic adaptation of Mary Shelley's Frankenstein tops my list of most beautiful books. The Tim Burton–esque style of art perfectly capture the eerie world of Dr. Frankenstein as he explores his scientific experiments. What I love about this adaptation is that the artwork accompanies the original 1818 text, mixing the old with a fresh, beautiful new format.
I vividly remember Anne Frank's Diary as one of the first real books I was assigned in school, and I was in awe of this young girl who we were learning about in social studies class and what she was witnessing, experiencing, and writing. This graphic adaptation (authorized by the Anne Frank Foundation) stays true to her humorous and frank writing style while bringing new life and color to her story and life.
While Parable of the Sower is receiving a bit of small boost in sight recently (thanks to several podcasters pushing it and the release of this new opera), Kindred was my introduction to Butler, and I've loved it ever since. This graphic adaptation is powerful and harrowing and will mesmerize you.
Pride and Prejudice by Jane Austen, Nancy Butler, illustrated by Hugo Petrus
Pride and Prejudice: the classic to end all classics, charting every list, every quiz, every adaptation. And there's even a comic series. Faithfully but humorously adapted, this spins the classic love story into a fun will they/won't they full of family drama and snarky quips. You can read the volume like a graphic novel, or you can get single-issue floppies of the series. I also must mention how much I love the magazine-style cover art.
To Kill a Mockingbird by Harper Lee, illustrated by Fred Fordham
The classic American novel we've all read (or will read) at some point in our lives is depicted as a graphic novel. Perfect for younger readers ready for a bigger story or those revisiting a new perspective on a novel they've read, this adaptation stays true to the original while bringing fresh emotion and connection in a visual way.
What classic would you love to read in a graphic novel or comic format?
If you're looking for more graphic adaptations of classics, check out this list of children's books as comics.