Libraries
How to Read Like a Librarian: 7 Books to Get You Started
This content contains affiliate links. When you buy through these links, we may earn an affiliate commission.
We look to librarians for the greatest ways to approach research, the latest cardigan trends, and, most importantly, the hottest books. They must be some kind of unicorns, the way they always know the best reads. Certainly they only read the books worth reading. Right? Wrong! We librarians read our share of books that don't appeal to us, books that are pretty objectively not good, and even offensive books, along with plenty of wonderful books. I asked our Book Riot librarians what they were currently reading to prove that while we might believe librarians are some kind of expert readers, there's no "right" way to read. If you've ever wondered how to read like a librarian, look no further than the list below. Or, next time you visit your library, ask your librarian, "What are you reading?"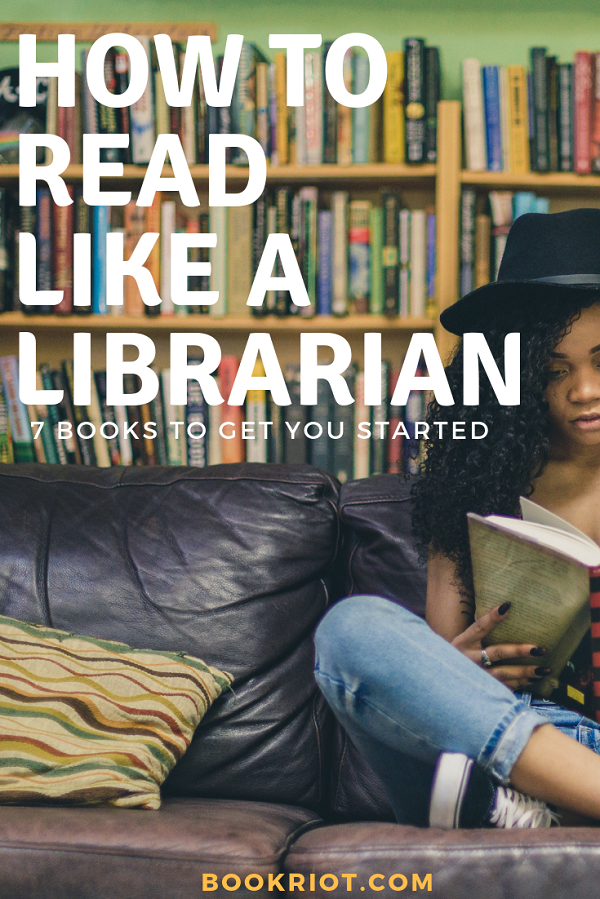 I am reading this book because I genuinely enjoyed The Mastery of Love by Don Miguel Ruiz. I have been experiencing a lot of anxiety lately, and his teachings are always great reminders that there is plenty of joy in our lives. Fear is the source of all the negative agreements we've made with life. It can alienate us from the joy that is our birthright. When we are able to look at our lives and our worlds without fear or judgments, we realize that this dream we are dreaming—reality—can be whatever we want it to be. In keeping with my 2019 goal of reading only nonfiction books that educate and allow me to be a better person, this one seemed like the right fit right now.
I heard about this from another Book Riot writer, it's a graphic nonfiction book specifically tackling the topic of how pronouns work for genderqueer people. I feel pretty comfortable with they/them pronouns, but there's always more to learn, such as not using "preferred" when asking someone about their pronouns. It's not doing someone a favor to use correct pronouns. I'm hoping this book is slight enough and fun enough that I can introduce it at my work, so that as an institution we can use more gender inclusive language.
I picked this up because Jaswal is a graduate of my alma mater, Hollins University. Maybe it's because I know that, but reading this book is like visiting campus in many ways. Erotic Stories introduces readers to Nikki, a young first-generation English woman, who takes on the task of teaching a creative writing class at a local community center. When she's met by a small class of widowed Punjabi women, Nikki quickly realizes these women are English-illiterate and cannot write their names, let alone stories. As the women work toward a greater sense of community, they share fictional stories inspired by their pasts or what they wish their pasts had been, all while making young Nikki blush. Meanwhile, the program's director, Kulwinder, is dealing with a dark past of her own and unable to escape its implications.
I've really enjoyed the last two romcom-esque titles from Menon, but I've been curious about this specific book since I spent the entirety of BEA two years ago asking every single publisher I could find what they had coming out with fat characters. People STARED and had VERY few answers for me (which I find weird, since 2018 actually brought a slew of fat characters—was that not the language being used in publishing houses?) and it was a rather disheartening process. While waiting in one signing line, an intern told me she knew Menon had a forthcoming book with a fat heroine—Sweetie was the only specific title that was given to me that day. It's finally here, and it has some really important language, a really swoony love story, and a fully fleshed plot full of characters you'll cheer for. This fat librarian is very happy about Sweetie!
I don't read a lot of speculative fiction. I am a heavy romance reader, and mostly stick to contemporary and historical. But I heard space princess and pirates and was like "yes, please" (because I might not read a lot of Space Opera, but boy do I love watching it). The author is coming to a book festival in my city, and while that wouldn't usually inspire me to pick up their book before they got here, there was some good buzz on the interwebs, and I was very much curious. We're dropped immediately into the mind of aforementioned princess Ada right in the middle of a fight, and I was all in from there. She's on a mission to not get married, and will ally herself with an outlaw to keep it that way. Sounds cool, right?
Trail of Lightning was one of my favorite reads of 2018—the high-stakes action and Maggie Hoskie's voice sucked me in immediately. The first book ends with a lot of balls up in the air, so as soon as I could get my hands on an ARC of the second book, I was off. Maybe post-apocalyptic stories aren't quite as on trend in the publishing word as they were a few years ago, but this one is exceptional—and I've found that a lot of my library users are still very into this sub-genre. Set in Dineteh, formerly known as the Navajo reservation, this series follows Maggie Hoskie's journey in a world wrecked by climate change, where gods and monsters stalk the land, and only she can stop them. These books are relentless in their action and pacing, but Roanhorse does a wonderful job of making Maggie's emotional journey feel fully formed, too. Buying and recommending more #ownvoices, diverse fantasy is an ongoing project in my library, and I'm so happy to have this series as a go-to!
I'm a newcomer to Leckie, although I've been aware of her work for a long time. Oddly, I don't think I was aware of the interesting things she does with gender in her Radch books. If I had been, I definitely would have become a fan sooner. The characters in this book were sometimes a mite slow on the uptake when it came to cases of mistaken identity. That said, the book is all about identity—sexual, gender, familial, species, vocational, everything. Ingray Aughskold is the adopted adult daughter of a powerful politician on the planet Hwae. She's smart and hardworking, but a little less aggressive than her ambitious brother. When she hatches a plan to get the jump on him—and on a chance at inheriting her mother's name in influence—she accidentally opens a can of worms that could threaten the very fabric of Hwaean society. This is a world where people choose their gender when they become adults—and they don't have to choose to be women or men. They're enjoying a tense treaty with AI-affiliated humans who all identify as female and a secretive alien species that changes its gender at intervals. Everyone treats sexuality like no big thing. It rocked my very socks and I recommend it to all.
Now that you know how to read like a librarian (and we hope you'll brag to your friends that you do!), go forth and read without guilt. Want more on librarians? Check out our librarians archive.