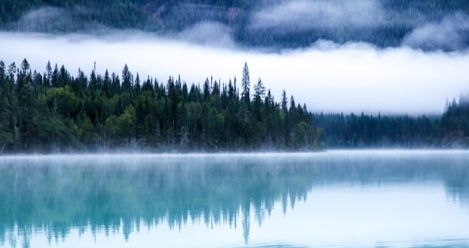 Lists
33 Poems on Nature That Honor the Beauty and Brutality of the Natural World
Poems on nature: during the height of mosquito season, they are our link to the outdoors, the only way to enjoy the great green world out there. (No? Just me? Okay.) The poet's gaze, their observation and insight and word play, can bring the outdoors to us in ways we hadn't considered, ways we might not have known to look. A good poem on nature slows us down. It reminds us of the dirt we walk on, the trees we pass by, the birds overhead, the hands that have tilled and planted, the survival of seeds—of animals, of humans—despite everything. And in that seeing, in that remembering, we honor the beauty and brutality of the natural world. To that end, here are 33 poems by poets who might not necessarily be considered "nature poets," but whose nature poems are on point.
Now, first things first: I need you to know that I could fill an entire post with Mary Oliver poems on nature. In fact, I encourage you to check out posts from fellow Rioters: 5 Quotes from Mary Oliver Poems That Could Save Humanity; A Note of Gratitude to Mary Oliver on Her Birthday; and Buy, Borrow, Bypass: The Call to Language (or The Mary Oliver Edition). My best advice is to just go read all of Mary Oliver. Your soul will thank you.
The same would go for Wendell Berry, who is both a poet and a conservationist and has published widely in both poetry and nonfiction about the subject. And in fact, I would encourage you to check out Valerie Michael's post 100 Must-Read Books About Nature (which include Berry). While not poetry, necessarily, this is a great list of books to help you get in touch with the aforementioned beauty and brutality.
And look, William Wordsworth and John Keats don't need my help. But dang, they wrote a lot about nature. So follow those links if you want to check out the Romantics.
Without further ado, let's get down to some nature poems.
As a seed, I was shot out the back end of a blue jay

when, heedless, she flew over the meadow.
She had swallowed me in my homeland when she spied me
lying easy under the sun—briefly, I called her Mother
before I passed through her gullet like a ghost.
In a blink of God's eye I was an orphan. I trembled
where I fell, alone in the dirt. That first night
was a long night, early May and chilly, and I remember
rain filled my furrow. I called out for mercy—
only a wolverine wandered by. I cursed my luck,
I cursed the happenstance of this world, I smelled
his hot stink, but he nosed me deep into the mud—
this was the gift of obscurity. I germinated, hidden
from the giants of earth, the jostling stalks,
the various, boisterous bloomers, and this was my salvation.
After seven days and nights I pushed through—
yes. Here I am, kissable: your tiny, purple profusion.
You come to fetch me from my work to-night
When supper's on the table, and we'll see
If I can leave off burying the white
Soft petals fallen from the apple tree.
(Soft petals, yes, but not so barren quite,
Mingled with these, smooth bean and wrinkled pea;)
And go along with you ere you lose sight
Of what you came for and become like me,
Slave to a springtime passion for the earth.
How Love burns through the Putting in the Seed
On through the watching for that early birth
When, just as the soil tarnishes with weed,
The sturdy seedling with arched body comes
Shouldering its way and shedding the earth crumbs.
Homo sapiens is the only species
to suffer psychological exile.
—E. O. Wilson
I returned to a stand of pines,
bone-thin phalanx
flanking the roadside, tangle
of understory—a dialectic of dark
and light—and magnolias blossoming
like afterthought: each flower
a surrender, white flags draped
among the branches. I returned
to land's end, the swath of coast
clear cut and buried in sand:
mangrove, live oak, gulfweed
razed and replaced by thin palms—
palmettos—symbols of victory
or defiance, over and over
marking this vanquished land. I returned
to a field of cotton, hallowed ground—
as slave legend goes—each boll
holding the ghosts of generations:
those who measured their days
by the heft of sacks and lengths
of rows, whose sweat flecked the cotton plants
still sewn into our clothes.
I returned to a country battlefield
where colored troops fought and died—
Port Hudson where their bodies swelled
and blackened beneath the sun—unburied
until earth's green sheet pulled over them,
unmarked by any headstones.
Where the roads, buildings, and monuments
are named to honor the Confederacy,
where that old flag still hangs, I return
to Mississippi, state that made a crime
of me—mulatto, half-breed—native
in my native land, this place they'll bury me.
Peonies, heavy and pink as '80s bridesmaid dresses
and scented just the same. Sweet pea,
because I like clashing smells and the car
I drove in college was named that: a pea-green
Datsun with a tendency to backfire.
Sugar snap peas, which I might as well
call memory bites for how they taste like
being fourteen and still mourning the horse farm
I had been uprooted from at ten.
Also: sage, mint, and thyme—the clocks
of summer—and watermelon and blue lobelia.
Lavender for the bees and because I hate
all fake lavender smells. Tomatoes to cut
and place on toasted bread for BLTs, with or without
the b and the l. I'd like, too, to plant
the sweet alyssum that smells like honey and peace,
and for it to bloom even when it's hot,
and also lilies, so I have something left
to look at when the rabbits come.
They always come. They are
always hungry. And I think I am done
protecting one sweet thing from another.
To everything, there is a season of parrots. Instead of feathers, we searched the sky for meteors on our last night. Salamanders use the stars to find their way home. Who knew they could see that far, fix the tiny beads of their eyes on distant arrangements of lights so as to return to wet and wild nests? Our heads tilt up and up and we are careful to never look at each other. You were born on a day of peaches splitting from so much rain and the slick smell of fresh tar and asphalt pushed over a cracked parking lot. You were strong enough—even as a baby—to clutch a fistful of thistle and the sun himself was proud to light up your teeth when they first swelled and pushed up from your gums. And this is how I will always remember you when we are covered up again: by the pale mica flecks on your shoulders. Some thrown there from your own smile. Some from my own teeth. There are not enough jam jars to can this summer sky at night. I want to spread those little meteors on a hunk of still-warm bread this winter. Any trace left on the knife will make a kitchen sink like that evening air
the cool night before
star showers: so sticky so
warm so full of light
It's true there were times when it was too much
and I slipped off in the first light or its last hour
and drove up through the crooked way of the valley
and swam out to those ruins on an island.
Blackbirds were the only music in the spruces,
and the stars, as they faded out, offered themselves to me
like glasses of water ringing by the empty linens of the dead.
When Delilah watched the dark hair of her lover
tumble, she did not shatter. When Abraham
relented, he did not relent.
Still, I would tell you of the humbling and the waking.
I would tell you of the wild hours of surrender,
when the river stripped the cove's stones
from the margin and the blackbirds built
their strict songs in the high
pines, when the great nests swayed the lattice
of the branches, the moon's brute music
touching them with fire.
And you, there, stranger in the sway
of it, what would you have done
there, in the ruins, when they rose
from you, when the burning wings
ascended, when the old ghosts
shook the music from your branches and the great lie
of your one sweet life was lifted?
When a human is asked about a particular fire,
she comes close:
then it is too hot,
so she turns her face—
and that's when the forest of her bearable life appears,
always on the other side of the fire. The fire
she's been asked to tell the story of,
she has to turn from it, so the story you hear
is that of pines and twitching leaves
and how her body is like neither—
all the while there is a fire
at her back
which she feels in fine detail,
as if the flame were a dremel
and her back its etching glass.
You will not know all about the fire
simply because you asked.
When she speaks of the forest
this is what she is teaching you,
you who thought you were her master.
"It is your very self" I tell him.
He has never seen me.
His quick coin of breath disappears on the glass as it forms: air
that feeds his bones their portion
willingly as it feeds mine. He spends his here,
besieged by the dull birds who gather
and whom he cannot touch, his own feathers
red as wrought blood.
Dear bird, how many selves
must you vanquish?
In the mornings, his wings are backlit. They are beating,
delicate, cruciform, hollow feather, hollow bone.
In the blizzard his furor is the only color,
the only shape. He is waiting
for the coward to come out. There is nothing
all winter he has saved to eat.
I saw a female the day before he disappeared.
Her beak just as orange, her body, calm, watched his.
I made voices for her: variations on the pride
and hemmed patience of women I'd known
whose husbands did insistent, strong,
and strange things. Maybe she knew it was spring. I didn't.
The next day he came once
to throw the bright dime of his life to the walled world,
as if to make sure
it was not feather against feather that hurt him.
I love the whir of the creature come
to visit the pink
flowers in the hanging basket as she does
most August mornings, hours away
from starvation to store
enough energy to survive overnight.
The Aztecs saw the refraction
of incident light on wings
as resurrection of fallen warriors.
In autumn, when daylight decreases
they double their body weight to survive
the flight across the Gulf of Mexico.
On next-to-nothing my mother
flew for 85 years; after her death
she hovered, a bird of bones and air.
Stony trails of jagged beauty rise
like stretch marks streaking sand-hips.
All the Earth has borne beguiles us
& battered bodies build our acres.
Babes that sleep in hewn rock cradles
learn to bear the hardness coming.
Tough grace forged in tender bones—
may this serve & bless them well.
They grow & break grief into islands
of sun-baked stone submerged in salt
kisses, worn down by the ocean's ardor
relentless as any strong loving.
May they find caresses that abolish pain.
Like Earth, they brandish wounds of gold!
I watch a woman take a photo
of a flowering tree with her phone.
A future where no one will look at it,
perpetual trembling which wasn't
and isn't. I have taken photos of a sunset.
In person, "wow" "beautiful"
but the picture can only be
as interesting as a word repeated until emptied.
I think I believe this.
Sunset the word holds more than a photo could.
Since it announces the sun then puts it away.
We went to the poppy preserve
where the poppies were few but generous clumps
of them grew right outside the fence
like a slightly cruel lesson.
I watched your face, just out of reach.
The flowers are diminished by the lens.
The woman tries and tries to make it right
bending her knees, tilting back.
I take a photo of a sunset, with flash.
I who think I have something
to learn from anything learned nothing from the streetlight
that shines obnoxiously into my bedroom.
This is my photo of a tree in bloom.
A thought unfolding
across somebody's face.
translated by Tracy K. Smith and Changtai Bi
Autumn wind chases in
From all directions
And a thousand chaste leaves
Give way.
Scatter in me the seeds
Of a thousand saplings.
Let grow a grassy heaven.
On my brow: a sun.
This bliss is yours, Living
World, and alone it endures.
Music at midnight.
Young wine.
Lovers hand in hand
By daylight, moonlight.
Living World, hold me
In your mouth,
Slip on your frivolous shoes
And dance with me. My soul
Is the wild vine
Who alone has grasped it,
Who has seen through the awful plot,
Who will arrive in time to vanquish
The river already heavy with blossoms,
The moon spilling light onto packs
Of men. What is sadder than witless
Wolves, wind without borders,
Nationless birds, small gifts
Laden with love's intentions?
Fistfuls of rain fall hard, fill
My heart with mud. An old wind
May still come chasing in.
Resurrection fire. And me here
Laughing like a cloud in trousers,
Entreating the earth to bury me.
It held its head still
while its body and green
legs wobbled in wide arcs
from side to side. When
it stalked out of sight,
I went after it, but all
I could find where I was
expecting to see the bird
was a three-foot-long lizard
in ill-fitting skin
and with linear mouth
expressive of the even temper
of the mineral kingdom.
It stopped and tilted its head,
which was much like
a fieldstone with an eye
in it, which was watching me
to see if I would go
or change into something else.
& of the lattermath I can only say
that with the rain the cattails grew so high
that the longing nearly subsided
this morning I am all moonshine on the snowbank
clockwise back to a better self I am
tenderfoot daisywheel though yesterday I was
warpath and daydreams of underfoot animals
o my fishhook in sheepskin I want
to spacewalk in time with you to teaspoon
sugar into your mouth to clean horsehairs
from under your fingernails honeymoon
of the longhouse I'll meet you on the shadyside
of the limestone for years I grew lukewarm
with a backache but now I am whitefish
and blackberries I am forbearer and undercurrent
buttermilk and motherhood watertight thunderbird
forgive me my wipeout my deadend and foremost
forgive me my butterball my washrag wrung out
the grasslands of the graveyard I nearly misrecognized
what I almost became eggshell watercolor
drained pipe goodbye o my forever bedclothes
yours is the body warmblooded washbowl
that I seahorse into night after night and the dogwood
timepiece ticks the gumball fruitcup earache of our girls
you my wavelength my tailbone lemonlime jellybean
crewcut backstroke beachcomber I do I do
It's all a farce,—these tales they tell
About the breezes sighing,
And moans astir o'er field and dell,
Because the year is dying.
Such principles are most absurd,—
I care not who first taught 'em;
There's nothing known to beast or bird
To make a solemn autumn.
In solemn times, when grief holds sway
With countenance distressing,
You'll note the more of black and gray
Will then be used in dressing.
Now purple tints are all around;
The sky is blue and mellow;
And e'en the grasses turn the ground
From modest green to yellow.
The seed burrs all with laughter crack
On featherweed and jimson;
And leaves that should be dressed in black
Are all decked out in crimson.
A butterfly goes winging by;
A singing bird comes after;
And Nature, all from earth to sky,
Is bubbling o'er with laughter.
The ripples wimple on the rills,
Like sparkling little lasses;
The sunlight runs along the hills,
And laughs among the grasses.
The earth is just so full of fun
It really can't contain it;
And streams of mirth so freely run
The heavens seem to rain it.
Don't talk to me of solemn days
In autumn's time of splendor,
Because the sun shows fewer rays,
And these grow slant and slender.
Why, it's the climax of the year,—
The highest time of living!—
Till naturally its bursting cheer
Just melts into thanksgiving.
I
The whole earth is filled with the love of God.
In the backwoods, the green light
is startled by blossoming white petals,
soft pathways for the praying bird
dipping into the nectar, darting in starts
among the tangle of bush and trees.
My giddy walk through this speckled grotto
is drunk with the slow mugginess
of a reggae bassline, finding its melody
in the mellow of the soft earth's breath.
I find the narrow stream like a dog sniffing,
and dip my sweaty feet in the cool.
While sitting in this womb of space
the salad romantic in me constructs a poem. This is all I
can muster
before the clatter of schoolchildren
searching for the crooks of guava branches
startles all with their expletives and howls;
the trailing snot-faced child wailing perpetual—
with ritual pauses for breath and pity.
In their wake I find the silver innards of discarded
cigarette boxes, the anemic pale of tossed
condoms, the smashed brown sparkle of Red Stripe
bottles, a mélange of bones and rotting fruit,
there in the sudden white light of noon.
II
How quickly the grandeur fades into a poem,
how easily everything of reverie starts to crumble.
I walk from the stream. Within seconds
sweat soaks my neck and back; stones clog my shoes,
flies prick my flaming face and ears,
bramble draws thin lines of blood on my arms.
There is a surfeit of love hidden here;
at least this is the way faith asserts itself.
I emerge from the valley of contradictions,
my heart beating with the effort, and stand looking
over the banking, far into Kingston Harbor
and the blue into gray of the Caribbean Sea.
I dream up a conceit for this journey
and with remarkable snugness it fits;
this reggae sound: the bluesy mellow
of a stroll on soft, fecund earth, battling the crack
of the cross-stick; the scratch of guitar,
the electronic manipulation of digital sound,
and the plaintive wail of the grating voice.
With my eyes closed, I am drunk with the mellow,
swimming, swimming among the green of better days;
and I rise from the pool of sound, slippery with
the warm cling of music on my skin,
and enter the drier staleness of the road
that leads to the waiting city of fluorescent lights.
It is true that the rivers went nosing like swine,
Tugging at banks, until they seemed
Bland belly-sounds in somnolent troughs,
That the air was heavy with the breath of these swine,
The breath of turgid summer, and
Heavy with thunder's rattapallax,
That the man who erected this cabin, planted
This field, and tended it awhile,
Knew not the quirks of imagery,
That the hours of his indolent, arid days,
Grotesque with this nosing in banks,
This somnolence and rattapallax,
Seemed to suckle themselves on his arid being,
As the swine-like rivers suckled themselves
While they went seaward to the sea-mouths.
My river was once unseparated. Was Colorado. Red-
fast flood. Able to take
anything it could wet—in a wild rush—
all the way to Mexico.
Now it is shattered by fifteen dams
over one-thousand four-hundred and fifty miles,
pipes and pumps filling
swimming pools and sprinklers
in Los Angeles and Las Vegas.
To save our fish, we lifted them from our skeletoned river beds,
loosed them in our heavens, set them aster—
'Achii 'ahan, Mojave salmon,
Colorado pikeminnow—
Up there they glide, gilled with stars.
You see them now—
god-large, gold-green sides,
moon-white belly and breast—
making their great speeded way across the darkest hours,
rippling the sapphired sky-water into a galaxy road.
The blurred wake they drag as they make their path
through the night sky is called
'Achii 'ahan nyuunye—
our words for Milky Way.
Coyote too is up there, crouched in the moon,
after his failed attempt to leap it, fishing net wet
and empty, slung over his back—
a prisoner blue and dreaming
of unzipping the salmon's silked skins with his teeth.
O, the weakness of any mouth
as it gives itself away to the universe
of a sweet-milk body.
Just as my own mouth is dreamed to thirst
the long desire-ways, the hundred-thousand light year roads
of your throat and thighs.
they thought the field was wasting
and so they gathered the marker rocks and stones and
piled them into a barn they say that the rocks were shaped
some of them scratched with triangles and other forms they
must have been trying to invent some new language they say
the rocks went to build that wall there guarding the manor and
some few were used for the state house
crops refused to grow
i say the stones marked an old tongue and it was called eternity
and pointed toward the river i say that after that collection
no pillow in the big house dreamed i say that somewhere under
here moulders one called alice whose great grandson is old now
too and refuses to talk about slavery i say that at the
masters table only one plate is set for supper i say no seed
can flourish on this ground once planted then forsaken wild
berries warm a field of bones
bloom how you must i say
Summers spent practicing in the apartment
stairwell: hand on the bannister, one foot after
another. Did I ever tell you I couldn't walk
until I was three and then sort of dragged
myself up and downstairs until I was seven
or eight? That burgundy carpet.
I'd stop to breathe and look out the window,
over brick tenements, toward the Capitol
building. Oak leaves so full of late summer
sun even I thought, "Obscene" and stood stunned
for a moment. My God. The urge to rest like the birds
on the phone wires, chatting like barristers
at the end of the day. Myself the useless
Ambassador from the third floor. I was the last one
up so the door was left open. I can still see it gaping
from two stories down. Sometimes music played.
Sometimes I'd smell supper. Neighbors stopped
to say hello. Achingly beautiful how the sky
looked as I stood after they left. Nicer somehow
in the middle. All the trees tucking blackbirds
into their darkness. It really did take this long.
In icy fields.
Is water flowing in the tank?
Will they huddle together, warm bodies pressing?
(Is it the year of the goat or the sheep?
Scholars debating Chinese zodiac,
follower or leader.)
O lead them to a warm corner,
little ones toward bulkier bodies.
Lead them to the brush, which cuts the icy wind.
Another frigid night swooping down —
Aren't you worried about them? I ask my friend,
who lives by herself on the ranch of goats,
far from here near the town of Ozona.
She shrugs, "Not really,
they know what to do. They're goats."
Ten years of driving the same highway, past the same tree, the
picture is
at last complete. The eucalyptus tree and narrow birds above a
blessed
steel sea with no thoughts of yesterday, today, or tomorrow.
Black cormorants on bare branches spread their wings as if in
prayer.
A sunny day in Summerland and the tree, visible only from the
highway,
hides its penitent perch from cars racing by too fast.
Four wheels swerve to avoid a sheer cliff, southbound on the 101.
The fat sun slides its yolk into the glass ocean. Slow down, see
an empty nest of woven round sticks in the praying tree.
Birds soak in rays without fear of melanoma or the nature
of forgiveness. Slick imperfections, wet wings
open and close in Morse code for goodbye.
I've known rivers:
I've known rivers ancient as the world and older than the
flow of human blood in human veins.
My soul has grown deep like the rivers.
I bathed in the Euphrates when dawns were young.
I built my hut near the Congo and it lulled me to sleep.
I looked upon the Nile and raised the pyramids above it.
I heard the singing of the Mississippi when Abe Lincoln
went down to New Orleans, and I've seen its muddy
bosom turn all golden in the sunset.
I've known rivers:
Ancient, dusky rivers.
My soul has grown deep like the rivers.
After last night's rain the woods
smell sensual—a mixture of leaves and musk.
The morels have disappeared, and soon I'll come across
those yellow chanterelles, the kind they sell
in town at the farmers' market. Once I saw
the Swedish woman who raises her own food
foraging for them, two blond boys
quarreling near the pickup, and the next morning
they were selling them from their stand beside the road.
Out here, among last year's dead
leaves with the new shoots of spruces
poking through them, I've come to the place where light
brightens a glade of ferns and the log someone else
placed here—carved "B.W."—where I sometimes sit
to listen to the birds. Today the sun is breaking through
the wet branches, revealing a clean sky,
brilliant, cerulean. Then, suddenly, a raft of scudding clouds
promising more rain. If it comes, I'll read all afternoon—
Henry James, or maybe Eudora Welty's
Delta Wedding, where so many characters
vie for attention I can never keep them straight.
Here, there's no one else, no one to worry over
or argue with or love. Maybe the earth was meant
only for this: small comings and goings
on the forest floor, the understory astir
with its own secret life. If I sit still enough
among the damp trees, sometimes I see the world
without myself in it, and—it always surprises me—
nothing at all is lost.
One winter I lived north, alone
and effortless, dreaming myself
into the past. Perhaps, I thought,
words could replenish privacy.
Outside, a red bicycle froze
into form, made the world falser
in its white austerity. So much
happens after harvest: the moon
performing novelty: slaughter,
snow. One hour the same
as the next, I held my hands
or held the snow. I was like sculpture,
forgetting or, perhaps, remembering
everything. Red wings in the snow,
red thoughts ablaze in the war
I was having with myself again.
Everything I hate about the world
I hate about myself, even now
writing as if this were a law
of nature. Say there were deer
fleet in the snow, walking out
the cold, and more gingkoes
bare in the beggar's grove. Say
I was not the only one who saw
or heard the trees, their diffidence
greater than my noise. Perhaps
the future is a tiny flame
I'll nick from a candle. First, I'm burning.
Then, numb. Why must every winter
grow colder, and more sure?
The pine-trees bend to listen to the autumn wind as it mutters
Something which sets the black poplars ashake with hysterical laughter;
While slowly the house of day is closing its eastern shutters.
Further down the valley the clustered tombstones recede,
Winding about their dimness the mist's grey cerements, after
The street lamps in the darkness have suddenly started to bleed.
The leaves fly over the window and utter a word as they pass
To the face that leans from the darkness, intent, with two dark-filled eyes
That watch for ever earnestly from behind the window glass.
I had no thought of violets of late,
The wild, shy kind that spring beneath your feet
In wistful April days, when lovers mate
And wander through the fields in raptures sweet.
The thought of violets meant florists' shops,
And bows and pins, and perfumed papers fine;
And garish lights, and mincing little fops
And cabarets and songs, and deadening wine.
So far from sweet real things my thoughts had strayed,
I had forgot wide fields, and clear brown streams;
The perfect loveliness that God has made,—
Wild violets shy and Heaven-mounting dreams.
And now—unwittingly, you've made me dream
Of violets, and my soul's forgotten gleam.
---
Hit the comments: what are your favorite poems on nature?