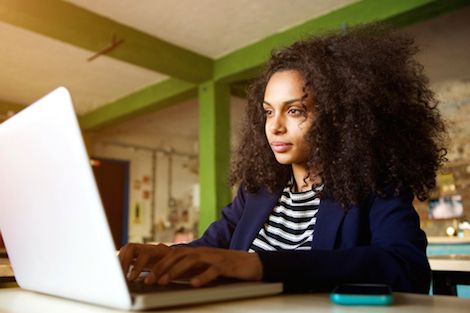 Sites We Like
PEN America's Online Harassment Field Manual for Journalists
When PEOPLE STOP SPEAKING OUT AND WRITING ABOUT PARTICULAR TOPICS DUE TO FEAR OF REPRISAL, EVERYONE LOSES —from the pen America online harassment field manual
Imagine going to pick up your child from a playgroup and your Twitter feed begins to explode at one hundred tweets a minute. When you opened your phone, there was a picture of yourself in a gas chamber.
That is what happened to New Jersey columnist Bethany Frankel. After she wrote a fact-based article in 2016 that referenced Trump's anti-semitic following, the online hate began. "My biggest issue at the time was determining if something was actually a threat and, if so, what to do about it," Frankel told PEN America.
For years, victims of online harassment have been isolated, grown alienated, left to battle the downward spiral of viciousness alone.
In 2017, PEN, the extraordinary organization committed to defending free expression, supporting persecuted writers and to promote literary culture, joined with other human rights organizations and, working on behalf of journalists and writers, screenwriters and playwrights, took action against the rise of online hate and harassment and conducted their own survey and research.
For the purpose of their survey, PEN defined online abuse to include the following behaviors performed in an online setting: the repetitive posting of inflammatory or hateful comments ["trolling"]; cyberstalking; physical threats; the publishing of sexually explicit images without consent ["revenge porn"] and the public posting of private information ["doxing"].
The findings from the PEN survey are revelatory, reflecting the anxieties and fears that define today's fragmented culture. The PEN Study concluded that: "over 67 percent of respondents had experienced a severe reaction to being targeted by online harassment, including refraining from publishing their work, permanently deleting their social media accounts, and/or fearing for their safety or the safety of their loved ones. More than one-third of respondents reported avoided having certain topics in their writing due to online harassment. 37 percent of the respondents felt that online harassment had damaged their reputations. These survey findings align with years of reports from writers, journalists, and activists who had been experiencing harassment and hateful speech online—those hateful behaviors can drive people offline entirely or lead them to avoid speaking or writing about topics that they fear will lead to further harassment."
"More recently, after sustained efforts and pressure from those who bear the brunt of this harassment—women, people of color, LGBTQ+ individuals and people identifying with other marginalized or threatened groups—social media companies and the border public have begun to take this issue seriously. There is now a growing recognition that online harassment can extend to the offline world, especially for those who receive direct, specific threats of sexual violence, bodily harm, and even death, and who have their personal information published without their permission."
"People are targeted not only for what they write and publish online but often simply for being an outspoken member of a particular group—for their race, their faith, their gender identity, their disability. Even more troublingly, this problem is at its worst when people are trying to engage with the most complex, controversial, and urgent questions facing our society: questions about politics, race, religion, public policy, the rights of marginalized groups and social norms."
An Iranian author interviewed by PEN and referenced to only as K. to protect her identity said online threats had made her fear for her safety. "Because I'm also partially disabled, it can make me feel all the more vulnerable," she said. "At times, I've said no to certain publications because I feel that many aspects of my identity have lured harassers and I simply can't take it anymore."
The PEN Online Harassment Field Manual calls for employers, tech companies, and law enforcement agencies to pay a stronger part in the fight to stop online abuse. Writers and journalists need the social media presence to promote their work—it is not a choice to utilize social media, but a necessity. Social media is a platform to connect writers and journalists with other professionals in their field. And when your online presence is a constant attack against your very life and livelihood—your individual free speech rights have been decimated.
The PEN Research unearthed another alarming fact: another 62 percent reported that online abuse had taken a personal toll on their personal lives or their health.
The PEN Manual is a guide for action against online hate and harassment. There are sections on establishing supportive cyber communities to be deployed during episodes of online harassment; needed information on how to maintain one's physical and mental health written by a formerly harassed psychologist; information about possible legal recourse for online harassment as well as pro bono legal resources for writers without legal representation; best practices and strategy for news organizations and publishers to recalibrate their institutional support during periods of online abuse; guidelines to talking with professional colleagues and to one's friends and family when harassed; and, first stories of abuse from a diverse group of writers—detailing how their isolation and helplessness affected their work.
PEN's objectives in bringing their Field Manual to the public is that it will offer solidarity to such writers and empower them to take steps to protect themselves and fight back against online abuse. PEN's hope is that when the Manual is distributed far and wide, the manual contains the power to help prevent writers' voices from being silenced when confronted with online hate.
For more information, check out PEN.org.