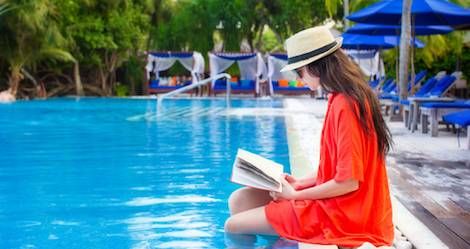 Newsletter 1
9 Not-To-Be-Missed Romances Hitting the Shelves This Summer
This content contains affiliate links. When you buy through these links, we may earn an affiliate commission.
Every day is a romance reading day for me. No matter the season, no matter the weather, it's my preferred genre of choice. However, even I must admit there are plenty of good romances coming out this summer that are perfect "beach reading." With a guaranteed happily ever after, romances are the perfect way to spend a few hours relaxing oceanside or by the pool.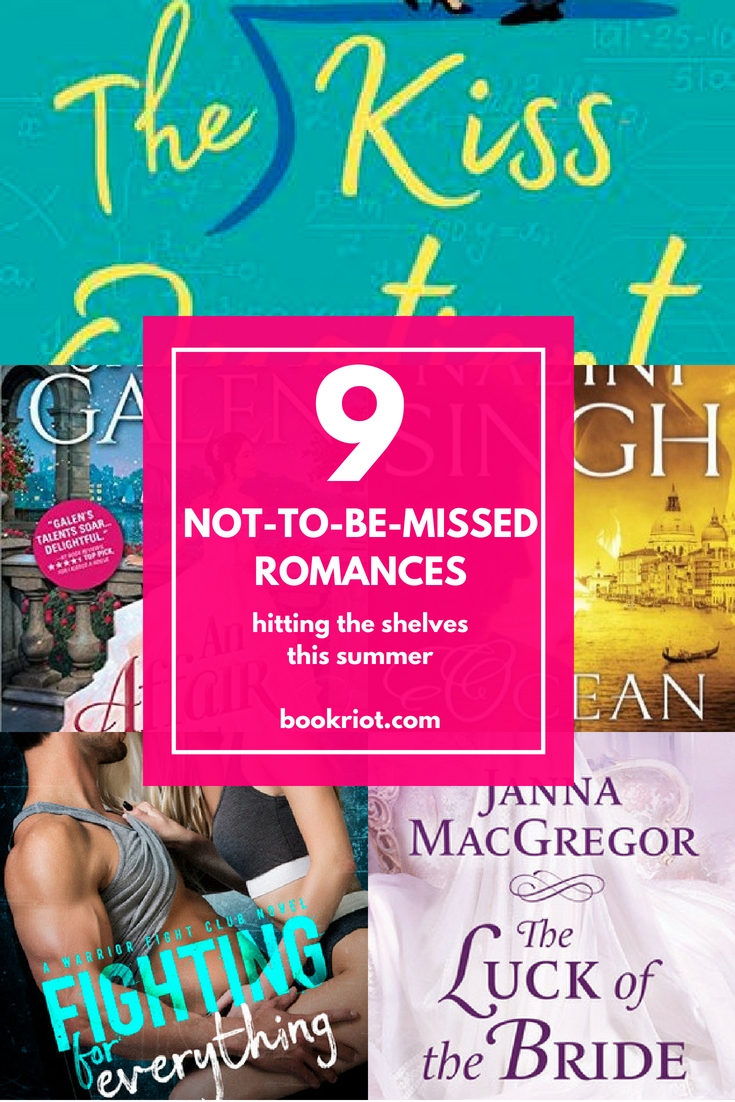 Since everyone has to start their summer book buying somewhere, try one of these not-to-be-missed romances to heat up your summer reading list!
Series: Survivors #3
Sub-genre: Historical
Release Date: July 3rd
An Affair with a Spare introduces us to Rafe, an ex-soldier with Lieutenant Colonel Draven's special unit, as he attempts to seduce an assassin's daughter. Collette seems immune to Rafe's charms and the resulting romance is a perfect combination of sweet and sexy. Just like all of Galen's books, this one is incredibly astute and supremely captivating.
Series: Black Knights Inc. #12
Sub-genre: Romantic Suspense/Military
Release Date: July 3rd
In this pulse-pounding closing installment of the Black Knights Inc. (BKI) series, we see Angel finally land his HEA. We also get to see the BKI team come back together for one oh-so-satisfying hurrah. Even if you haven't kept up with this series, this is a must-read for any romantic suspense fan.
Series: Love Over Duty #3
Sub-genre: Romantic Suspense/Military
Release Date: July 31st
Readers who like strong, kick-ass heroines who make their heroes work for their love and devotion, Cole's Love Over Duty series is for you. Cole's books are full of intrigue, conflict, and playfulness not often found in this sub-genre. Deep Cover is the perfect place to dive deep into Cole's world even if you haven't read the first two books of the series.
Series: Warrior Fight Club #1
Sub-genre: Contemporary/Military
Release Date: May 22nd
Laura Kaye is back writing her signature brand ex-military hero/heroine perfection. In the first installment of this new series, we meet Noah, who is battling PTSD after being released from the Marines. His best friend, Kristina, is searching for a way to connect with him and as they rekindle their friendship with one another deeper feelings begin to surface. Bet you won't be able to put this one down!
Series: N/A
Sub-Genre: Rom-Com/Contemporary
Release Date: May 29th

HGTV fans rejoice, this book is the perfect romance for you! Featuring a hero and heroine who both flip houses, this book heats up when they start competing for the same properties. Helena Hunting's signature humor and sparkling dialogue shine in this enemies-to-lovers tale. A guaranteed good time.
Series: N/A
Sub-genre: Contemporary
Release Date: June 5th
Perfect for casual romance readers since it's not a part of a series, this book has all of the romance world buzzing. It's thoughtful and charming and so incredibly honest. Schedule a day alone before picking this one up, I could not put it down. (Psst…Trisha loved this one too.)
Series: The Cavensham Heiresses #3
Sub-genre: Historical
Release Date: May 1st
Confession: I read this book several times before it was even officially released. It's that good. No historical romance author keeps me guessing more than MacGregor and I appreciated this book's vivacity, thoughtfulness, and pure, unadulterated romance goodness. Read this book if you need your faith restored in humanity.
Series: Psy-Changeling Trinity #2
Sub-genre: Paranormal
Release Date: June 12th

Tried and true fans of this series will rejoice in knowing that we finally get to see the BlackSea Changelings up close and personal in Ocean Light! Bo and Kaia's romance blossomed very slowly at the start but the leisurely pace wasn't unwelcome, it was actually just what this series needed to breathe some new life into the characters and the immense world. Singh once again annihilated all of my expectations.
Series: Earthsinger Chronicles #1
Sub-genre: Fantasy
Release Date: May 1st
Described as Lord of the Rings meets Romeo and Juliet, this book is everything fantasy romance fans have been craving. I could not put this book down! (A.J. liked this one too.)
My romance list for this summer is in no way meant to be exhaustive. There are tons of romances releasing each and every day, and different readers resonate with different authors, sub-genres, and books (see more about that here). That being said, I'm sure I missed something good out there that should be on my list. Tell me what books you are most looking forward to in the comments!