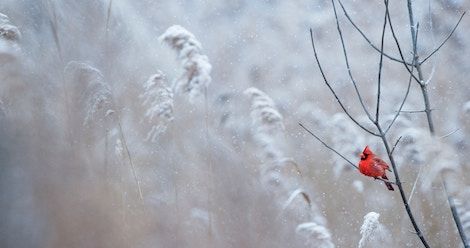 Lists
55 Amazing New Books You Need to Read This Winter
This content contains affiliate links. When you buy through these links, we may earn an affiliate commission.
Looking for a good book to cozy up with this winter? Check out these hot new titles coming out this December through February!

Fiction
December 4 | Riverhead Books
After their beloved son, Dhaqaneh, turns to jihadism and blows himself up in a suicide attack, his parents, two Somalian immigrants living in Oslo, take in Dhaqaneh's wife and children. But as his wife withdraws more deeply into religion, his children are enthralled by the freedoms of their new homeland, fracturing the fault lines of a family already on the brink.
December 4 | Minotaur Books
Fire-Sky tribal members are being targeted by a ruthless killer. When a young woman linked to the missing commits suicide, Pueblo Police Sergeant Nicky Matthews is assigned to the case and when those she cares for are caught in the crossfires, she must sacrifice everything to catch the killer before it's too late.
December 4 | Atria/Emily Bestler
From the author of The Thirteenth Tale comes this mysterious tale of a girl come back from the dead. Three families claim she is a lost loved one—a daughter, a granddaughter, a sister—but each family has secrets that must be revealed for the girl's true identity to be known.
The Day the Sun Died by Yan Lianke, Translated by Carlos Rojas
December 11 | Grove Press
From one of China's most acclaimed novelists, whose most renowned works have been banned for their biting satire, comes this tale of a village trapped in a dream. One evening, fourteen-year-old Li Niannian is mystified as he watches his neighbors continuing with their business as if it were still day. Soon, chaos erupts as the dreamwalking denizens act out desires suppressed during waking hours.
December 25 | Chatto & Windus
Ma Daode has just been appointed to the prestigious position of Director of the China Dream Bureau, tasked with overwriting people's private dreams with President Xi's great China Dream of national rejuvenation. But soon Ma Daode begins experiencing nightmares and flashbacks of the Cultural Revolution that threaten his bright future. To suppress these unwelcome visions, he sets out to find a secret recipe for a legendary broth of amnesia that will eradicate history forever.
December 26 | Atria
Tom Fitzwilliam, the headmaster of a Bristol school, is loved by everyone—including Joey Mullen, his new neighbor, who harbors a secret infatuation with the charming schoolmaster. Jenna Tripp, one of Tom's students isn't so charmed. She's noticed Mr. Fitzwilliam taking a suspicious liking to her best friend—and Jenna's mother is convinced Mr. Fitzwilliam is stalking her. And then, a murderer strikes…
Freefall by Jessica Barry
January 8 | Harper
When her fiancé's private plane crashes in the Colorado Rockies, Allison Carpenter miraculously survives. Meanwhile, in her small Maine hometown, Allison's estranged mother, Maggie, is shocked to learn that her daughter is not only missing but engaged to be married to a wealthy pharmaceutical CEO. Maggie learns that Allison and her fiancé are hiding dark secrets and desperately fights to uncover the truth before it's too late.
January 8 | G.P. Putnam's Sons
From the beloved author of Jane Steele comes this Prohibition-era story about Alice James, a woman fleeing west from New York City after an illicit drug deal gone wrong. Upon arriving in Portland, Alice finds sanctuary at the all-black Paragon Hotel. The lodgers there are in a state of dread thanks to the arrival of the Ku Klux Klan, who proceed to incite violence at every turn. When a mixed-race orphan goes missing in the Oregon woods, Alice and her new family of Paragon residents must find the child before it's too late.
January 8 | Viking
Twelve-year-old Marwand returns to Afghanistan to visit his extended family. There, he encounters Budabash, the dog that guards the family compound, with whom Marwand has a contentious history. Eager for a friend, Marwand approaches Budabash—with disastrous results. Marwand loses a finger and Budabash escapes. What ensues is a ninety-nine night adventure across the landscape of Logar to find the missing dog.
January 8 | Doubleday
Longlisted for the 2018 Man Booker Prize, this book has been described as "The Handmaid's Tale meets The Virgin Suicides." In the dystopian world of the novel, three sisters are raised are raised completely isolated from the violent world of men. In fact, the only man they have ever seen is their father. But when their father disappears and two men and a body wash up on the shore of their paradise-prison, the sisters must confront both the threat and promise their visitors hold.
January 8 | Algonquin
Jodi McCarthy is seventeen years old when she's sentenced to life in prison for manslaughter. Eighteen years later, she's released and goes searching for someone she left behind. But along the way she meets and falls in love with Miranda, a troubled young mother. Together, they try to make a fresh start, but that's difficult in the insular and backward-thinking rural West Virginia town where they live.
January 8 | Little, Brown & Co.
From the Man Booker Finalist and author of The Fisherman comes the story of Chinonso, a poor Nigerian poultry farmer who sacrifices everything to win the woman he loves. After a harrowing encounter on a bridge, Chinonso and Ndali fall in love, but in Ndali is from a wealthy family that objects to Chinonso's lack of education. Chinonso sells his possessions to attend school but is duped by a scam artist leaving him penniless.
January 15 | Harper
Alexandr, Christine, Zach, and Lydia have been friends for thirty years. Alex and Christine are spending a leisurely summer's evening at home when they receive a call from Lydia: Zach is dead. In the wake of this profound loss, Lydia moves in with Alex and Christine but instead growing closer, the proximity gives rise to old grievances.
January 15 | Grove Press
Following her mother's death, Shalini, a privileged young woman from Bangalore, returns to the remote Himalayan village of her youth. Shalini is convinced that her mother's death is somehow related to the decades-old disappearance of Bashir Ahmed, a Kashmiri salesman who frequently visited her childhood home, and she intends to confront him. But shortly after her arrival, the politics of the small village turn volatile and violence threatens to erupt.
The Dreamers by Karen Thompson Walker
January 15 | Random House
One night in an isolated college town in the hills of Southern California, a first-year student stumbles into her dorm room, falls asleep—and doesn't wake up. When a second girl falls asleep, and then a third, panic takes hold of the college and spreads to the town. Those affected by the illness, doctors discover, are displaying unusual levels of brain activity, higher than has ever been recorded before. They are dreaming heightened dreams—but of what?
January 22 | Mulholland Books
After the erosion of truth made public life impossible, like-minded Americans retreated to the Golden State—formerly California—where contradicting the truth is the greatest crime. Laszlo Ratesic is a nineteen-year-veteran of the Speculative Service, the law enforcement agency that investigates crimes against the truth. But when those in charge of the facts twist them to serve their own ends, the Speculators are the only ones with the power to fight back.
February 5 | Balzer + Bray
From the #1 New York Times bestselling author of The Hate U Give comes this story of Bri, a sixteen-year-old girl who dreams of being one of the greatest rappers of all time. Caught in a cycle of poverty and racism, Bri vents her anger in her first song, which goes viral for all the wrong reasons. Finding herself at the center of a controversy and with her family about to be kicked out of their apartment, Bri is desperate to hit the big time.
Territory of Light by Yuko Tsushima, Translated by Geraldine Harcourt
February 12 | Farrar, Straus & Giroux
"A young woman, left by her husband, starts a new life in a Tokyo apartment. Territory of Light follows her over the course of a year, as she struggles to bring up her two-year-old daughter alone. Her new home is filled with light streaming through the windows, but she finds herself plummeting deeper into darkness, becoming unstable, untethered. As the months come and go and the seasons turn, she must confront what she has lost and what she will become."
February 12 | Random House
It's 1986 and Marie Mitchell is a brilliant intelligence officer with the FBI. But she's also a young black woman fighting to prove her worth to an agency full of white men. So when she's given the opportunity to join a shadowy task force aimed at undermining Thomas Sankara, the communist leader of Burkina Faso, she jumps on it, despite the fact that she secretly admires what Sankara has done for his people.
February 19 | St. Martin's Press
This sequel to Moloka'i tells the story of Ruth, the daughter Rachel Kalama—quarantined for most of her life at the leprosy settlement of Kalaupapa—was forced to give up a birth. The book follows Ruth throughout her life—from her adoption by a Japanese couple and unjust internment at Manzanar Relocation Camp during World War II to the day she receives a life-altering letter from her birth mother.
February 19 | Dutton
A man is murdered—shot three times in his home office, his computer shot twelve times, and his pregnant wife is found holding the gun. When D. D. Warren arrives on the scene, she recognizes the woman from an old case. And when Flora Dane sees news of the murder on TV, she recognizes the victim from the night she was kidnapped—and her captor knew him.
---
Nonfiction
---
December 15 | Rowman & Littlefield
In this book, Robert McParland looks at the reading tastes of Americans from the early twentieth century to the present. Which books dominated the bestseller lists each decade and why? From Harper Lee and Kurt Vonnegut in the '60s to James Patterson in the 2010s, McParland discusses the books that have shaped our national consciousness and imagination over generations.
January 1 | Andrews McMeel Publishing
In Book Love, Debbie Tung captures the essence of what it means to be a book lover with warmth, humor, and beautiful illustrations. This delightful comics collection is something bibliophiles everywhere will be able to relate to.
January 1 | Pegasus Books
A Rope from the Sky chronicles the violent birth and death of South Sudan, the world's youngest nation. It examines the role of the U.S. in South Sudan's liberation and attempts to answer the question: What went so horribly wrong? How did a beacon of hope fall into chaos and ruin?
January 8 | Penguin Press
If you've been seeing a lot of Kamala Harris on the news lately and want to get to know her better, now's your opportunity. In this memoir, the California senator recounts her Oakland childhood, the lessons she learned from her immigrant parents, and her rise through the ranks from local prosecutor to where she is today.
Give Back the Light by James C. Moore with Steve Charles, M.D.
January 8 | Greenleaf Book Group Press
When James Moore was faced with potential blindness, he flew from Austin to Memphis to see Dr. Steve Charles. This book offers a portrait of a physician whose innovative work in the field of ophthalmological surgery has largely gone unpublicized and chronicles the author's own struggle to save his eyesight.
January 8 | Random House
In the tradition of When Breath Becomes Air, this heart-wrenching memoir chronicles a life that Julie Yip-Williams once thought impossible. Born blind in Vietnam, Julie narrowly escaped euthanasia at the hands of her grandmother and the ravages of war in the 1970s. Ultimately landing on American shores, Julie built the life she dreamed of—only to be diagnosed with metastatic colon cancer at the age of thirty-seven. Now at the end, she leaves behind a final gift to world—her story.
January 15 | Harper
The Enchanted Hour is all about the power and magic of reading aloud. Drawing on neuroscience, behavioral research, and, of course, literature, Wall Street Journal writer Meghan Cox Gurdon details the cognitive and social-emotional benefits this time-honored practice bestows on children and adults alike.
January 15 | Bloomsbury
In the tradition of Claudia Rankine's Citizen, this book honors the history of black women bound by racist systems throughout our country's history—from slavery and Jim Crow to the modern prison industrial complex. Written in verse and illustrated with black-and-white photographs, it celebrates the women who have lived and died resisting the dehumanization of involuntary confinement.
January 15 | Harper
In When Death Becomes Life, Dr. Joshua Mezrich deep dives into over one hundred years of medical history that led to the development and perfection of the organ transplant. When doctors are empowered to steal life from the jaws of death, a number of ethical and philosophical questions arise: "How much risk should a healthy person be allowed to take to save someone she loves? Should a patient suffering from alcoholism receive a healthy liver? What defines death?" Mezrich thoughtfully explores all these questions and more.
January 17 | Wiley
Weijian Shan had just finished elementary school when the Cultural Revolution ripped through the fabric of Chinese society. Exiled to the Gobi Desert at the age of fifteen and denied schooling for ten years, Shan never gave up on his dream of obtaining an education. In this memoir, he chronicles his improbable journey from hard laborer to becoming one of Asia's best-known financiers.
January 22 | Crown
"Katharine Smyth was a student at Oxford when she first read Virginia Woolf's modernist masterpiece To the Lighthouse in the companionable silence she shared with her father. After his death, she returned to that beloved novel as a way of wrestling with his memory and understanding her own grief." In this memoir, Smyth explores "universal questions about family, loss, and homecoming" through the lens of Woolf's work.
January 22 | Riverhead Books
Challenging the popularly-held notion that Native civilization was essentially stamped out at Wounded Knee, this book offers a sweeping history of Native American life from 1890 to the present day.
January 29 | Knopf
In this essay collection, Emily Bernard writes about the experience of being black in America. The first essay is about the day she and six strangers were stabbed in a random attack at a coffee shop near the Yale campus. She writes, "I was not stabbed because I was black but I have always viewed the violence I survived as a metaphor for the violent encounter that has generally characterized American race relations."
January 29 | Spiegel & Grau
This book takes readers on a grand tour of the world's subterranean spaces—from sacred caves and catacombs to tombs, bunkers, and underground cities in more than twenty countries around the world.
January 30 | I.B.Tauris
If you've ever thought to yourself, "Gee, I really wish I knew more about Kazakhstan," this book is for you. Though one of the most overlooked countries on the map, Kazakhstan is in a unique position—sandwiched the superpowers of Russia and China, and with a history as compelling as it is enigmatic.
February 5 | Pegasus
In this biography, Matthew Dennison illuminates the life of Kenneth Grahame, author of the beloved children's classic, The Wind in the Willows. Inspired by the comforting pastoral landscape of the English Countryside, Dennison reveals how Grahame's fear of social and ecological change in the years leading up to World War I permeate the story.
February 5 | DK
This richly illustrated volume chronicles human history through the eyes of women and highlights the accomplishments of trailblazing women that most history books have forgotten to mention.
February 5 | DK
This latest addition to DK's Big Ideas series highlights more than eighty-five of the most important ideas, movements, and events that have defined feminism throughout history.
February 5 | William Morrow
Between 1900 and 1907, the Champawat Man-Eater, a ferocious tiger in the foothills of the Himalayas, killed an unprecedented 436 people. Hunters and soldiers failed to kill the big cat and finally, desperate for help, the authorities recruited a railroad employee named Jim Corbett. This unlikely choice led to a dramatic chase and the final end to the tiger's reign of terror.
February 5 | Pegasus
Opium in its many forms has had an enormous impact—both for good and ill—on our history and society. "In Milk of Paradise, cultural historian Lucy Inglis takes readers on an epic journey from ancient Mesopotamia to modern America and Afghanistan, from Sanskrit to pop, from poppy tears to smack, from morphine to today's synthetic opiates."
February 5 | Picador
In this intimate essay collection, Nishta Mehra grapples with America's rigid stereotypes about race, gender, and sexuality. As a brown woman with a black son and a white wife, she writes about her family's struggle for acceptance, her efforts to protect her son from racial prejudice, and argues for a more "compassionate understanding of identity and family."
Renegade Women in Film and TV by Elizabeth Weitzman, Illustrated by Austen Claire Clements
February 5 | Clarkson Potter
This illustrated compendium combines beautiful illustrations, short biographical profiles, and interviews to celebrate the accomplishments of iconic women who have continually pushed up against Hollywood's glass ceiling. Included in the book are women like Barbra Streisand, Rita Moreno, Sigourney Weaver, Lucille Ball, Oprah Winfrey, Nora Ephron, Alla Nazimova, Anna May Wong, and many more.
The Pianist from Syria by Aeham Ahmad, Translated by Emanuel Bergmann
February 12 | Atria
"Aeham Ahmad was born a second-generation refugee—the son of a blind violinist and carpenter. When his grandparents and father were forced to flee Israel and seek refuge from the conflict ravaging their home, they raised a new generation in Syria while waiting for the conflict to be resolved so they could return home. Instead, another fight overtook their asylum. Forced to leave his family behind, Aeham sought out a safe place for them to call home and build a better life."
February 12 | Liveright
In our environmental history, most have forgotten about the climate crisis of the seventeenth century, when temperatures dropped so drastically that "frost fairs" erected on the frozen Thames became a semi-permanent part of the city. Historian Philipp Blom describes these seemingly apocalyptic weather patterns and offers insight into how they might inform our thinking on climate change today.
February 12 | Harper
From the author of Columbine comes this account of the survivors and student activists who catalyzed the gut-wrenching assault on their community into a powerful movement for change.
February 12 | Simon & Schuster
Drawing on hundreds of hours of interviews conducted over the course of more than ten years, as well as letters, unpublished memoirs, and documents from recently-declassified archives, this harrowing narrative brings the Chernobyl disaster to life through the eyes of the men and women who witnessed it firsthand.
February 12 | Motivational Press
America Deconstructed follows the journeys of sixteen immigrants as they maneuver cultural differences, accents, and uncomfortable situations while feeling a sense of belonging in America.
February 19 | Farrar, Straus & Giroux
Many forget that America's history encompasses not just the fifty states we call the United States but the islands, atolls, and archipelagos within reach of the long arm of American colonialism. In this book, Daniel Immerwahr tells the fascinating story of "the United States outside the United States."
February 19 | Yale University Press
Harvard geometer Shing-Tung Yau has provided a mathematical foundation for string theory, offered new insights into black holes, and mathematically demonstrated the stability of our universe. In this autobiography, Yau reflects on his improbable journey to becoming one of the world's most distinguished mathematicians.
February 26 | Bloomsbury
America's healthcare system is obviously broken but how do we go about fixing it? In this book, Dr. Marty Makary draws on research, his own experience, and the personal stories of Americans to expose the system's hidden weaknesses and offer a better way forward.
February 26 | HarperBusiness
Capitalism gets a bad rap these days and for good reason. It's a system that seems to allow unscrupulous characters to pollute the environment, underpay workers, and hijack democracy with relative impunity. But is there a better way to be capitalist? This book looks at business owners who are trying to build socially responsible companies within a capitalist framework and asks the question, "Are virtuous corporate practices compatible with shareholder capitalism?"
Evil by Julia Shaw
February 26 | Abrams Press
What is evil? Dr. Julia Shaw argues that our understanding of evil is rooted in culture and that things we might consider evil might seem perfectly normal to someone from another culture. And then the question arises, "If evil is only in the eye of the beholder, can it be said to exist at all?" Drawing on case studies, pop culture, anecdotes, and neuroscience, Shaw challenges readers to think critically about what makes evil, well, evil.
February 26 | Beacon Press
Though largely erased from the history books, Pamela Toler says "women have always gone to war." This book chronicles the exploits of women warriors throughout history including Tomyris (who killed Cyrus the Great), Amina of Hausa (a great West African ruler who fought to expand her territory for thirty years), the Joshigun (a group of thirty highly trained Japanese women who fought against the Meiji emperor in the late nineteenth century), and many more.
February 28 | Cambridge University Press
Ever since the collapse of the Third Reich, anxieties have persisted about Nazism's revival in the form of a Fourth Reich." In this book, Gavriel Rosenfeld reveals how fears of a Nazi resurgence helped combat far right forces in the twentieth century following World War II and how the specter of the Fourth Reich was seized upon by neo-Nazis in the 2000s.
You may also like…