Audiobooks
12 Amazing Audiobook Memoirs to Add to Your Playlist
This content contains affiliate links. When you buy through these links, we may earn an affiliate commission.
Looking for the perfect audiobook to listen to during your commute, workout, or road trip? Look for one of these amazing memoirs!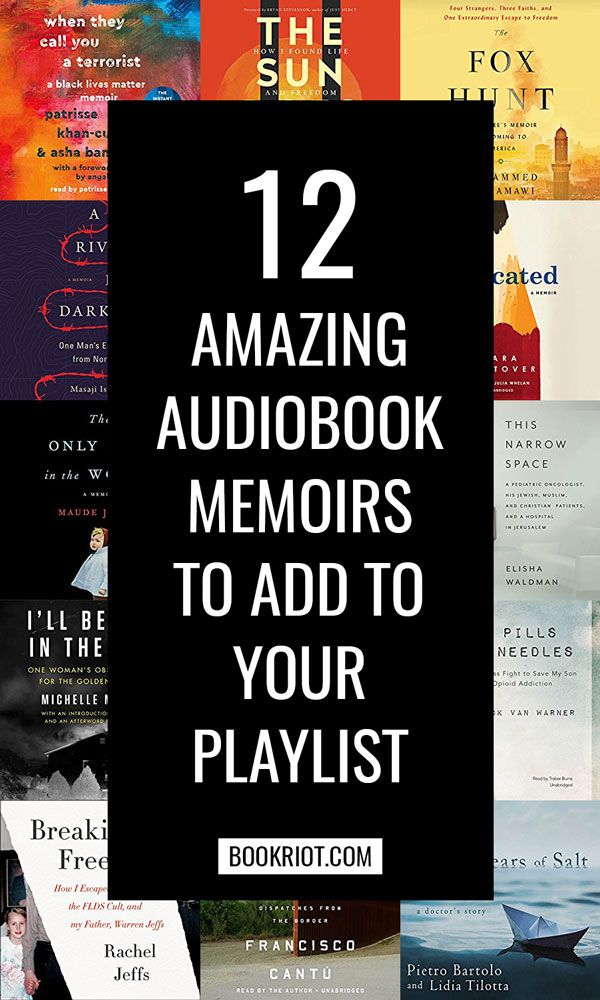 Breaking Free, Written & Read by Rachel Jeffs
Rachel Jeffs is the daughter of Warren Jeffs, the currently incarcerated leader of the FLDS church. In this book, she recounts the years of emotional, physical, and sexual abuse she suffered while an unwilling member of the radical polygamous sect. She also sheds light on the bizarre rules and beliefs that govern life in the cult and documents her escape in 2015.
In this harrowing memoir, Julien recounts a childhood in hell. Her parents were abusive fanatics who raised her to be the ultimate survivor, subjecting her to horrifying "drills" designed to eliminate weakness. Julien was forced to hold an electric fence for minutes at a time without flinching, sit perfectly still in a rat-infested cellar all night long, and endure constant cold, hunger, and pain. And when the opportunity struck, she made her daring escape…
A River in Darkness by Masaji Ishikawa, Translated by Risa Kobayashi & Martin Brown, Read by Brian Nishii
Most North Korean nationals were born in the isolated totalitarian state, but Masaji Ishikawa's parents voluntarily migrated from Japan to North Korea when he was thirteen years old. Lured by the promise of better education, work opportunities, and social standing, the Ishikawas quickly realized the DPRK was not the utopia they had hoped it would be. In this book, Masaji recounts the thirty-six brutal years he lived under the Kim regime and the difficulties he faced repatriating to his birth country after he finally escaped.
Tears of Salt by Pietro Bartolo & Lidia Tilotta, Read by David de Vries
For twenty-five years, Dr. Pietro Bartolo has run the sole medical clinic on the Italian island of Lampedusa, where scores of desperate migrants land following harrowing boat trips from Africa. In this memoir, the good doctor records the hopes, fears, and unforgettable stories of the people he has helped during his long island tenure and offers a new perspective on the refugee crisis.
When They Call You a Terrorist by Patrisse Khan-Cullors & Asha Bandele, Read by Patrisse Khan-Cullors
In the first part of this powerful memoir, Patrisse Khan-Cullors recounts a childhood defined by poverty, police brutality, and the unjust imprisonment of her bother and father. In part two, Cullors writes about the origins of the Black Lives Matter movement—how a collective of activists joined together to fight for change in a corrupt and unjust system.
On Pills and Needles by Rick Van Warner, Read by Traber Burns
Seventy-eight people die from opioid overdose every day in America. In this unsparing memoir, Rick Van Warner recounts the horror and heartbreak of trying to save his son from an eight-year opioid addiction. Warner also exposes how Big Pharma prioritizes profit over people, conspiring to keep these dangerous pills on the street.
In 2007 Elisha Waldman, a New York-based pediatric oncologist, was offered his dream job at Jerusalem's Hadassah Medical Center. In this setting, the conflict between Israel and Palestine was thrown into sharp relief. Waldman writes about navigating the cultural clashes that arose in the clinic, Israeli bureaucracy, regional politics, and religious traditions that sometimes made it difficult for him to provide much-needed medical care to his patients.
Francisco Cantú was raised by his second-generation Mexican American mother in Arizona's desert scrublands. As an adult, he joins Border Patrol, learns how to track people, and detains exhausted and terrified children desperate for their parents. But the job comes with a heavy cost. Plagued by nightmares, Cantú returns to civilian life. But when a friend travels to Mexico to visit his dying mother and does not return, Cantú realizes that he cannot escape the border.
Educated by Tara Westover, Read by Julia Whelan
Born to survivalist parents in the mountains of Idaho, Tara Westover didn't set foot in a schoolroom until she was seventeen years old. She stewed herbs with her mother, scavenged for parts in her father's junkyard, and prepared for the end of the world. But Tara was a curious child and educated herself. Her autodidactic efforts won her a spot at Brigham Young University and eventually led her to Harvard and Cambridge. In this memoir, she chronicles her off-the-grid childhood and struggle for self-invention.
I'll Be Gone in the Dark by Michelle McNamara, Narrated by Gabra Zackman, Gillian Flynn, and Patton Oswalt
For more than a decade, a violent psychopath committed fifty sexual assaults in Northern California before moving south and sadistically murdering ten people. Then, he disappeared. Thirty years later, Michelle McNamara determined to find the killer. McNamara tragically died while investigating the case, but she left behind the manuscript of this book, an account of her search for the man she called "the Golden State Killer."
The Sun Does Shine by Anthony Ray Hinton with Lara Love Hardin
In 1985 Anthony Ray Hinton was arrested and charged with two counts of capital murder in Alabama. Though it was a case of mistaken identity, racism and an incompetent defense attorney landed Hinton on death row. For twenty-seven years he was an inspiration and beacon of hope to his fellow inmates before Bryan Stevenson, the lawyer and author of Just Mercy, won his release. This inspiring memoir is a testament to the human spirit, even in the face of horrendous injustice.
The Fox Hunt by Mohammed Al Samawi, Read by Assaf Cohen
Born in Yemen, Mohammed Al Samawi was raised to believe Jews were the enemy of Islam. But everything he believed was thrown into doubt when he received a Bible at the age of twenty-one. He began reaching out to Jews on social media and traveling to international interfaith conferences. His activities attracted death threats, forcing him to flee to another city. Then, civil war broke out and Mohammed was trapped between rebel fighters supported by Iran and Al Qaeda operatives supported by Saudi Arabia. Desperate, he appealed to friends on social media for help. Over the course of two weeks, four ordinary young people with no military exfiltration experience worked to save him. This memoir chronicles Mohammad's incredible escape and journey to America.
SaveSave