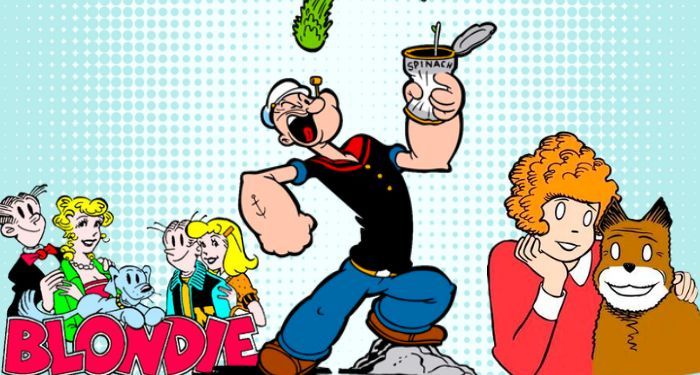 Comic strips are an institution. The format predates comic books by several decades, and most of the strips still gracing the pages of American newspapers have been around for ages. But just how old some of these strips are may surprise you. Let's take a look at the longest-running American comic strips!
But first…given that these strips were all created between the 1890s and 1930s, it's disappointing but not surprising that all of the original creators were white men. There were few opportunities for anyone else to get their foot in the door in those years, let alone be supported by newspaper syndicates for decades to come. Though the landscape of comic strips has changed somewhat from the 1970s on, the funnies section remains overwhelmingly white and male, thanks in large part to how resistant to change the industry is — remember, some of the strips we're talking about today are over a century old. Plus, shrinking space for comics means editors are reluctant to take chances on new strips.
With all that said, I want to tip my hat to some notable long-runners: Brenda Starr, Reporter, was created by Dale Messick and ran for 71 years from 1940-2011, making it the longest-running strip created by a woman. (And after she retired in 1980, all of its subsequent writers and artists were also women.) And Bungleton Green, which was created by Leslie Rogers, ran for 44 years from 1920-1964 and is the longest-running strip by a Black creator.
10. Little Orphan Annie [1924-2010, 86 years]
Little Orphan Annie was created by Harold Gray in 1924 and stars the titular plucky orphan, her adoptive millionaire father Daddy Warbucks, and her loyal dog Sandy. Of course, Annie would eventually become far better known for the musical that bears her name than the comics. Two fun facts: one, the conservative Gray hated the New Deal so much he killed Daddy Warbucks off in protest, only resurrecting him when FDR died in 1945. And two, the strip ended in 2010 with a cliffhanger, which was resolved four years later in Dick Tracy, of all places.
9. Bringing Up Father [1913-2000, 87 years]
Originally titled Jiggs and Maggie, or sometimes Maggie and Jiggs, this strip was created by George McManus and centered around the conflict between Jiggs, a working class Irish immigrant who became nouveau riche after winning a million dollars, and his social climbing nag of a wife, Maggie, who is embarrassed by his rough-edged "shanty Irish" ways. Some interpretations argue that McManus used the strip to portray the class and identity struggles of ethnic immigrants in a sympathetic light; having only read a handful of strips, I can't say. It's probably for the best that it eventually chilled out to just be about the antics of some rich people, though.
8. Alley Oop [1932-present, 91 years]
Created by V. T. Hamlin, Alley Oop is about the fantastical adventures of the titular caveman, his pet dinosaur Dinny, and his girlfriend Oola. At its highest circulation, it appeared in over 800 newspapers; it's also been adapted by Filmation. And yet I had literally never heard of it until I started this article; still, I assume there must be diehard Alley Oop fans out there somewhere.
7. Dick Tracy [1931-present, 92 years]
Dick Tracy was created by Chester Gould, who wrote and drew the strip until 1977. The square-jawed police detective and his outlandish villains were an instant hit, though journalists would criticize the degree of violence in the strip for decades. Tracy was so famous, in fact, that his "2-Way Wrist Radio" helped inspire the invention of the cell phone. He's been adapted many times, notably in the 1990 film starring Warren Beatty, Al Pacino, and Madonna. Fun fact: like many comics, Dick Tracy went through a sci-fi period in the '60s, during which his adopted son Junior married an alien princess named Moon Maid.
6. Blondie [1930-present, 93 years]
Created by Chic Young, Blondie is one of those strips that feels misnamed today, since for decades the main character has clearly not been Blondie herself, but her hapless, sandwich-loving husband, Dagwood Bumstead. But in 1930, "Blondie Boopadoop" was a carefree flapper, with Dagwood as her sensible, uppercrust boyfriend. The onset of the Great Depression sparked the two of them settling down to the relatable middle class routine they still live in today, as well as essentially switching personalities.
5. Popeye [1919-present, 104 years]
Popeye himself was a latecomer to this strip, which was created by E. C. Segar and originally called Thimble Theater. It revolved around the antics of the slacker Ham Gravy and his feisty girlfriend Olive Oyl — until one day in 1929, Ham and Olive hired a sailor named Popeye for an ocean voyage, and he proved so popular with readers that he eventually took over as the star, prompting a title change in 1938. Popeye has starred in numerous multimedia properties, including the groundbreaking Fleischer Brothers cartoon series that began in 1933 and popularized his theme song and spinach-based superstrength, and the 1980 film starring Robin Williams.
4. Barney Google and Snuffy Smith [1919-present, 104 years]
Like Blondie, this strip's original protagonist was displaced by the Great Depression. Billy DeBeck created Take Barney Google, F'rinstance as a sporting strip, with its top-hatted protagonist enjoying horse racing and prize fights. Barney's own horse, Spark Plug, raced for the first time in 1922, causing such a national sensation that "Sparky" became a popular nickname for children — including a young Charles M. Schulz, eventual creator of Peanuts. An even more popular character was introduced in 1934, when Barney took a trip to Appalachia and met a hillbilly named Snuffy Smith. "Hillbilly humor" was incredibly popular in the 1930s, and Snuffy soon took over as the protagonist, phasing Barney out; he's only made occasional appearances in his own strip since the 1950s. Fun fact: 1923 saw not one but two hit songs inspired by Barney Google: "Barney Google (with the Goo-Goo-Googly Eyes)" and "Come On, Spark Plug!"
3. Ripley's Believe It or Not! [1918-present, 105 years]
I sort of feel like this one doesn't count, but Robert Ripley's franchise revolving around bizarre stories and objects, now probably best known as a series of tacky museums, started as a comic strip. It doesn't have characters or a narrative, just factoids, but at its height, it was read by 80 million readers, so that's something. Still, give me the bizarrely dated adventures of a flapper or a hillbilly any day.
2. Gasoline Alley [1918-present, 105 years]
Created by Frank King, this strip was originally called The Rectangle, but one corner was devoted to a group of men talking about those newfangled automobiles, called "Gasoline Alley." This feature, and one of the men, Walt Wallet, slowly took over the strip. In 1921, wanting to add an element that appealed to women, King had Walt find an abandoned baby on his doorstep. Walt named the baby Skeezix and became a single father. Unusually for comic strips, King had his characters age in real time, so that by the time World War II rolled around, Skeezix was old enough to enlist. Aside from a period in the '70s and '80s where their ages were frozen, the characters have continued to grow older, making Walt well over a century now and Skeezix a grandfather. It's mostly unfunny gag-a-day stuff now, but if you can track down the Walt & Skeezix books collecting the early days, I can't recommend them highly enough — the gentle humor of Walt fumbling through Skeezix's baby years will absolutely melt your heart.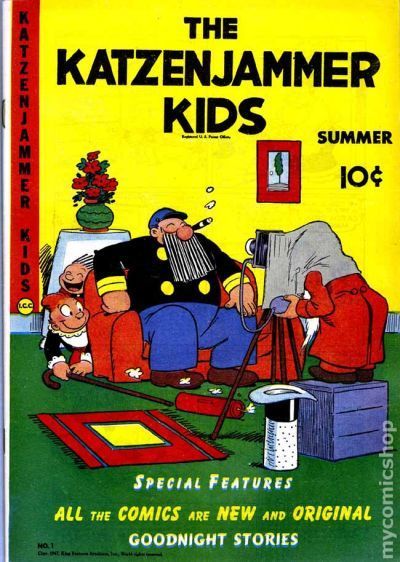 1. The Katzenjammer Kids [1897–2006, 109 years]
Created by Rudolph Dirks, The Katzenjammer Kids, about mischievous brothers Hans and Fritz, originally ran in William Randolph Hearst's New York Journal. In 1912, the exhausted Dirks decided to take a break, and Hearst continued to publish the strip with Harold Knerr as the artist. Dirks sued, and after a long legal battle, a Solomon-esque compromise was reached: Knerr continued with The Katzenjammer Kids for Hearst, while Dirks created the nearly identical The Captain and the Kids for Hearst's rival, Joseph Pulitzer. This strip ended in 1979, while the original continued until 2006, and even now is now syndicated in reprint form to about 50 papers.
Honorable Mentions
Two strips just barely missed the cutoff for inclusion on this list: Nancy and Mary Worth, which both started in 1938, making them 85 years old. However, Nancy was spun off from 1922's Fritzi Ritz, and Mary Worth from 1934's Apple Mary, so if we can count Thimble Theater, I think these two are worth mentioning, too. Also, Nancy is currently drawn by Olivia Jaimes and it's amazing, please go check it out!
Finally, every strip mentioned above was eventually taken over by later artists when the original creator died or retired. So I looked up the longest-running strip by a single artist. The world title goes to the Australian strip The Potts, by Stan Cross, who drew it for 62 years, and the runner up is the British strip Bristow, by Frank Dickens, who drew it for 51 years. But third place — and the American championship — goes, of course, to Peanuts, by the late, great Charles "Sparky" Schulz, who drew it for 50 years. Good old Charlie Brown!