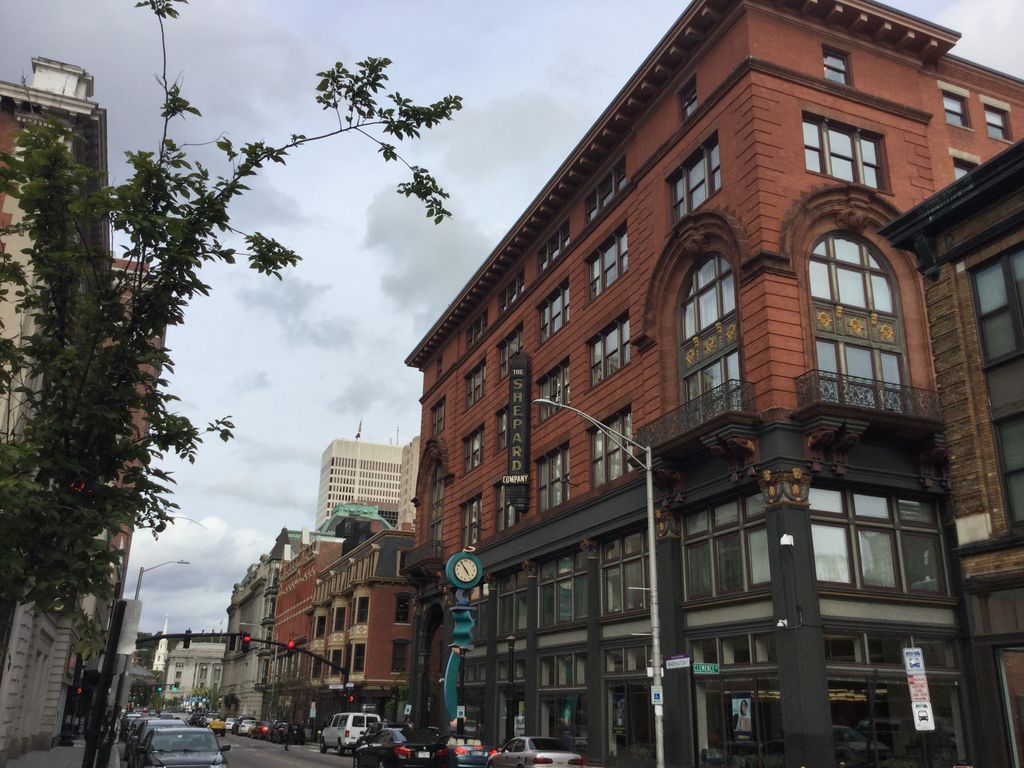 Known as a "Creative Capital" throughout New England, it's no surprise that Providence, Rhode Island is a fantastic location for bookish visitors and locals. Growing up in the Ocean State, I was not always aware of all the artistic spaces there are in the city. Now, as an adult, I am always looking for open mic nights and unexplored bookstores. Get ready to travel as I take you through bookish places to visit in Providence.
Bookstores
With frequent author events, story times, and staff with an obvious love for dogs, Books on the Square makes a wonderful community for all. The bookstore has been around since 1992 and has a varied selection of books, loads of fun, quirky patterned socks, and friendly staff who are there to guide you towards the perfect gift (whether you're looking for a present for someone else or simply treating yourself).
Have you ever been out with friends and wished it was socially acceptable to pull out a book and start reading right there at the bar? Have you ever been reading a new novel at a bookstore and wished you could be sipping a smoky red wine? In Rhode Island, we have a way for you to enjoy both: Riffraff Bookstore and Bar. In 2017, Riffraff Bookstore and Bar was opened and uniquely—and refreshingly—swerves away from the more traditional combination of coffee and books.
Although not located in Providence, Twenty Stories in Pawtucket is a cozy, charming bookstore with two very interesting twists: 1. The bookstore only adds twenty new book titles to their collection each month. 2. Before the owners found a store location in the Hope Artiste Village, the bookstore functioned out of a vintage van. Luckily for Rhode Islanders, the owners of Twenty Stories have brought the bookstore all the way from Los Angeles, California to settle in Providence.
Also notable: Brown University Bookstore, Symposium Books, Nautical Books, Cellar Stories, Ada Books
Libraries
Looking to visit a potential event venue while in Rhode Island? Or just into looking at gorgeous, ancient architecture? Head over to the Providence Public Library on Empire Street. The Library has been around for 143 years and boasts not only of a large collection of books and other resources but also the ability for people to rent their many beautiful rooms.
Rich with history, the Providence Athenaeum is filled with carved busts, antique furniture, and card catalogs that can be taken out of the drawers. The Athenaeum provides a quiet, beautiful study spot for many local students. On the other hand, it also offers vibrant children's programming and reading groups. While much of the programming—as well as visiting—is open to the public, a private membership is necessary for borrowing.
Also notable: Rhode Island State Library
Writing Communities
For local writers—both established and explorative—looking to continue and improve their craft, Frequency Writers is the place to go. With courses on subjects such as "The Road to Publication," and "Writing the Difficult Story," there is a variety of options for local writers to be instructed and supported by Frequency staff. Occasionally some courses are even taught by Tina Cane, the current Rhode Island Poet Laureate. Frequency also holds open mics, open writing hours, and has put together two anthologies (fun fact: I was published in both anthologies).
Located on Westminster Street, the What Cheer Writer's Club is a nonprofit, membership-based community for artists in the area. For a small fee, members can get ahold of coworking spaces, business tips, publicity for their materials, as well as many other helpful resources for local content creators. There are also events—such as the NaNoWriMo Finish Line Party—and free tours that are open to the public.
https://www.instagram.com/p/BqQiTchAc_U/
Also notable: Providence Poetry Slam
There are many other bookstores, bookish spaces, and creative events going on in Providence. Read more about them in Literary Providence. Looking to explore other New England cities? Check out Literary Tourism: Boston and Literary Tourism: Fall River and New Bedford.