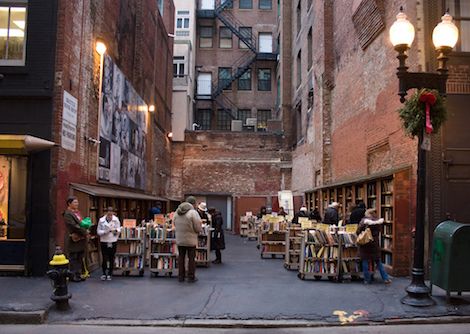 This content contains affiliate links. When you buy through these links, we may earn an affiliate commission.
With literary landmarks, beautiful and historic libraries, and a wealth of bookstores, Boston is every book lover's dream. Check out this curated list of some of the best literary Boston has to offer.
The Boston Public Library's Central Branch at Copley is one of my favorite places in the city and a can't miss destination for visitors. Founded in 1848, the Boston Public Library was the first free library in the United States. It's now home to over 23 million items, including rare books and manuscripts, art, music, and more. With regular exhibitions, musical events, lectures, and book sales it's got something for everyone and is a true cultural center for the city. Not to mention that the building is breathtaking! Take a stroll through the courtyard and older sections of the McKim building as well as the newly renovated, modern Johnson building. Free art and architecture tours are offered daily.
Is one library not enough? The Boston Athenaeum, founded in 1807, is one of the oldest independent libraries in the United States. Its collection today features over half a million volumes, with a particular focus on local Boston history, state, and New England history, as well as its permanent collections of artwork and rotating exhibitions. It's a beautiful, classical space with columns, busts, and shelves and shelves of books. You have to pay for admission but it's worth the trip to 10 ½ Beacon Street (I just love that!)
Omni Parker House Hotel
The Omni Parker House Hotel has a long and varied history since its opening in 1855 and that includes some literary greats. The legendary nineteenth-century Saturday Club, an intellectual club that included Emerson, Thoreau, Longfellow, and others, met regularly at the Omni Parker for conversation (and I would assume cocktails). You might also remember the Omni Parker House Hotel from Edith Wharton's Age of Innocence. It's not just a landmark though, but a working, gorgeously preserved historic hotel, so take a quick break in the hotel bar or restaurant—supposedly they perfected Boston cream pie here—and enjoy!
Famous Author Residences and the Boston Literary District
Speaking of famous authors, Boston has been home to so many I can't even begin to list them all! Some of the highlights include Sylvia Plath and her residence on Willow Street, Kahlil Gibran, the Lebanese-American painter, poet, and author of The Prophet, and his residence and memorial, and Phillis Wheatley, the African-American poet and the Old South Meeting House where she joined the congregation in 1771. Boston has a designated Literary District (that stretches from the Boston Public Library in Copley Square through the Boston Public Garden and Beacon Hill) and the map provided by the Boston Literary District is an especially useful resource to find author residences, literary landmarks, and more!
Bookstores
Boston has a wealth of bookstores, notably independents that serve almost every neighborhood in the greater Boston area. I'll feature a few here but they are all different and wonderful.
Brattle Book Shop and Trident Booksellers are two of the best indies in the downtown area. Brattle Book Shop, located next to the Boston Common, is one of America's oldest and largest antiquarian book shops. It's known for its collectible and rare books as well as its photogenic outdoor sale lot (And yes, that is a large pencil!) Trident Booksellers and Cafe is a lovely and inviting space, with a great selection of new books and gifts. And the cafe serves a killer brunch.
Brookline Booksmith, located in Coolidge Corner, Brookline, just outside of Boston, is an absolutely wonderful and beloved independent bookstore. The selection is diverse and it's obvious that a lot of love (and work) has gone into the curation of the Booksmith's collection. Check out the used book cellar, the gift section, and all of the fantastic author events, book clubs, and more!
Harvard Book Store is a locally owned independent located in the heart of Harvard Square in Cambridge. It's an extensive collection of new, used, and remaindered books, Harvard University merchandise, and gifts. The author event series is award-winning and you shouldn't miss their print on demand, espresso book machine "Paige M. Gutenborg." Twice a year they open their warehouse in Somerville for a can't-miss sale.
Other notables:
For the Kids
Visiting Boston with the family? Here are some easy, fun, literary adventures to have with children. If you're downtown near the Boston Common, visit the Make Way for Ducklings Sculpture located in the Public Garden, a tribute to Robert McCloskey's Caldecott medal-winning children's story. It's beloved by Bostonians and you'll often find the ducklings dressed up for the season or a special event. You can pick up the book Make Way for Ducklings at most Boston-area bookstores for fun bedtime reading.
Also in the Public Garden is the Trumpet of the Swan Bridge and Swan Boats, named after E.B. White's The Trumpet of the Swan. This is the spot where Louis, a trumpeter swan born with no voice embraces who he is and plays his trumpet. The swan boats are available to ride in the warmer months but it's a lovely area to walk through regardless of the season.
A whimsical book and toy store in Harvard Square all about—you guessed it—Curious George. In addition to books, toys, and merchandise related to Curious George, the store also has a delightful selection of other children's books and toys.