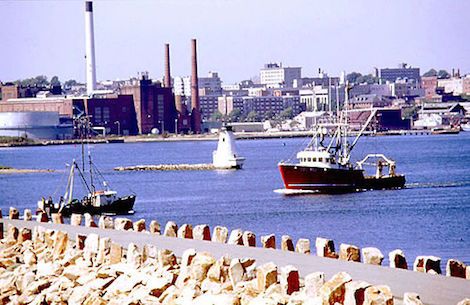 This content contains affiliate links. When you buy through these links, we may earn an affiliate commission.
I grew up near Fall River and New Bedford, in the Southcoast region of MA, 50 miles south of Boston. I attended school K-12 in Fall River, a former hub of the textile industry. Fall River was home to the infamous 19th century Borden murder case. New Bedford is a 15-minute drive away. Although it's probably better known for its connection to Moby-Dick, New Bedford was also an important stop on the Underground Railroad and site of the abolitionist movement.
I'm physically disabled and use mobility devices. I'm proud of these local attractions and enjoy them, sometimes with assistance. Unfortunately, many of these historic buildings may be inaccessible, especially to wheelchair users. I tried to indicate this as far as I know, but please call or email for further information.
1. Lizzie Borden Bed & Breakfast/Museum
Lizzie Borden's 1893 murder trial is still debated today. Borden was acquitted of murdering her father and stepmother, Andrew and Abby Borden. The case was a sensation because the Bordens were one of Fall River's wealthiest, most high-profile families. Some people at the time doubted that a woman was capable of murder. The Borden case has inspired several nonfiction and fiction books, including See What I Have Done, Sarah Schmidt's 2017 debut novel.
The Bordens' Victorian home in Fall River has operated as a bed and breakfast for over 20 years. Costumed guides give frequent tours. Guests can stay one night or more or rent the entire house. The bed and breakfast frequently hosts psychics. Devotees of history and the paranormal from around the world have visited here. In 2018, the current owners bought Maplecroft, the house where Borden lived after the murders, which will also be a B & B.
Please note: the Lizzie Borden Bed & Breakfast and Maplecroft are probably not wheelchair accessible.
2. Fall River Historical Society
The Fall River Historical Society also contains an extensive collection of Lizzie Borden artifacts–larger than the ones in the bed & breakfast. Other exhibits highlight the history of the textile industry. Guests can enjoy Victorian High Tea, especially around the holidays.
Most of the building is wheelchair-accessible, except the library, which can only be reached via a staircase.
3. New Bedford Whaling Museum
In a 2014 BR article, Nicole Perrin recommended this museum. Exhibits rotate frequently: there's usually something new to see!
A full blue whale skeleton hangs in the lobby. Exhibits range from marine biodiversity to the history of the whaling industry. Films introduce the cultures of the Native people of the area (the Wampanoag) and of the Portuguese immigrants who often worked as whalers. Several collections detail Herman Melville's connection to New Bedford. A 2015 exhibit showcased costumes from the movie In the Heart of the Sea, based on Nathaniel Philbrick's nonfiction bestseller. The museum hosts an annual Moby-Dick marathon, where fans come from around the world to read the book aloud over more than 24 hours. There's also a permanent collection of scrimshaw (carved ivory) and other artwork by whalers.
The museum is modern and accessible, with wheelchair entrances, ramps, elevators, audio tours, and captioned movies.
Located by the waterfront, the museum is near quaint shops and fine dining. I second Nicole's recommendation to try the amazing Portuguese food and seafood. Some of these shops are in historic, inaccessible buildings, and streets are paved with cobblestones. For a delicious, wheelchair-accessible restaurant away from the cobblestones, I recommend the Waterfront Grille.
4. New Bedford Historical Society (and More!)
After teaching himself to read and write and escaping from slavery via The Underground Railroad, Frederick Douglass began his career as a brilliant abolitionist writer and speaker in New Bedford. The Historical Society has exhibits on Douglass and many other anti-slavery activists. New Bedford was also home to the 54th Regiment, the first all-black regiment in the US. This year, the Historical Society celebrated the 200th anniversary of Douglass' birth. Their other Black History Month activities included a screening of I am Not Your Negro, Raoul Peck's documentary on James Baldwin. The New Bedford Public Library offered free copies of Douglass' autobiography, The Narrative of the Life of Frederick Douglass.
In 2014, the Zeiterion Theater in downtown New Bedford hosted Frederick Douglass: In the Shadow of Slavery, a one-man show with Broadway actor Mel Johnson Jr. portraying Douglass. TV star Matthew Morrison and award-winning musician/author Patti Smith have performed at "the Z" more recently.
The New Bedford Historical Society is in a 19th century building and may not be accessible. The Zeiterion, however, is accessible in many ways.
Fall River and New Bedford offer historical and literary attractions, shopping, and dining–often far cheaper than bigger cities like Boston and Providence!