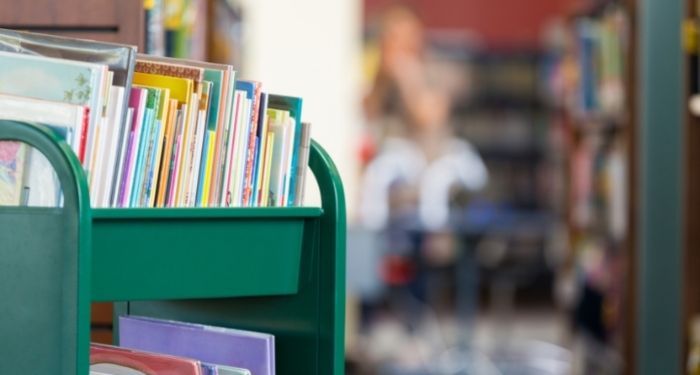 Libraries
Library Displays I Want To Try in My Elementary School Library
When I first became a school librarian, I thought creating library displays would be one of my favorite tasks. The idea of gathering books around a theme and dreaming up clever signage appealed to me so deeply. I imagined I would spend my days developing the collection, showing off the goods in curated displays, and pressing books into the hands of grateful students. This was before I adjusted to the reality of teaching seven classes a day to a range of students, dealing with significant behavior issues, tending to a collection of over 10,000 books, and completing the myriad of other tasks that school librarians are handed. Quickly, some of my favorite things about the job fell by the wayside.
Wrapping up my 5th year in this position and my 16th year teaching in an elementary school, I realize that this hectic pace will never, ever dissipate. Education is not going to get calmer or easier as time goes on. With this in mind, I've been choosing different projects that I'd like to pursue as a school librarian. No more waiting for things to slow down. I have back to school, heritage months, and I'm going to put my best reader's advisory and Canva skills forward and design some library displays that I can get excited about. TikTok, Instagram, and Pinterest are full of awesome ideas that can kickstart the brainstorming process. I've also felt inspiration strike as I'm shelving or processing new books — patterns begin to jump out at you when you're among the books.
Here are some library display ideas I plan to try.
Five Library Display Ideas To Try
As Seen On TV
One surefire way to connect with kids is over their favorite TV shows. The magnetic draw is there, but reading about characters students have seen and heard on screens can actually support focus and help kids follow the plot. Lots of great series aimed at a range of age levels have been developed for TV. There are old standbys like Clifford, Llama Llama, Arthur, and The Berenstain Bears. Newer shows include The Last Kids on Earth, The Questioneers (featuring Ada Twist, Scientist), and lots of Marvel properties.
Into the Game: Video Games and YouTubers
Similar to the television connection but with an even stronger pull, video games and YouTube stars can whip even the most reluctant readers into a frenzy. This display could feature fiction and nonfiction titles. Gaming manuals are a big hit in my nonfiction section, but there are also official and unofficial fiction stories about Minecraft, Roblox, Fortnite, and all the favorite Nintendo characters. YouTube stars have been putting out books more frequently the past few years. My students are enamored with FGTeeVee and The Spy Ninjas in particular. Pulling their favorite at-home hobbies into the library will get the students pumped.
If You Liked…You Should Try…
This is an oldie but a goodie. This comparison is something I do verbally when I'm suggesting books one on one, but I'd like to make a bigger effort with signage and displays. This one is a bit heavy on the research. It's easy for me to compare Diary of a Wimpy Kid to a single title, but coming up with 7-10 books that have a simply explained connection takes a bit of work. However, I know that pulling my students away from the same 3 or 4 familiar series will expand their horizons. I plan to dig in for the aforementioned Wimpy series, Dork Diaries, and Dogman.
2 Cute 2 Handle
Kids love cute stuff. Kawaii and the general idea of cute is huge among my students right now. This is such a wide category that could include everything from baby animal books to Kirby Manga to stories about tiny gnomes. I love the idea that this topic could be used to pull out literally anything that I think is cute, which will make keeping it stocked a breeze. I think it will be a low input, huge impact move and I think making the signage will be super fun.
Teachers Read, Too!
I really love this one for an elementary school. I'd like to have several teachers volunteer to let me know their favorite kids' book, then display those books alongside teacher pictures. You can do this two ways — either show book and picture together (students will get pumped just to see the images of familiar people) OR make a guessing game where kids will try and guess which teacher picked which book. I plan to do this using a bulletin board (something clever with images of teachers and book covers) and have the books to be checked out displayed below. I have a feeling the whole school will get into this one.
Hopefully you've found something that will get you (or your students!) excited about reading. Let me know if you give any of these a try!
For more library inspiration, check out some ways high school librarians can foster critical thinking, how to get teens interested in poetry, and more from our librarian feature archives.