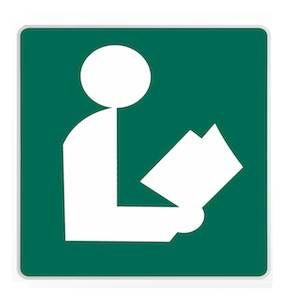 Lists
What Do Librarians Read? Part 2
This content contains affiliate links. When you buy through these links, we may earn an affiliate commission.
When it comes to choosing what book to read next, I often wonder WWLD? (That's "What Would a Librarian Do?") In part two of this blog post (see the first installment here), more librarians from around the country let us peek at their personal reading lists and TBR piles.
Laura Barkema | Boston Public Library
What I'm reading now: I am physically reading The Poisonwood Bible by Barbara Kingsolver and Kara Goucher's Running for Women: From First Steps to Marathons, and I usually listen to an audiobook on my commute as well. l am currently listening to Motor Mouth by Janet Evanovich.
What's on my to-be-read list: Hundreds of books. I read anything from non-fiction to fiction, romance to science fiction, and young adult to bestsellers. I would say the book I am most excited to read soon is Mindy Kaling's memoir Is Everyone Hanging Out Without Me? (And Other Concerns). I love her show The Mindy Project and think she is hilarious, so I hope it will be a great summer read.
How I choose my next book: I choose my books based on either what one of my book clubs is reading next; or, since I read books all across the board, a book in a genre that I have not read in a long time. I also love Goodreads and learning what books my friends are enjoying, so I may turn to a book that someone rated very highly and/or recommended.
Favorite book to recommend: For a happy book I currently recommend The Rosie Project by Graeme Simsion, because it is quirky, cute, and funny. For a heavier (but great) read I recommend Me Before You by Jojo Moyes, because it is a beautiful, heart-wrenching story.
—
Genine Plunkett | Denver Public Library
What I'm reading now: The Well-Beloved by Thomas Hardy
What's on my to-be-read list: Oscar Wilde and a Death of No Importance by Gyles Brandreth, Winter's Bone by Daniel Woodrell
How I choose my next book: Many ways! I came across Brandreth's Oscar Wilde mystery series while browsing the New Books section at our Woodbury branch and now I'm going back to read the earlier titles. I have collected a lot of classics that I want to read, but haven't yet, using Kindle free books, and tend to mix those in between newer books. I watch a lot of films on DVD and I'm often inspired by a movie to go back and read the book or vice versa.
Favorite book to recommend: Jane Eyre, because it is my all-time favorite and it has a lot to offer beyond the basic love story. I think of it as a thinking woman's romance.
—
Heather J. Elliot | Central Library (Portland, OR)
What I'm reading now: Green Girl by Kate Zambreno
What's on my to-be-read list: The Teleportation Accident by Ned Beauman (Cover art got me! Also he is the son of Persephone Press Ltd founder Nicola Beauman), Adios Hemingway by Leonardo Padura (planning a trip to Cuba and this should get me in the mood), Beautiful Girl by Alice Adams, To Have and Have Not by Ernest Hemingway.
How I choose my next book: Part serendipity/part small publisher/part special topic–driven. Working in a library, many books cross my path and I'll admit that I am a bit taken with cover art. I am also a follower of a few publishers like Persephone Books Ltd and Virago. They reprint neglected classics by women and I find I generally like the content and the time period in which they were written—supporting a press that is an advocate for the voice of women is a bonus. And if I see a book, while browsing a bookshop or in the library, and it fits in with one of my particular topics I enjoy reading, I will set it aside for later. A couple of my special topics are the Lost Generation (specifically expats in 1920s Paris) and simple living.
Favorite book to recommend: I love recommending I Capture the Castle by Dodie Smith for a charming coming of age story and the witty, resilient character of Cassandra. It is a beautiful depiction of the English countryside, poverty, art, and love.
—
Amber Seely | Houston Public Library
What I'm reading now: I am reading Frozen in Time: An Epic Story of Survival and a Modern Quest for Lost Heroes of World War II by Mitchell Zuckoff, and I am listening to the audiobook version of Promise of Blood by Brian McClellan. I usually have at least two books in process at any given time.
What's on my to-be-read list: I am eagerly awaiting the July releases of Tower Lord by Anthony Ryan (sequel to Blood Song) and Landline by Rainbow Rowell.
How I choose my next book: I tend to choose my next book on gut feeling. I read in a variety of genres and often have multiple books in process at one time, so I try to always have my current reads be very different from each other.
Favorite book to recommend: The Eye of the World by Robert Jordan is such an engrossing first novel in a fantasy series that appeals to readers of all backgrounds. Also, for the past two years I've been a reader for the Texas Library Association's Lariat Reading List. These books represent a wide variety of fiction genres, and they were all a true pleasure to read!
Save