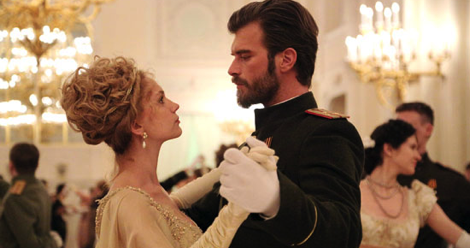 This content contains affiliate links. When you buy through these links, we may earn an affiliate commission.
I have been sucked into the rabbit hole that is the Turkish/Russian historical Kurt Seyit and Sura. Set during WWI in St. Petersburg, Crimea, and Istanbul, it follows the romance of Seyit, a Turk who is one the Tsar's elite soldiers, and Sura, a wealthy Russian girl. Their relationship deals with meddlesome friends, disapproving families, Bolshevik revolutionaries, and total upheaval of their lives during the 1917 revolution. (Although, personally, Celil and Tatya are my OTP. *sob*) Outlander fans, you'll find plenty to love here!
However, if you are caught up on Outlander and Seyit & Sura, first off, great job—these are not small commitments! Second, here is a list of suggested reading based on various parts of the TV show.
If you want more Kurt Seyit and Sura:
Author Nermin Bezmen used her own family history as her framework for the story, which she originally published as a book in 1992. Fans needing more can jump into Bezmen's novel, and continue on with Shura, and Seyit & Murka, though events were embellished for the TV series, making the story in the novels a little quieter. Be sure to check the translation language!
If you want more of Petrograd during the revolution:
Rappaport moved from acting to writing, with great acclaim. Here she explores the diaries and letters of the foreigners and expats caught in St. Petersburg during the revolution. Voices include English suffragette Emmaline Pankhurst, an African-American valet to a U.S. ambassador, and a nurse who had survived the sinking of the Titanic, all offering firsthand experience of the revolution.
If you want more Russian Revolution vibes:
Leena Likitalo's duology imagines a parallel fantasy of 1917 Russia with five daughters of the Empress. Each chapter is told from the perspective of a different sister, providing their broad understandings of the situation. And with that parallel to real world history, well, we know what the ending must be. Both books are out so you can power through the story of five sisters, a restless populace, and a skilled manipulator twisting the ruler to his own ends.
If you want more fiction based on World War–era family history:
Hegi fictionalizes her family history, here telling a story based on that of her grandmother, a woman with dwarfism living in Germany during the two world wars. Get out the hankies, because this is a tearjerker in the best way.
If you want more story set in Turkic countries:
Set in 1970s Azrbaijan, Communist Leila is sent to spy on Tahir's music shop. Against the wishes of family and political affiliation, they fall in love, and Leila must work out what she stands for and if she will choose her country or her love.
If you are captivated by the Black Sea setting and wanted more Guzide:
Kaoru Mori's A Brides Story series follows the lives of several girls and young women around the Black Sea and along the Silk Road. It's a slice of life manga following the daily lives of these young women and the ways that marriage and friendship interact with their lives. I await each translation from Japanese with great impatience.
If you want more of Istanbul:
Shafak's story, for which she was put on trial in her native Turkey, explores the tangled history of the 1915 Armenian expulsions and massacres through the web of family connections, long buried secrets, and female friendship.
If you just can't get enough of the TV show:
Finally, if all you really want to do is dive back into the 40+ hours of the TV show and watch Kivanc Tatlitug stare intently at everything, let me suggest this book for teaching yourself Turkish. You may find yourself skipping some of the subtitles on your next re-watch!
Looking for more? Check out Literary Tourism: Istanbul, A Russian History Reading List, and all of our historical fiction discussions.