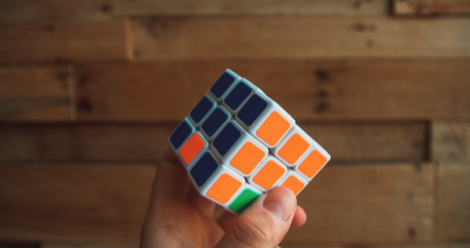 This content contains affiliate links. When you buy through these links, we may earn an affiliate commission.
"Who in the world am I? Ah, that's the great puzzle." —Lewis Carroll
You might be surprised to find out that your child loves puzzles. Maybe they've never sat and pondered over riddles, or displayed much aptitude for complex thought, put together a jigsaw puzzle, or expressed interest in anything other than video games—and just because your child loves video games does not mean they are not learning valuable skills. I know it might seem dubious, but games like Minecraft teach kids skills like problem solving and help in math development.
BUT, do not despair! I promise you: most kids love puzzles!
At school, our students love Rubik's Cubes and crosswords and sudoku and card games. They love deciphering scrambled spelling words, hard math problems, and working in groups to build tall towers. They love listening to books that involve mystery and adventure. They love twenty-one questions, scavenger hunts, and hangman. When their minds are engaged in solving puzzles, they are content.
Whether it's philosophy (but why?), architecture (legos), treasure hunts (scavenger hunts), a maze, riddles, or Minecraft—if your child loves mysteries and trying to solve for the unknown, I think there are a few kid's puzzle books on this list to sate their appetite:
Books for Kids Who Love Puzzles
Such an adorable book. I read it for the first time last month and it inspired this list: "Introducing Miss Ottoline Brown, an exceptionally inquisitive Mistress of Disguise, and her partner in crime, Mr. Munroe. No puzzle is ever too tricky for the two of them to solve…Ottoline lives in a stylish apartment in Big City with a small hairy creature called Mr Munroe. Together they look after the Brown family's eclectic collections—and dabble in a spot of detective work. So they are the first to the scene of the crime when a string of high society dog-nappings and jewel thefts hits Big City."
This is one of my favorite children's books: "A bizarre chain of events begins when sixteen unlikely people gather for the reading of Samuel W. Westing's will. And though no one knows why the eccentric, game-loving millionaire has chosen a virtual stranger—and a possible murderer—to inherit his vast fortune, one thing's for sure: Sam Westing may be dead…but that won't stop him from playing one last game!"
"Are you a gifted child looking for special opportunities?" I loved the Mysterious Benedict Society when I read it during my Harry Potter withdraws.
The Cave of Time (Choose Your Own Adventure) by Edward Packard
A Choose Your Own Adventure book is always the best choice for a kid that loves a puzzle.
I highlighted so many awesome passages when I read this book the first time: "Juan has already made summer plans, but his mother ignores his wishes and leaves him at his Uncle Tito's house. Tito is an eccentric book lover, and, in his vast library, Juan discovers The Wild Book, one that resists being read. Its pages hold an amazing secret if you're capable of catching it. Mexican writer Juan Villorio is just as skilled at writing for children as he is for adults."
"If Mrs. Tischbein had known the amazing adventures her son Emil would have in Berlin, she'd never have let him go. Unfortunately, when his seven pounds goes missing on the train, Emil is determined to get it back—and when he teams up with the detectives he meets in Berlin, it's just the start of a marvelous money-retrieving adventure…"
A young girl learning about Sartre and questioning her world? Did the author know me as a child?: "One day fourteen-year-old Sophie Amundsen comes home from school to find in her mailbox two notes, with one question on each: 'Who are you?' and 'Where does the world come from?' From that irresistible beginning, Sophie becomes obsessed with questions that take her far beyond what she knows of her Norwegian village. Through those letters, she enrolls in a kind of correspondence course, covering Socrates to Sartre, with a mysterious philosopher, while receiving letters addressed to another girl. Who is Hilde? And why does her mail keep turning up? To unravel this riddle, Sophie must use the philosophy she is learning—but the truth turns out to be far more complicated than she could have imagined."
A darling series of picture books that get young girls and boys interested in STEM.
Furthermore (Furthermore #1) by Tahereh Mafi
This book has such a weird vibe, which is great: "Alice Alexis Queensmeadow, 12, rates three things most important: Mother, who wouldn't miss her; magic and color, which seem to elude her; and Father, who always loved her. Father disappeared from Ferenwood with only a ruler, almost three years ago. But she will have to travel through the mythical, dangerous land of Furthermore, where down can be up, paper is alive, and left can be both right and very, very wrong. Her only companion is Oliver, whose own magic is based in lies and deceit. Alice must first find herself—and hold fast to the magic of love in the face of loss."
"Izzy Bennett's family sails into a quiet lagoon in Mexico and drops their anchor. Izzy can't wait to go explore the pretty little village, eat yummy tacos, and practice her Spanish. When she meets nine-year-old Patti Cruz Delgado, Izzy's thrilled. Now she can do all that and have a new friend to play with too. Life is perfect. At least it's perfect until they realize a midnight thief is on the loose!"
"A brilliant Brazilian children's book author: The White Rose is guarded closely by the gardener, who once caught a cold walking barefoot trying to find his shoes, which had been hidden by a cat, which was a gift from his younger brother, who was married to Dalva, who had inherited the cat from her uncle, who died of a broken heart awaiting a love letter that never arrived…Eventually, we see how one tiny action can have marvelous consequences, and the story turns like a ferris wheel. With a playful lightness of touch, Mello explores serious questions about the importance of kindness and the dangers of greed. Mello's illustrations will inspire his young readers, providing them with familiar and approachable images while encouraging imagination to fill in the narrative gaps, as he captures the mysteries of childhood through rich, vibrant imagery."
The second graders at school loved this book. Sometimes they were not in the mood to read words, and this book was a great reprieve. They loved trying to guess what would happen next.
Ahh manga, you allude me, but ALAS, this book may have changed my mind!: "'Kitaro's Birthday' reveals the origin story of the yokai boy Kitaro and his tiny eyeball father, Medama Oyaji. 'Neko Musume versus Nezumi Otoko' is the first of Mizuki's stories to feature the popular recurring character Neko Musume, a little girl who transforms into a cat when she gets angry or hungry. Other stories in The Birth of Kitaro draw heavily from Japanese folklore, with Kitaro taking on legendary Japanese yokai like the Nopperabo and Makura Gaeshi, and fighting the monstrous recurring villain Gyuki."
The Number Devil: A Mathematical Adventure by Hans Magnus Enzensberger, Rotraut Susanne Berner (Illustrator), Michael Henry Heim (Translator)
I hated math facts, but loved pondering through a long algebra equation. This book is for kids who feel the same way: "In twelve dreams, Robert, a boy who hates math, meets a Number Devil, who leads him to discover the amazing world of numbers: infinite numbers, prime numbers, Fibonacci numbers, numbers that magically appear in triangles, and numbers that expand without. As we dream with him, we are taken further and further into mathematical theory, where ideas eventually take flight, until everyone—from those who fumble over fractions to those who solve complex equations in their heads—winds up marveling at what numbers can do."
A child suffering from ennui…but they say boredom is a catalyst for the imagination: "For Milo, everything's a bore. When a tollbooth mysteriously appears in his room, he drives through only because he's got nothing better to do. But on the other side, things seem different. Milo visits the Island of Conclusions (you get there by jumping), learns about time from a ticking watchdog named Tock, and even embarks on a quest to rescue Rhyme and Reason! Somewhere along the way, Milo realizes something astonishing. Life is far from dull. In fact, it's exciting beyond his wildest dreams…"
Another brilliant Brazilian author: "The adventures of Beremiz Samir, The Man Who Counted, take the reader on an exotic journey in which, time and again, he summons his extraordinary mathematical powers to settle disputes, give wise advice, overcome dangerous enemies, and win for himself fame and fortune. as we accompany him, we learn much of the history of famous mathematicians who preceded him; we undergo a series of trials at the hands of the wise men of the day; and we come to admire the warm wisdom and patience that earn him the respect and affection of those whose problems he resolves so astutely. In the grace of their telling, these stories hold unusual delights for the reader."
This is a classic in most Geometry classes.
I recommend this book to only special people. People I know love words as much as I do. Know what a pangram is? Ever heard "The quick brown fox jumps over a lazy dog"? A wonderful, wonderful book for lovers of words.
"For shy young Peter Mark Roget, books were the best companions—and it wasn't long before Peter began writing his own book. But he didn't write stories; he wrote lists. Peter took his love for words and turned it to organizing ideas and finding exactly the right word to express just what he thought. His lists grew and grew, eventually turning into one of the most important reference books of all time."
This book has everything that is wonderful- math, art, mystery, and magic: "In the last throes of the 14th century, Islamic Spain is under pressure from Castile and Aragon. Ara, the twelve-year old daughter to the Sultan, finds herself in the center of a political intrigue when her eunuch tutor is magically transformed by the evil Wazir. Can a little girl save her friend and tutor with the help of a Sufi mathemagician? Intertwined in a mystery of math, art and magic, Ara races to find the seven broken symmetries before time runs out. Will she succeed or will the Alhambra fall and with it all that she loves? And will the stone lions awaken in time to help her?"
This book is full of strange and wonderful things: "When a child awakens with dark leaves drifting into her bedroom, she feels that 'sometimes the day begins with nothing to look forward to, and things go from bad to worse.'
Feelings too complex for words are rendered into an imaginary landscape where the child wanders, oblivious to the glimmer of promise in the shape of a tiny red leaf."
The Rabbits by John Marsden illustrated by Shaun Tan
Full of thoughtfulness and complexity: "Uses rabbits, a species introduced to Australia, to represent an allegory of the arrival of Europeans in Australia and the widespread environmental destruction caused by man throughout the continent."
The most puzzling book: "If I had a world of my own, everything would be nonsense. Nothing would be what it is, because everything would be what it isn't. And contrary wise, what is, it wouldn't be. And what it wouldn't be, it would. You see?"
This is one of my favorite books. I love Catherynne Valente. "She sounds like someone who spends a lot of time in libraries, which are the best sorts of people."
C D B! by William Steig
I requested this book and gave it to my niece. I explained that every page was a puzzle, and she would have to decipher the words. She looked at me like I was nuts, but ultimately really enjoyed the book.
Stunning illustrations: "When Horace the elephant turns eleven, he celebrates in style by inviting his exotic friends to a splendid costume party. But a mystery is afoot, for in the midst of the games, music, and revelry, someone has eaten the birthday feast. The rhyming text and lavish, detailed illustrations each provide clues, and it's up to the reader to piece them together and decide whodunit! "The fun of poring over the pictures is matched by the enjoyment derived from the text's witty, ingenious verses."
"Somewhere in Britain Jack Hare lost the Moon's gift to the sun. Solve the riddles, unravel the puzzles, and see if you can figure out where."
"This is not really a book. This is a building in the shape of a book…a maze. Each numbered page depicts a room in the maze. Tempted? Test your wits against mine. I guarantee that my maze will challenge you to think in ways you've never thought before. But beware. One wrong turn and you may never escape!"
Oh! What a fun book: "We've buried 12 emerald-studded numbers—each handmade and one of a kind—in 12 holes across the United States. These treasures will belong to whoever digs them up first. The question: Where to dig? The only path to the answer: Solve the riddles of The Clock Without a Face!"
Great fun: "Gil Goodson's future happiness depends on winning the Golly Toy & Game Company's ultimate competition. If Gil wins, his dad has promised that the family can move away from all the gossip, false friends, and bad press that have plagued them ever since 'The Incident'. Inside the toy company's fantastic headquarters, Gil will have to master trivia, solve puzzles, and complete physical stunts—and he'll have to do better than all of the other kids competing."
The founder of We Need Diverse Books wrote this book. It has a great twist: "Can knowing the most superhero trivia in the whole school be considered a superpower? If so, Vincent Wu is invincible. If not (and let's face it, it's 'not'), then Vincent and his pals Max and George don't get any props for being the leaders (and, well, sole members) of the (unofficial) Captain Stupendous Fan Club. But what happens when the Captain is hurt in an incident involving BOTH Professor Mayhem and his giant indestructible robot AND (mortifyingly) Polly Winnicott-Lee, the girl Vincent totally has a crush on?"
The Serpent's Secret (Kiranmala and the Kingdom Beyond #1) by Sayantani DasGupta
Full of secrets: "On the morning of her twelfth birthday, Kiranmala is just a regular sixth grader living in Parsippany, New Jersey…until her parents mysteriously vanish later that day and a rakkhosh demon slams through her kitchen, determined to eat her alive. Turns out there might be some truth to her parents' fantastical stories—like how Kiranmala is a real Indian princess—and a wealth of secrets about her origin they've kept hidden."
Learning to read is definitely a puzzle in the beginning, and it's fascinating to see how a child's brain makes the connections.
Legos, design, Minecraft…kids love this kind of stuff, and it should be encouraged.
Translated from a German bestseller, think: The Curious Incident of the Dog in the Night-Time: "Rico is an unusual boy. Sometimes he's laughed at because he mixes things up in his head and he doesn't know his left from his right. But Rico is brilliant at noticing the little things that nobody else does. But it isn't until his new friend, the gifted but anxious Oscar, is kidnapped that Rico gets the chance to put all his special skills."
Pirates, treasure…Argh Matey: "Sparks is an 11-year-old cabin boy on the Southern Cross, a pirate ship led by Captain Barracuda. When he and the crew discover a book left by the infamous pirate Phineas Johnson Krane, they must learn to read in order to decipher its contents and go in search of Krane's hidden treasure. A satisfying tale packed with pirates, outlaws, danger and, in the words of its narrator, 'no second chances.'"
Nine Open Arms by Benny Lindelauf, translated by John Nieuwenhuizen, illustrated by Dasha Tolstikova
From the Netherlands: "At the end of the world, near the border with Germany, stands a house as long as nine open arms. Half hidden behind trees and shrubs rises a wide brick wall, topped with two attic windows, each no bigger than a dishcloth. The walls have been whitewashed and the wooden floor is bare, as if the house is waiting. Waiting for someone to move in."
Maps by Aleksandra Mizielinksa and Daniel Mizielinski
Every great puzzle-solver needs a map, and these are beautiful maps.
A beautiful book of philosophy for children, but probably best for older children (from Japan): "This volume collects stories which focus on Miyazawa's love of space and his use of the galaxy as a metaphor for the concepts of purity, self-sacrifice and faith which were near and dear to his heart. 'The Nighthawk Star' follows an lowly bird as he struggles to transform himself into something greater, a constellation in the night sky; 'Signal & Signal-less' depicts a pair of star-crossed train signals who dream of eloping to the moon; and 'Night on the Galactic Railroad,' Miyazawa's most famous work, tells the story of two boys as they journey upon a train that traverses the cosmos, learning the true meaning of friendship, happiness and life itself along the way."
More beautifully perplexing stories from Japan: "A whale falls in love with a military submarine, and dies courting her; a mother caught in a fire following a bombing gives all her body's water to save her son, and her desiccated form turns into a kite; a wolf rescues a sick child abandoned by her parents, only to die himself at the hand of men. However, bunkers can also become real homes, a small Japanese girl and an American POW briefly understand each other and a miraculous tree feeds starving children…"
It's hard to narrow down a list of books for kids who love puzzles. So many great books have a puzzle at their core. I think readers are all puzzle- solvers. We all have different reasons we read, but ultimately I think we're all trying to solve something.
I've used a lot of translated books on this list, so if you're interested in more, try 100 Great Translated Books for Children, I also wrote an article about books for Morbid Kids, so if your kid likes to solve puzzles and is also morbid, check this list out too!