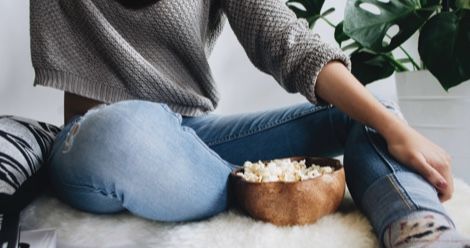 This content contains affiliate links. When you buy through these links, we may earn an affiliate commission.
A few years back, the options for book adaptations were either movies or TV series. The new popularity of limited and anthology series has opened up a great new option that allows filmmakers to delve into the content of books without having to truncate them as much as they would for a single film. Which got us thinking…which contemporary issues-driven YA books would make for a great binge watch? We think these 14 books—some mysteries, some dramas, and all with heartfelt characters exploring real issues—would each make amazing limited series.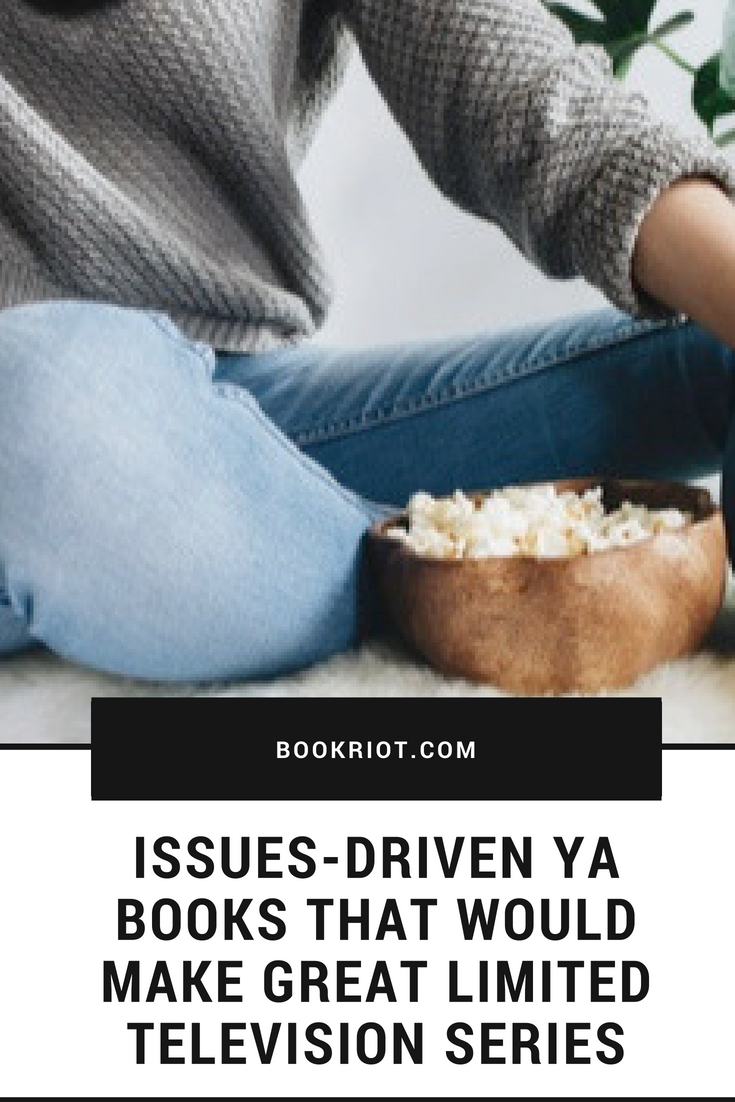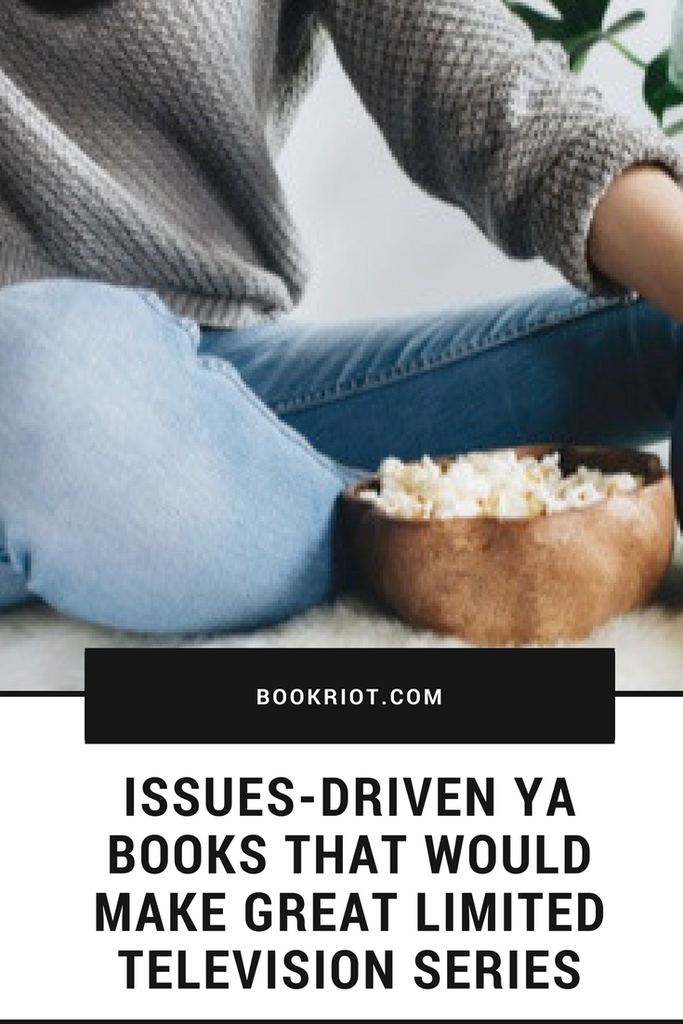 Speak by Laurie Halse Anderson
Melinda is a friendless outcast because she busted an end-of-summer party by calling the cops. But she wasn't calling to bust the party, she picked up the phone to report her own assault. Ever since that night, she chooses not to speak…and realizes how easy it can be to go unheard. Through working on a project for Art class, she comes to face the truth of what happened that night, and gains the strength to regain her voice.
Quicksand by Malin Persson Giolito
In this award-winning Swedish novel, 18-year-old Maja is charged for her involvement in a school shooting. How did Maja—popular, privileged, and a top student—become a cold-blooded killer in the eyes of the public? What did Maja do? Or is it what she failed to do that brought her here? Told in two timelines—the months leading up to the shooting, then Maja's trial months later.
In every class, there's a star cheerleader and a pariah pregnant girl. They're never supposed to be the same person. After being drugged and assaulted at training camp, Hermione struggles to regain the control she's always had and faces a wrenching decision about how to move on. The assault wasn't the beginning of Hermione Winter's story and she's not going to let it be the end. She won't be anyone's cautionary tale.
Told entirely through letters, diary entries, emails, and other writing, Moriarty's novel introduces us to best friends Emily, Lydia, and Cassie. Through a school project, they each become pen pals with boys from another school. Their correspondences lead to love, betrayal…and revenge.
Allegedly by Tiffany D. Jackson
Mary didn't say much in that first interview with detectives, and the media filled in the only blanks that mattered: A white baby had died while under the care of a churchgoing black woman and her nine-year-old daughter. The public convicted Mary and the jury made it official. But did she do it? She wouldn't say. There wasn't a point to setting the record straight before, but now, years later, she's got her own unborn child to think about. When the state threatens to take her baby, Mary must find the voice to fight her past.
Described as a modern day My So-Called Life starring a Muslim Teen, debut author Ali shares the story of Janna. And to Janna, there are three kinds of people: saints, misfits, and monsters. And sometimes the monsters wear saint masks, like the monster at her mosque. People think he's holy, untouchable, but nobody has seen under the mask. Except Janna.
Amanda is the new girl in school and all she wants is to make friends and fit in. But Amanda is keeping a secret, and she's determined not to get too close to anyone. But when she meets sweet, easygoing Grant, Amanda can't help but start to let him into her life. She finds herself yearning to share with Grant everything about herself, including her past. But Amanda's terrified that once she tells him the truth, he won't be able to see past it. Because the secret that Amanda's been keeping? It's that at her old school, she used to be Andrew. Will the truth cost Amanda her new life, and her new love?
Inspired by the events leading to the 2008 murder of Larry King in Oxnard, California, this novel shares the story of teenage Jude. He has unrequired crushes on boys, he steals tips and clothes from his exotic dancer mother, and recasts his reality as the set of a movie in which he's the star.
When Mikey's sister claims a boy assaulted her, his world begins to fall apart. When Ellie's brother is charged with the offense, her world begins to unravel. When Mikey and Ellie meet, two worlds collide.
This is a brave and unflinching novel from the bestselling author of Before I Die. It's a book about loyalty and the choices that come with it. But above all, it's a book about love
Bobby's a classic urban teenager. He's restless. He's impulsive. But the thing that makes him different is this: He's going to be a father. His girlfriend, Nia, is pregnant, and their lives are about to change forever. Instead of spending time with friends, they'll be spending time with doctors, and next, diapers. They have options: keeping the baby, adoption. They want to do the right thing. If only it was clear what the right thing was.
Bird seems to have the perfect life: loving parents, a hot boyfriend, the best friend ever. She even writes an online advice column to help other teens take control of their lives. But after a new guy shows up at school, Bird can't seem to follow her own wisdom. Pete is wild, unambitious and more than a little dangerous. Bird is way out of her comfort zone. All it takes is one mistake, one momentary loss of control, for her entire future to be blown away…
The sheriff's son, Kellan Turner, is not the golden boy everyone thinks he is, and Romy Grey knows that for a fact. When a girl with ties to both Romy and Kellan goes missing after a party, and news of him assaulting another girl in a town close by gets out, Romy must decide whether she wants to fight or carry the burden of knowing more girls could get hurt if she doesn't speak up. Nobody believed her the first time, but the cost of her silence might be more than she can bear.
The List by Siobhan Vivian
It happens every year. A list is posted, and one girl from each grade is chosen as the prettiest, and another is chosen as the ugliest. Nobody knows who makes the list. It almost doesn't matter. The damage is done the minute it goes up. This is the story of eight girls, freshman to senior, "pretty" and "ugly." And it's also the story of how we see ourselves, and how other people see us, and the tangled connection of the two.
Rumor has it that Alice Franklin is a slut. And after star quarterback Brandon Fitzsimmons dies in a car accident, the rumors start to spiral out of control. So four Healy High students—the girl who has the infamous party, the car accident survivor, the former best friend, and the boy next door—tell all they know. But exactly what is the truth about Alice? In the end there's only one person to ask: Alice herself.
All American Boys by Jason Reynolds and Brendan Kiely
Rashad, an ROTC kid with mad art skills, is stuck in a hospital room because it looked like he was stealing. And he was a black kid in baggy clothes. So the cop just kept pounding him. And that's what Quinn, a white kid, saw. The whole thing was caught on camera, and when the school—and nation—start to divide on what happens, blame spreads like wildfire. Rashad and Quinn face the unspeakable truth that racism and prejudice didn't die after the civil rights movement. And they may have to risk everything to change the world.