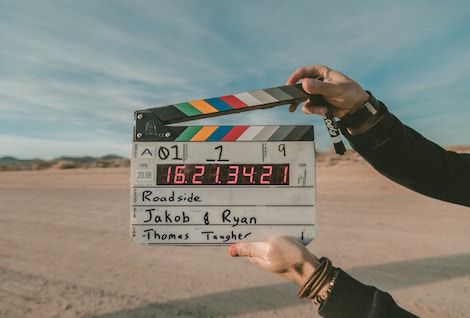 Lists
Books We Don't Want Made Into Movies
This content contains affiliate links. When you buy through these links, we may earn an affiliate commission.
Recently on a #RiotGrams task, we asked readers to share what books they wanted to be made into films. For some reason this sparked in my contrarian brain the thought: What are books that I would not want to be made into films?
There are lots of reasons that I wouldn't want a book adapted into a movie, and lots of books that came to mind, so I asked our contributors and their answers were too incredible not to share with you all.
This novel holds a special place in my heart. When I was rediscovering reading as a part of my identity, this book sucked me in and helped remind me why novels are a special form of magic. The imagery was so strong and I still dream in the world of this novel at least once a week. It's because of this that I genuinely don't want a film adaptation of it. There is no way for it to live up to my experience of this book.
For the same reasons I also don't want anyone to adapt:
The magic in this book is incredible and vivid. The imagery and the magical confrontations were absolutely incredible and I don't think there's anyway that could be portrayed in film with the same effect. That, combined with the fact that it takes place in Nigeria, a country that Hollywood has struggled to represent properly according to Nnedi herself, means that I really don't want a film version of this one.
Before you even comment, I know it's already a movie. That doesn't mean I want it. You can keep it off the screen. It's awful. I don't want faces given to these unlikable characters of this masturbatory, mediocre piece of work that still found a way to be transphobic. Every few pages brought forth yet another tedious cliche that I certainly do not want to see on screen. It's enough that I read the whole book.
I had a hard time coming up with a novel that I wouldn't want adapted to film, because I think every good book deserves an adaptation made with love. Then I saw that bad books were recommended.
This novel is well-written and original, as I said in my GoodReads review. It's also the worst representation of fandom ever. If you want fatphobia, racism, and downright mocking of fangirls to be delivered to your doorstep, then you got this book. A group of friends and fangirls accidentally kidnap the least-favorite member of a band they like, and black comedy ensues. The so-called "fangirls" are hurtful for actual representation of fans and show no love. Please, never adapt this book.
Granted, I'm only one book into this trilogy about empires, sentient ships, flashbacks, revenge, friendship, but I do not want to see it on screen. One of the biggest strengths of the story is the way that Leckie uses our own expectations against us through language. Leckie's characters in the Radch Empire don't differentiate sex or gender, referring to everyone with "she" and "her." This doesn't mean that characters aren't male and female, just that they are all given female pronouns. While reading it, I had a conversation with the text as I adjusted to all female pronouns, and then had to update my mental images when a character was described as both "she" and "male."
A movie would completely change the experience of seeing the Radch Empire. How would a movie let us challenge our own expectations of who makes up a militant empire, of who is referred to with female pronouns? How would a screen adaptation make room for the characters to shift as we realize that "she" is or is not female? I still don't know if some characters are female or male. And that's fine. Film would ruin the dialog between the reader and story, because it would provide definitively answer (for most people) about a character's sex.
Honestly, I'd be interested to hear how well this book translates into other languages, because it feels so firmly settled in playing with language and Western culture. (Translators, you do good work!) However, the book has been optioned so perhaps the filmmakers will come up with something wonderful. I'll probably just read the second book instead.
After the train wreck that was My Sister's Keeper, I am hereby placing a ban on all future adaptations of Jodi Picoult's books. Picoult is one of my favorite authors and with current events, I can see there being a heightened interest in some of her books (Nineteen Minutes and Small Great Things in particular). These are important topics and her writing packs such an emotional punch—I am BEGGING Hollywood to leave them alone.
I started this book thinking, "A group of college friends going through life and growing together! Great! This would make a wonderful movie or limited series!" I then found out via the power of Google that a limited series is actually in the works. However, as I kept reading (it's 800 pages, a lot happened that I wasn't expecting!) the subject matter and character history got darker and more violent and harder to read. Don't get me wrong, I absolutely love this book. It means so much to me and I'll never forget it, but geez, the cover should be an enormous trigger warning. It's a tough book to get through, and I'm afraid the limited series will be really, really hard to watch.
Not only did Salinger hate the idea of a film version of this book, but the novel's narrator Holden Caulfield would also hate it. He tells readers, "If there's one thing I hate, it's the movies. Don't even mention them to me." The irony of going against this would be too much for me. Also, the plot itself is not compelling. The strength of the book is in Holden's internal voice, which wouldn't lend itself well to a Hollywood voice-over. Holden is one of the few classic literary characters whose image hasn't been paired inextricably with a certain actor, and I'd love it to stay that way. Besides, there are plenty of other great bildungsromans featuring diverse characters that would translate to the screen far better—the market is oversaturated with coming-of-age stories about white guys as it is.
What would you add to the list?