This content contains affiliate links. When you buy through these links, we may earn an affiliate commission.
Sometimes I read for fun. Sometimes I read to my kids. I've read because it was required, with the purpose of memorizing facts, and with the intention of learning a new skill. I used to be able to read instructions and then perform the task as described. Eleven or so years ago, however, I suffered a concussion, and the resulting deficits have change the way in which I become proficient in new tasks; these days, before I can do it, I need to see it. Sometimes, I can watch a demo or video. When I can't? What do you know, lots of books have pictures in them. Especially graphic novels and manga. These are the best how-to comics.
People, Marie Kondo doesn't want to throw all of your stuff away. She is not going to come into your home in the middle of the night and consign your favorite geeky T-shirt to oblivion. She's simply recommending that you evaluate all of your crap and decide whether or not you care about it. I, for instance, went through my closet after reading The Life-Changing Manga of Tidying Up and pulled out half of my clothes to donate; gifts I didn't actually care for, stuff that is never going to fit again after two kids and four decades, shirts I hadn't worn in two years or more…Why keep any of it when someone else may need it or love it? Why have it hanging in a closet that is literally bursting when I'm never going to put it on again?
Did I save some stuff? Of course I did: a T-shirt my friends and I had made in college when we were the "duct taped" together band for the Women's NCAA tournament. My wedding dress. Those things still spark joy. I smile when I hold them. I remember special days and some of the best times of my life. But that Oilers T-shirt someone brought back from Canada for me? I hate orange, I'm not an Oilers fan, and in the three years I've owned it, I had never put it on.
The Life-Changing Manga of Tidying Up is written as a fictional story in which Kondo takes our intrepid protagonist on as a client and helps her sort through her home and, by proxy, her life, so it's fun to read and maybe eases some of the difficulty of parting with objects in a culture where we're constantly struggling to acquire more. Give it a shot.
I'm not sure what's going to happen to this Oni imprint now that the company has merged with Lion Forge (very, very problematically) but it would be a shame to lose Limerence. When I spoke to the Oni folks at Emerald City Comic Con a few years ago, they were really excited about this project, and I hope they find a way to keep it active.
Want to use a friend's proper pronouns but not sure where to start? This little guide is a perfect jumping off point. Crafted as a conversation between Bongiovanni, who is nonbinary, and his best friend Jimerson, who wants to do right by Archie but isn't sure how, this succinct little book provides a perfect framework within which to be a fundamentally decent human who cares enough about their fellow people to toss away outmoded gender concepts and learn to address folx the way they want to be addressed.
The other aspect of this little book I adore is that it emphasizes the "If you don't know, ask" principle. No one is going to be offended if you ask what their pronouns are. I know this because I've done it in both social and professional settings. Even bothering to ask is a mark of respect and care and it means the world to the person you're asking. So let's do that until it's the norm.
See? This is a great imprint and it deserves to live. This second book in the Quick & Easy series provides concise coverage of several related topics: "sexuality, gender identity, coming out, and navigating relationships." Like The Quick & Easy Guide to They/Them Pronouns, it's intended as a starting point in the reader's queer education and/or a helpful tool for those are on their own journeys of discovery.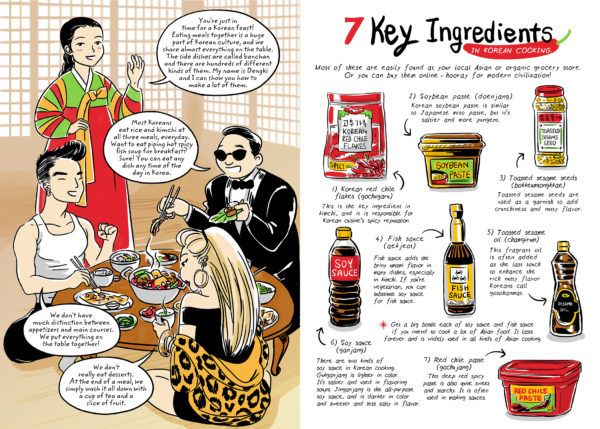 Food styling is an art that involves knowledge of chemistry, sculpture, meteorology, and a whole host of other components. Which is why the final dish photos in cookbooks always look so good. What we don't see is what happens between making a list of ingredients and putting food (which probably doesn't look much like its mug shot) on the table and I'm sure I'm not the only one who's looked at something and wondered, "Is this done?" "Is it supposed to be that color?" "What's that bubble?" and a whole host of other doubts/concerns/decision to throw stuff in the trash.
In Cook Korean! Ha has solved this problem by expanding her recipes into 1–3 page comics that demonstrate the intermediate steps of ingredient to dinner. The illustrations are clear, concise, and far less intimidating for being comic-style rather than professionally styled and photographed. Along with recipes, Ha provides personal anecdotes and insights into Korean culture, making the experience of learning how to cook Korean both immersive and interactive.
It seems a good proportion of instructional comics and graphic novels are about cooking which…yay. I love to cook and I've completed a self-inflicted 100 new recipes cooking challenge two years in a row (I'm thinking about doing something a little more specialized in 2020. Pastry? Bread? The possibilities are staggering).
Oishinbo is a seven-volume series following journalist Shiro Yamaoka as he selects items for an "Ultimate Menu" Tozai News has commissioned with the goal of creating a model meal that embodies the "pinnacle of Japanese Cuisine." Each volume has a different theme from sake to sashimi to vegetables and each contains recipes that further explore the theme. In Vol. 3, Yamaoka takes on ramen, a deceptively simple dish and, along with the narrator, the reader learns to make every component of traditional ramen from broth to noodles.
---
I can't claim that all I learned in life I learned from how-to comics, but they've certainly made my transition to a new learning style easier. And hey, if there isn't a graphic novel or manga about something you want to learn how to do, then find one about writing a graphic novel and create that thing for yourself.