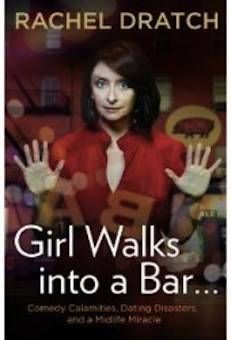 Giveaways
Giveaway Winner: Outlandish Stories from the Dating Scene
Inspired by Rachel Dratch's new memoir Girl Walks Into a Bar…, we asked you to send in your most disastrous and legendary dating stories, and you did not let us down!
We selected three finalists, and the Book Riot community voted by clicking the Facebook "like" button on their favorite entries. Juliana C. won with her submission:
_________________________
The site: Match.com
Number of messages exchanged: 6
Location of date: Bubble tea shop
MONDAY, FEBRUARY 6, 2012
I arrive on time, in jeans. I attempt to casually read the drink menu, but my focus is on the door. He shows up five minutes later, wearing a business suit. His profile led me to believe he would be taller.
We order our bubble tea, and I wind up paying for his because it's a cash-only store and he doesn't have any. Once we're seated he asks me a few routine first-date questions, but once I ask him about his work the two-way dialogue goes out the window.
Him: Self-employed, energy consulting, blah blah, environmental regulations, blerghly bluhh…
Me: ….. [nodding like a bobblehead dog on a car dashboard, eyes on the wall clock slightly behind his head]
Him: Horrible story about some rich friend of his who throws lavish gatherings on yachts and divorced his wife for a 20-year-old…
Me: …. [forced laughter, comment about Boston events in general]
Him: Complaints about how hard it is to furnish his apartment…
Me: "I have to go meet my friends downtown."
FRIDAY, FEBRUARY 10, 2012
I get this message on Match:
"Wow – you really didn't call me? We were so compatible – how could you deny that? I'm kidding – it clearly was not meant to be (although you'd be lucky to have me). Don't get me wrong, I think you are extremely attractive, sociable, and generally speaking I think we got along (although you were a little defensive and immature).
I am writing this email because I thought you might be a great venue for me to expand my horizons and vice versa. I am seeing another girl (or two), but I was wondering if you'd want to hang out as friends. Stuff like – helping me decorate my apartment, shopping, or just going out?
I think we both bring things to the table – you an outlet to the party scene, me an outlet to the professional world – it's a match made in heaven. What do you say to that? Friends with someone entirely different than your current friends – this is what life is about, exploring!"
– name removed to protect the passive-aggressive
After a lot of crowdsourcing and deep thought, I type "LOL" and hit send.
_________________________
Please join us in congratulating Juliana, who will be receiving a $100 to her favorite restaurant and a copy of Girl Walks Into a Bar… by Rachel Dratch. Kudos also to the other finalists, who will receive a copy of the book. And thanks to all who participated by sharing stories and voting.