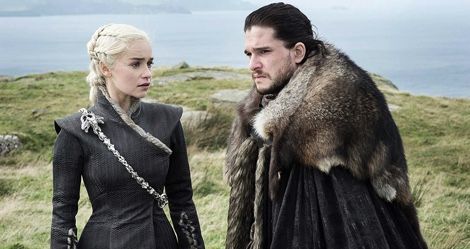 News
GAME OF THRONES Season 8 Release Return Date Finally Announced
This content contains affiliate links. When you buy through these links, we may earn an affiliate commission.
Winter is coming, and oh, we've been waiting for it. And waiting. And waiting. Our patience will finally pay off in April of 2019, when the long-anticipated 8th season of HBO's Game of Thrones is set to air, according to a tweet released by the show's official account.
Every battle.
Every betrayal.
Every risk.
Every fight.
Every sacrifice.
Every death.
All #ForTheThrone. pic.twitter.com/WReVt473SH

— Game of Thrones (@GameOfThrones) November 13, 2018
So what can we expect in the six episodes of the show's final season? Well, don't look to the books for any clues, as 1) the show parted from the source material long ago, and 2) Winds of Winter is still a twinkle in George R. R. Martin's eye.
In a rare interview Martin did with The Guardian, he said, "I've been struggling with it for a few years…The Winds of Winter is not so much a novel as a dozen novels, each with a different protagonist, each having a different cast of supporting players and antagonists and allies and lovers around them, and all of these weaving together in an extremely complex fashion."
We can probably expect a similar weaving in the epic show's final season. Our long-anticipated questions will be answered:
Will Westeros be able to survive the winter and defeat the Night King's army of the dead?
Who will finally win the game and claim the Iron Throne?
Will we finally be squicked out by the Dany/Jon Snow pairing? Or will we just continue to fixate on Jon Snow's butt?
You'll have to wait until April to know.
In the meantime, if you've already finished the previous books in A Song of Ice and Fire, you can still read more GoT goodness with GRRM's Fire & Blood, a history of Westeros written like a pseudo-nonfictional tome.