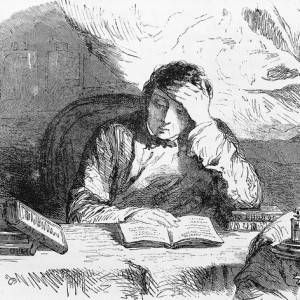 Lists
What Do Editors Read?
This content contains affiliate links. When you buy through these links, we may earn an affiliate commission.
Editors know a good book when they see one. They're experienced (that is, overworked) readers, deluged with manuscripts from hopeful writers and their agents. They battle perpetual eyestrain. And they regularly dip into the slush-pile abyss and make it back alive—sometimes with a truly great book in their hands.
You've heard what librarians read. Now, I've asked some stellar editors to tell us what books they're excited about right now.
Jeffrey Yang | New Directions Publishing and New York Review Books
What I'm reading now: Poems of Osip Mandelstam, selected and translated by Peter France, Last Words from Montmartre by Qiu Miaojin, Great Guns by Farnoosh Fathi, Second Childhood by Fanny Howe, Capital by Thomas Piketty.
What's on my to-be-read list: Cat Town by Sakutaro Hagiwara, Spontaneous Particulars by Susan Howe, Thinking Its Presence by Dorothy Wang, The Play of Time by Janet Hoskins, Wings of the Dove by Henry James.
How I choose my next book: Either whatever's under editorial consideration at work or whatever I'm editing next; or pulling from a growing stack of books I have outside of my publishing jobs—i.e., usually the book chooses me and I just blindly obey.
What's your favorite book to recommend? Depends on the conversation and who I'm talking to, but I've given away many copies of Inger Christensen's Alphabet. But if I'm talking detective books it'd be anything by Leonardo Sciascia.
—
Anitra Budd | Coffee House Press
What I'm reading now: Echo's Bones by Samuel Beckett and S by J. J. Abrams and Doug Dorst
What's on my to-be-read list: I'd most immediately like to dig in to Boy, Snow, Bird by Helen Oyeyemi, Reasons She Goes to the Woods by Deborah K. Davies, Missing by Sam Hawken, and The Brunist Day of Wrath by Robert Coover.
How I choose my next book: I keep a running list of titles I want to read in whatever bookmarking app I'm using at the time (right now it's Evernote). When I'm looking for the next book, I check my list for the book that best fits my mood, available time, etcetera. My ideas about what to read next come from all sorts of places: reviews, friends' recommendations, trips for work (I found out about several of my current to-be-read titles at this year's London Book Fair, for example).
Favorite book to recommend: The Impossibly by Laird Hunt. When people tell me they're not fans of "experimental" literature, this is the book I recommend. It's also the book that really made me fall for Coffee House back when I was an intern, so it's very dear to my heart.
—
Clara Platter | NYU Press
What I'm reading now: I read exclusively nonfiction for work so my pleasure reading is always fiction. Right now I am reading an amazing book called Stones from the River by Ursula Hegi which a friend gave me. It's beautifully written, but I think the reason for the gift is that it's about a dwarf, and I am extremely tall! So, there you go. Opposites attract? I am also reading Bad News by Edward St. Aubyn after reading a profile about the writer's life in The New Yorker. It's an extremely funny account of a three-day drug binge in Manhattan. I think I am most attracted in my fiction reading to the wildly unfamiliar.
What's on my to-be-read list: I just got Lucky Jim from the used bookstore. I haven't read any Maya Angelou since middle school so maybe one of her books?
How I choose my next book: Either by scouring reviews or browsing the tables at the Strand and looking for a gem.
Favorite book to recommend: The Secret History by Donna Tartt.
—
Jeff Shotts | Graywolf Press
What I'm reading now: With my older son, we have just finished C. S. Lewis's The Magician's Nephew, arguably the best of The Chronicles of Narnia. Rebecca Solnit coincidentally references The Magician's Nephew in her marvelous The Faraway Nearby, which I have waited and waited to read until this summer.
And I'm reading a lot of manuscript submissions, including those for the latest Graywolf Nonfiction Prize.
What's on my to-be-read list: My older son has pulled out C. S. Lewis's The Last Battle, and slipped a bookmark at the title page. I hope to read soon Anne Carson's latest, The Albertine Workout, and Lydia Davis's Can't and Won't. I am excited to read Marlon James's new novel, A Brief History of Seven Killings, when it comes out this fall.
And those many manuscript submissions . . .
How I choose my next book: I listen to writers, colleagues at Graywolf, and other editors, and I read a lot of reviews. I listen to booksellers most of all, what they are reading and getting excited about and recommending. But let's face it, our two boys choose most of what my wife and I read.
Favorite book to recommend: The book I have most recommended over the last five years is Eula Biss's essay collection Notes from No Man's Land, an astonishing achievement of new nonfiction writing.
The book I have most recommended over the last five months is Leslie Jamison's essay collection The Empathy Exams, which so brilliantly and movingly provides spaces for broad and humane conversation.
____________________
Expand your literary horizons with New Books!, a weekly newsletter spotlighting 3-5 exciting new releases, hand-picked by our very own Liberty Hardy. Sign up now!
Save