Children's
The Dog Man Books: A Guide for Parents and Teachers
This content contains affiliate links. When you buy through these links, we may earn an affiliate commission.
If there's anything Dav Pilkey is a master at, it's creating chapter books that kids can't get their hands on fast enough. I tore through the Captain Underpants books as an elementary schooler and, almost 20 years later, am overjoyed that he's created a series for the next generation of young readers: the Dog Man books.
Parents and educators, we're answering your most common questions about the series today. Read on to learn all of the essential lore and what you need to know to appreciate the series as much as your children or students.
What Are The Dog Man Books About?

When Officer Knight and his police dog Greg are caught in a freak accident caused by the evil Petey the Cat, there's only one way to save them. Doctors carefully sew Greg the Dog's head onto Officer Knight's body to create an all-new superhero: Dog Man. Half-dog and half-man, he is here to sniff squirrels and save the city—and he's all out of squirrels to sniff. The series follows him and his friends as they bring peace and tail-wagging justice to their city.
How Many Dog Man Books are There?
As of 2019, there are seven published books in the series. For Whom the Ball Rolls is the most recent addition. The next book in the series, Fetch-22, will be released on December 20th.
What is the Dog Man Series Reading Order?
Including Fetch-22, the current series order is:
You may notice a theme in this list: many of the titles are allusions to classic literary works. And who said that comics couldn't be educational?
Who Wrote the Dog Man Books?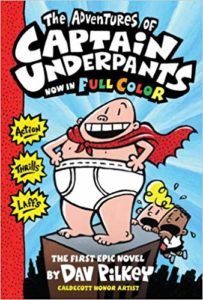 Dav Pilkey is the author and illustrator of the Dog Man series. You may recognize his name from another popular children's series: Captain Underpants, which follows the misadventures of students George and Harold as they fight crime with their school principal-turned-superhero.
Pikley is also the writer behind The Adventures of Super Diaper Baby, Ricky Ricotta's Mighty Robot, and The Dragon Tales. Chances are that if you've known any elementary school students within the past decade-and-a-half, you've heard of at least one book by Dav Pilkey.
What is the Dog Man Reading Level?
The series's official Lexile level is GN390L, which puts its reading level at around 2nd–3rd grade. The fun illustrations and engaging plot make it a popular series among early readers who are just starting to pick up chapter books.
Who Are Some of the Main Dog Man Characters?
Since the series is now seven books long and running, jumping into the series can be intimidating for a newcomer. Here's a primer on a few important characters from the series to help you out:
Dog Man: Dog Man (aka "The Bark Knight") is half-dog, half-man superhero who protects his city from all kinds of dastardly villains. He is friendly and playful, but when danger arises he'll do anything he can to save the day.
Petey the Cat: Petey is a grumpy, evil cat whose plans often involve taking over the world. He spends much of his time inventing contraptions in his secret lab.
Sarah Hatoff: Sarah is a news reporter who brings stories about superheroes to the public. Whenever she goes on an adventure with Dog Man, she's sure to tell all about it on her blog the next day.
Chief: Chief is the leader of the city police department. He has a hot temper but, underneath his fiery personality, he cares a lot about his friends.
Lil' Petey: Lil' Petey is Petey the Cat's son. After Petey kicks him out, Lil' Petey becomes the crime-fighting ward Cat Kid.
Piggy: Piggy is a supervillian who turned to crime after he was kicked out of the Critter Scouts by Peter. He built a robotic dinosaur to get revenge on Petey, but his evil plans don't always go as he expects.
When is the Next Dog Man Book Coming out?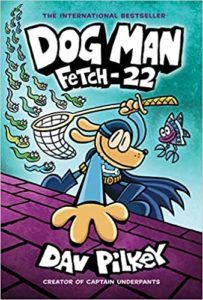 Fetch-22 is set to come out December 20th, just in time for the holidays! While little is known about this volume yet, it's sure to be just as fun as previous books in the series.
Although Pilkey hasn't yet announced any releases for 2020, the series is so beloved among elementary students that we imagine Fetch-22 isn't the last we'll see of this crusading canine.
Are There Any Dog man Games or Toys?
If you're doing your winter shopping early, Dog Man toys could be a great choice for little readers. While Scholastic hasn't yet released a board or video game, they do have plush dolls of many of the main characters available for purchase.
---
Once your children or students have read through the whole series, what should you give them next to keep their love of books alive? Check out these recommended reading lists to discover books perfect for little bookworms: