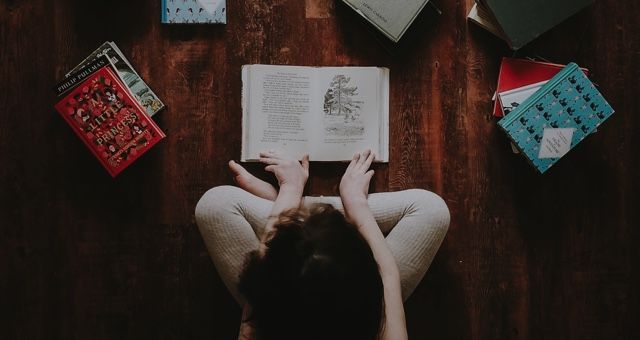 Children's
The Best Chapter Books for Kids: Engaging with Words
This content contains affiliate links. When you buy through these links, we may earn an affiliate commission.
How do you find the best chapter books for kids? At first, encouraging the switch from picture to chapter books can be a challenge. Of course pictures are easy to engage with, the stakes low, but as kids grow their interests expand. Often I am asked for suggestions about the in-between books, the ones that kids can read when they are just starting to test the literary waters.
Kids are very loyal to their favourite series, often the sillier the better, but sometimes adults want to find chapter books that have more detail and depth. I've tried to put a list together that contains a bit of everything to look for in chapter books aimed at kids – the silly and strange, the realistic and the fantastical.
Also, I've tried to stay away from reusing books that we've previously recommended before, so don't worry if it seems like there are some amazing books I've missed. Just combine this post with those older ones and you'll have an incredible resource list for the best chapter books.
Starting Chapter Books For 3rd Graders
This collection about a clever little girl named Yasmin is easy for kids that are newly reading on their own. Charismatic Yasmin faces challenges with intelligence and optimism, and the book is also noteworthy for showcasing Pakistani culture to children.
The first book about this duo, aptly named Juana & Lucas, won the Pura Belpré Award (if you don't know Belpré, read Planting Stories and marvel. She's my personal librarian hero). The watercolour and ink illustrations are vibrant, filling the white spaces with energy and colour that will give early readers a lot to explore between paragraphs. Set in Columbia and containing Spanish words, the books will give children wonderful insights.
The Dory books are delightful and engaging, focusing on a little girl with a ton of energy and imagination. Dory is a relatable main character, making up fantastical stories while struggling to get the attention of her older siblings. The writing is simple but still clever enough not to alienate adults, and the short chapters won't intimidate early readers. I love the simple pencil drawings as well, they add a lot to the childlike story.
If your kids loved The Questioneers picture books, they won't be disappointed in this series aimed at burgeoning independent readers. Children and adults will learn a lot from Rosie Revere, Ada Twist, and their classmates, and while this book is easy enough for Grade 2s, it is smart enough for Grade 3s to continue enjoying.
Graphic Novels for 3rd Graders
This series is adorable, and an easy win to grab the attention of reluctant readers. Who doesn't enjoy narwhals? Literally no one. This series of graphic novels are silly, and each book is broken into three adventures. At the library, there is usually a bit of a waitlist for the newest title, so get ready for repeat reads while you wait.
Akissi is an adventurous little girl growing up in an African city, the youngest child in her family. Based on Abouet's childhood on the Ivory Coast, these buzz with a comic, manic energy. There is a real Dennis the Menace quality to Akissi's adventures, which kids will definitely dig.
Since first being released in 2016, this graphic novel series has been flying off library shelves like hotcakes. (You know, hotcakes are very common on your library shelves too.) Mr. Wolf, Mr. Piranha, Mr. Snake, and Mr. Shark are Bad Guys on a redemption arc – they plan to use their skills to accomplish good deeds. This hilarious series will be a treat for the 6+ crowd.
Longer Chapter Books for 3rd Graders
Nine-year-old Yasmin is a voracious reader who regularly borrows books from Book Uncle, a former teacher who has set up a free lending library next to her apartment building. She's happy with this until the mayor tries to remove the book stand, and she begins to realize that she has to fight for what is important.
Both Barnett and John are kidlit greats, and they don't disappoint in this funny read about rivaling pranksters in a battle of wills. Miles has just moved to Yawnee Valley, and is trying to establish his prank dominance. But, due to some strong competition from a mysterious new nemesis, he needs to step up his game asap.
Yes, I've written about Beatrice Zinker before, but that was about the first book. This second title in the series continues to cement why B.Z. is my fave burgeoning weirdo in kids' books. In this second book, friendship and acceptance is focused on as Beatrice attempts to reward people for their skills…and in her usual high-energy fashion, it backfires.
The Startup Squad by Brian Weisfeld and Nicole C. Kear
Another great STEM book, this is the first part in a continuing series. It's a fun, simple read (no pictures) that aims to encourage your girls into entrepreneurship. Resa and her friends are creating a lemonade stand for a school project, and the experience helps them learn to work as a team while providing insights into sales, marketing and the rest.
Graphic Novels for 4th Graders
Guts by Raina Telgemeier (Released on September 17, 2019)
Telgemeier's latest is based on her childhood struggle with anxiety. Raina suddenly develops severe stomach cramping whenever she's anxious and it is beginning to really mess up her ability to function the way she used to. She struggles to attend school, eat regular meals, and open up to friends. It isn't an easy read if you've ever struggled with similar issues (me! me!), but it's a complex story that will be meaningful to a lot of kids.
Camp by Kayla Miller
This follow up to Miller's popular Click has protagonists Olive and Willow nervously going off to camp for the first time. Olive immediately makes friends, while Willow's struggle causes her to cling to Olive. Sleep away camp stress is real, so the more books and graphic novels about this the better!
Longer Novels for 4th Graders
After his mom leaves him to live in Brooklyn with grouchy "Ma", 9-year-old Max sets magical events in motion when he finds a mysterious package on her table. Turns out that Ma is maybe an actual witch, and she's been given the important task of returning three baby dragons to the magical realm they're meant to live. This is an enthralling city-based fantasy for kids.
Ana Maria is coping with an overcrowded two bedroom apartment in Washington Heights, which she shares with her parents and three sisters. Thrown for a loop when her parents announce that a new baby is on the way, this realistic novel deals with a number of big issues yet maintains optimism and hope.
This third and final book in the series focuses on middle child Mya, who struggles to get attention from her sleep-deprived parents. Mya has a lot of charm as a main character, and many kids will relate to the plight of a middle child.
Emilia is having a hard time. At school, she has trouble focusing, while at home, her father is newly back from deployment and struggling to reconnect with his family. In fact, he spends a lot of time alone in his studio, welding and working. Eventually, Emilia and her father begin to weld together and the shared experience helps to heal them both.
This book is wonderful and heartbreaking. Jingwen, his mother and little brother have all recently immigrated to Australia after the death of his father. Still reeling from the loss, Jingwen struggles to learn English and feel motivated in classes. As a result of his sadness, the only thing that still makes him feel happy is baking pies, an experience he often shared with his bakery owner father. I loved the way illustrations were incorporated right into the story, and used to emphasize how alienated Jingwen felt.
This is a quirky adventure novel about cousins Sheed and Otto Alston, legendary heroes in their hometown. This book has everything that you might for a rollicking adventure: time travel, robots, time freezing, magic mirrors and familial bickering. Overall, this strange tale kept me on my toes and left me with a smile on my face.
This half-book, half-comic hybrid is set in the Middle Ages and going to be well-loved by fans of Diary of a Wimpy Kid, Big Nate (same author) and Dog Man. In this first book (I'm assuming a series is forthcoming), Max is a troubadour wandering 14th century Europe in the hopes of finding an epic quest that will make him a knight.
Blended by Sharon M. Draper
Isabella is struggling to deal with her parents' post-divorce lives and, due to that, is torn between the spaces they occupy: her mother is white and a waitress, while her father is black and a corporate lawyer. Also, both are in serious relationships with other people and can barely stand to be around each other. Though Draper brings up serious issues of racism and family strife, this is a nuanced and beautiful book worth reading.
---
To conclude, once a kid finds a book that speaks to them, they can explore what aspects made it fun and learn how to seek out others like it. These titles should be a jumping off point into a lifelong love of reading. Kidlit keeps getting better and better, and these books are perfect examples of how strong it can be.