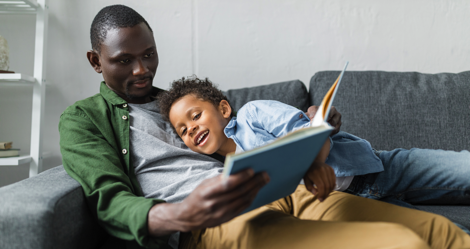 Children's
6 Funny Books For Kids For Hilarious Storytimes
This content contains affiliate links. When you buy through these links, we may earn an affiliate commission.
If you've ever been a parent of a three year old you know that the job occasionally means that humor can be in short supply. As a parent of a preschooler sometimes you just need to laugh to deal with the insanity that is the dreaded "threenager." There are days that they power struggle over meal, baths, etc. can be completely, overwhelmingly exhausting. However, I've found that finding time to laugh with my partner and daughter can be extremely cathartic in this rough season of parenting. The one thing that never fails when I need a good laugh are funny books for kids, especially picture books.
What I find funny in the grown-up world may be drastically different than what my husband finds funny but let me tell you, preschooler humor is universal. Pigeons driving buses, kitchen utensil puns, and ducks instigating trouble, now that's funny stuff.
The best funny books for kids
A classic for so many reasons this book is really, truly funny. From the Peddler's unique way of transporting his wares around, to the monkeys imitating his scolding, my preschooler and my classic-lovin' self can't get enough of this book.
We love all of the Mo Willems books in my house. The Pigeon books, Elephant and Piggy, even Goldilocks and the Three Dinosaurs, all are guaranteed to make my preschooler laugh. This book in particular, though, is simple enough for even the tiniest preschoolers to grasp so it's been one of our favorites for quite some time.
Giggle, Giggle, Quack by Doreen Cronin, Illustrated by Betsy Lewin
Perfect for kids who are into farms and animals, this book is part of the Farmer Brown's Barnyard Tales series. In this book Duck, who is perpetually naughty and the instigator of all trouble on the farm, tricks their short-term caretaker into all sorts of crazy shenanigans in the name of caring for the animals. Pizza for the hens? A bubble bath for the pigs? Duck's mischievousness knows no bounds.
Chopsticks by Amy Krouse Rosenthal, Illustrated by Scott Magoon
So many puns, so little time. Some of this book might be a bit over a preschooler's head (i.e. whisk who whisks away an injured friend) but explaining the puns and humor of this book is half the fun. This book tells the tale of two friends who do everything together. When one of them gets hurt, though, they begin to explore what it means to be an individual. Totally laugh out loud funny!
An adaption of a French and South American play song, this book is a wonderful introduction to repetition and anticipation. With bright, colorful illustrations and a simple storyline, this book is sure to be a big hit with the toddler and preschool crowd. Included in the back of the book is a copy of the music, for those so inclined.
Most of the pages of this book are illustrations of postcards that forgotten (or lost) crayons wrote to Duncan. The notes are woeful accounts of where the crayons are now, what they are doing, and how they intend to return to Duncan and his upstairs bedroom.
Looking for other picture book recommendations? Start here:
Any other funny picture book recommendations? Let me know your favorite in the comments!