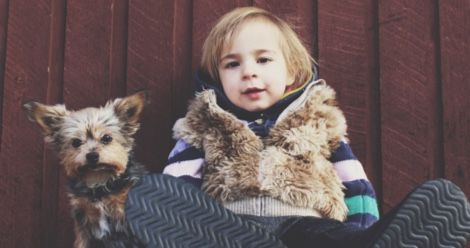 Children's
15 Tail-Waggingly Great Children's Books About Dogs
This content contains affiliate links. When you buy through these links, we may earn an affiliate commission.
The bond between children and dogs is undeniable. Even as adults, we all love dogs. And of course, the universe of children's books is full of these adorable pets. So, here it is a list featuring children's books about dogs. From the classics to the most recent ones, and the more popular to the most-acclaimed ones, here lies a bit of everything.
Children's Books About Dogs
Shadow is a black Labrador, a 12-year-old rescue dog who passes on the life lessons she has learned. It is a picture book, which makes it easier for children to read alone. The story is told from Shadow's point of view, and at the end of every short chapter, there is a clear lesson to be learned.
A classic. Everyone knows the Disney film, but did you know it is based on a children's book? A tale about a family of Dalmatians and the successful attempt of the parents to save their newborn puppies from being turned into fur coats by Cruella de Vil? Sold! If you are feeling nostalgic, give it a go yourself or read it to your kids…We promise you won't be disappointed!
Philip Dey Eastman was a protégé of Theodor Geisel (Dr. Seuss), who created Beginner books like Go, Dog. Go! This children's book about dogs asks all the important questions, like "are we a green dog or a yellow one? Is it day or night?" Besides, what makes it a so-worthy classic is its sub-plots and how they make up for complex metaphors for several political and philosophical issues.
Harry the Dirty Dog is a child favourite. The great question in this picture book is about identity: is Harry a white dog with black spots, or a black dog with white spots? When Harry gets so dirty that his owners do not recognise him, how can he know who he is? More than a lesson on cleanliness, it is the one's right to question authority – why do I have to take a bath? – and its consequences – will your family and loved ones accept your choices?
Since we are talking about dirty dogs, how about a smelly one? Bill, just like Harry, does not like having baths and always finds a way to escape bath time. However, when his owners go to the beach, conveniently named Aunt Bleach comes to watch over the house – and Bill. In the universe of children's books about dogs, this picture book is a clever and funny read with its rhyme scheme.
If you do not know, Todd Kessler is the creator of Blue's Clues. And Tako is another dog protagonist just like Blue, who has to be a bit bad to be very good. This book comes to prove that heroes come in all shapes and sizes, and teaches children on the hard decisions of doing what is right. After all, what is right and wrong, and can a bad decision become the best one given the circumstances?
A New York Times bestseller for people of all ages. This is the story of Opal and her father, the preacher. When they move to Naomi in Florida, Opal is feeling sad and lonely because her mother abandoned her. In a new place where she does not know anyone, she comes to meet a dog at the local Winn-Dixie grocery store. She names her new friend Winn-Dixie and together they will meet many new people who will teach Opal that everybody has their own sadness and difficulties and she is not the only one. Another book among many children's books about dogs which will make you smile, shed a few tears and think about the bigger picture.
8. Dog Man by Dav Pilkey
Dav Pilkey, the creator of Captain Underpants, reinvents a whole new protagonist who will surely make you laugh. Dog Man is part dog and part human, a new breed of justice created by George and Harold. This new hero chases robbers but also scampers after squirrels. The main question is: will Dog Man be able to resist the call of the wild to answer the call of duty?
This is the perfect book for children dealing with the loss of something special. It is also important to mention that this is a wordless picture book about a white dog (Daisy) who loves her red ball. When a brown dog starts to play with it and accidentally pops it, all kids will relate to the fact of having a favourite toy that gets destroyed. Chris Raschka won the 2012 Randolph Caldecott Medal with this beautifully illustrated book.
In this children's book, the dog/owner idea gets twisted in a fun read. We get to see the world from a quite pompous dog's point of view. He does not need a human companion, he is an independent creature living on his own. Except for the day when he lets a human scratch this one spot on his back he cannot reach. Who is in charge – humans or dogs?
Parker's older sister is going away to college, so she offers him the ideal present: a golden retriever! Merlin quickly becomes inseparable from Parker and always finds a way to escape the house to follow his owner. You can imagine all the adventures and incidents that occur once this loveable dog comes in Parker's life – he must contain the retriever in order not to get in trouble. But will he make Merlin sit and stay?
Igvillu is a puppy who dreams of becoming a sled dog. When she is adopted by an Inuit storyteller and moves to Northern Canada, she gets to meet real sled dogs. This is a book worth reading to your children as it introduces different names and a different culture. Besides, it teaches how it is okay to change your dreams.
This book is inspired by the real-life recollections of an elder from Arviat, Nunavut, in Canada. It tells the story of Jake and his soon-to-be sled dog Kamik. However, Kamik is far from being an obedient sled dog. After a visit from Jake's grandfather, we learn about the traditional dog-rearing practices that prevailed when Inuit relied on dogs for transportation and survival. A true gem to read to your children!
The most appealing thing about this book is its illustrations. In black and white, with just a bit of color here and there. Mini finds a lost puppy wearing yellow shoes in the middle of a congested street. So, of course, she wants to take him home, despite her mother telling her the puppy probably already has a family. Mini gets attached to her new friend, and when he runs off, Mini must learn the hardest lesson: to let someone go if you really want them to be happy.
This one is not about dogs per se, but a special dog features prominently. It is the story about Vanessa Campos, a girl who can't wait for winter vacation at Pinecloud Lodge and gets caught up in an adventure when her little brother Hunter gets stranded out in the blizzard. All kids team up with her – including a giant dog – to try and find him.
---
If you want more children's books about dogs, check out this list and this list about girls and their dogs.