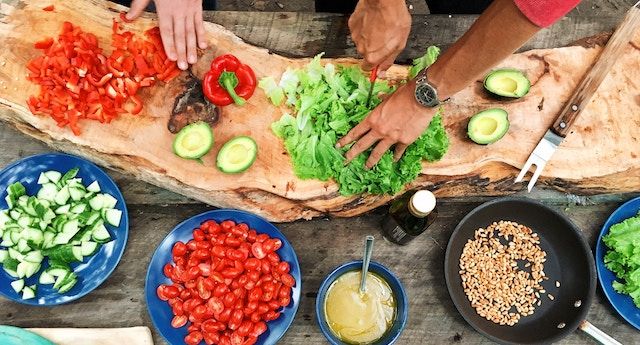 This content contains affiliate links. When you buy through these links, we may earn an affiliate commission.
There are a lot of comics that are either about food or focus on food as an important story element. Over the past decade or so, however, another kind of culinary comic has become popular: the comic cookbook. I've taken a look at several lately, and I really enjoy that so many of them dip into the history of the cuisine of a given cuisine and the stories surrounding important and popular dishes.
I also enjoy that, in these particular comics, you don't have a list of ingredients, a few instructions, and then a picture perfect snapshot of the final dish; pages and panels in comic cookbooks show you what shapes various ingredients should be, how to perform a technique you may be attempting for the first time, or why, exactly, you need to add this before that.
Flipping through these comics is a lot like watching the old school cooking shows I loved in college. I was, in point of fact, a terrible cook until I took in years of Food Network programming. They've been swapped out most of the cooking shows for competition shows, which are fun but there isn't a lot of teaching going on. It's nice to know the tradition of step-by-step instruction in media still exists and is easily accessible at your local bookstore or library.
Cooking Comics: Simple Skills, Fantastic Food by Lauren Thomson and Tsukuru Anderson (One Peace Books)
A comic manual to fundamental kitchen skills, Cooking Comics will teach you the basics you need to go from newbie to proficient cook in about 100 pages. It also teaches the reader how to apply those skills to various dishes, how to take some helpful shortcuts when needed, and variations on themes to cover everything from quick family dinners to a party with friends.
Hungry Ghosts by Anthony Bourdain, Joel Rose, Alberto Ponticelli, Irene Koh, and Paul Pope (Berger Books)
This one isn't as instructional as the others, though Bourdain did add several new recipes at the back of the book. What it does do, however, is demonstrate the abiding place food has in Japanese culture and the ways in which it's easily twisted into something dangerous, and even demonic. As all-star chefs play Hyakumonogatari Kaidankai (or 100 candles) and spin their tales of demons and feasts, the reader is left wondering who will be left standing and which dish will have the power to save them.
Oishinbo by Tetsu Kariya and Akira Hanasaki (Viz Media)
I mentioned this series in my post of instructional comics but I though it worth bringing up again here. Oishinbo is a massive undertaking by author Tetsu Kariya and artist Akira Hanasaki; 35 volumes massive in its original form. The through story is about journalist Yamaoka Shirō, who has been tasked by his employer to select the components of an "Ultimate Meal" to celebrate the company's 100th birthday. Along the way, Shirō (and the reader) learn the art of preparing Japan's most beloved and popular dishes.
I actually ended up ordering a copy of this book after I found it during the search for the comics instruction manual piece and I absolutely adore it. Ha's comic demonstrates technique and all the important intermediate steps of crafting a cuisine that may be new to many readers, focusing on the details without overwhelming or crowding the page. She also adds some informative graphics regarding spices and pantry basics, and stories about her family's relationship to food.
Part history and part cookbook, Let's Make Ramen! covers all aspects of this classic dish and has over 40 recipes for those who want to give homemade a try (listen, I know you think that stuff in the package is good, and it is, but the real stuff is even better). Learn how to make different types of broths, noodles from scratch, and which toppings go best with which protein. All with pictures!
Dirt Candy is a popular New York restaurant with a plant-based menu. Chef Amanda Cohen is certain she can make something to please any palate and is willing to share over 100 recipes with readers. From Smoked Cauliflower and Waffles to Popcorn Pudding with Caramel Popcorn, she reminds her audience of exactly how delicious a plant-based diet can be and in graphic novel form no less. Also included in the book is the story of how Cohen built Dirt Candy tables into some of the most coveted in New York.
---
There's something to be said for The Joy of Cooking, but we live in visual times and comic cookbooks are the perfect way for chefs and cooks to engage with their audiences and for the audiences to learn the skills they need to become proficient in the kitchen. The books mentioned above are by no means the only ones and I'm 100% sure you'll be able to find a comic cookbook that suits your tastes.
Bon appetite!