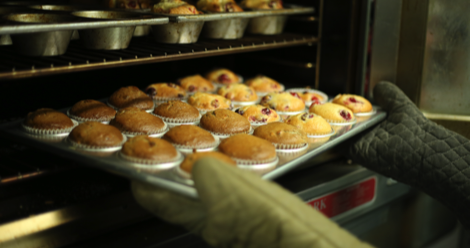 This content contains affiliate links. When you buy through these links, we may earn an affiliate commission.
Comic books with recipes. It's like the perfect nexus of my reading interests. I love reading books about food, such as food history, food memoirs and food in culture and identity. And I am an avid comic book reader, devouring graphic novels and superhero comics. So naturally, I had to put together a list of five books that brought these worlds together.
Interested in learning how to cook French food? Or what you'll need to stock your kitchen? Check out Long's cookbook/comic book to answer all of your French cuisine questions.
Meal by Blue Delliquanti with Soleil Ho
This 2018 title is simply delightful. It's about a young chef named Yarrow who is passionate about insect based culinary creations. When she finds out that a chef is going to start a restaurant that serves insects, she moves to be nearby the restaurant, hoping she can get employed. When she finally meets the chef, Chanda, they clash on what insect cuisine should mean. The story deals with cultural appropriation and identity, what it means to have and share food traditions. There's even a sweet queer romance. And the book ends with insect recipes. Once I can figure out a source, I'm very tempted to expand my culinary horizons. (I've tried grubs; they are very nutty).
This cookbook helps people learn the basics of Korean food, such as delicious bulgogi or fiery kimchi. Recipes are spelled out with helpful pictures as well as personal anecdotes from Ha.
I mention Relish because it is one of my favorite books, hands down. I have written about it before, but it's that good, it bears repeating. It's a series of nonfiction short stories about Knisley's life with food. Each chapter ends with a little recipe related to the topic at hand. Her chapter about these special apricot croissants she discovers in Venice and her struggle to find anything that remotely tastes like really spoke to me and my food experiences while traveling.
This children's book follows the adventures of Rutabaga, adventure chef, who goes on a series of adventures to seek out new and exciting foods like Roasted Mud Leech and Ghost Mushroom Salad. Rutabaga is a sweet protagonist who wants to try everything. I can definitely identify with that. The story is a collection of short stories as Rutabaga meets dragons, noisy taverns and other monsters. There are recipes, though you may have to substitute King's Head Squash for another ingredient. There's also a second volume.
That's just a taste of what's out there! If you want to read more about food, check out 20+ of the Best Food Books from 2018 or 10 Food Science Books to Change the Way You Eat.