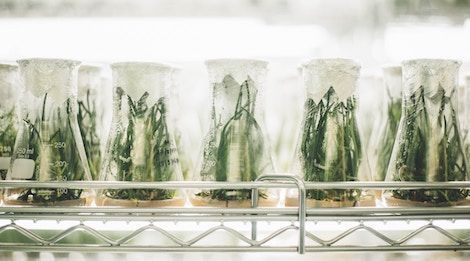 Lists
10 Food Science Books To Change the Way You Eat
This content contains affiliate links. When you buy through these links, we may earn an affiliate commission.
I love chocolate pie. I mean, who wouldn't, right? Creamy, pudding-like chocolate in a flaky buttery crust, topped with whipped meringues and then baked to golden perfection—what's not to love? In my favorite recipe, I mix the filling ingredients in a pot, and then I stand there and whisk. (Pro tip: grab a beer. You'll have the perfect amount of time to down a beer and wait for the filling to thicken.) The experience of standing there, watching chocolate milk turn to pudding is so cool. It's one of those food science moments that always feels a little magical. The resistance against my whisk gets stronger, slowly transforming to custardy goodness. And don't even get me started on whipping those egg whites to glossy perfection.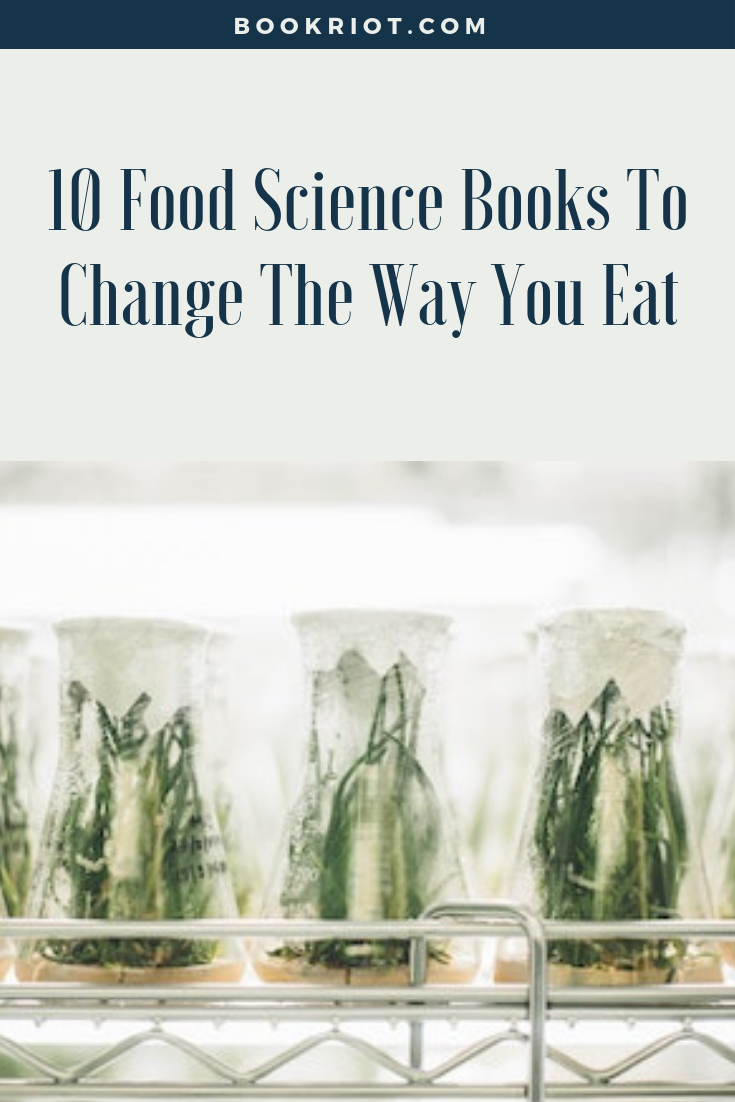 Food science is fun to witness. It's exciting to master. And when you begin to understand the mechanics—the chemistry—of what's happening in your kitchen, it changes your relationship to the food you're making. (And that's not just the beer talking.)
Whether you are an avid cook, a science enthusiast, or just someone who likes to eat, reading about food science can be fascinating and illuminating. For some, it's a call to action, a deep dive on sustainability, technology, and our agricultural system. For others, it's chemistry; do we press on a burger patty on a grill? What about a flat top? What's the difference? So here's a list of 10 food science books that will not only make you more interesting at parties but also might enhance your relationship with your food.
On Food and Cooking: the Science and Lore of the Kitchen by Harold McGee
When this book was first published in 1984, Time magazine called it "a minor masterpiece." This is a bit of a kitchen Bible for food science nerds and home cooks alike. The second edition, however, has been expanded, almost entirely rewritten, and has more illustrations than ever to illuminate food science in all its wonder. This book helped birth the molecular gastronomy movement, and it demystifies intense food science to be cook-friendly. This is your best bet if you're looking for the Joy of Cooking or How to Cook Everything version of food science books.
Samin Nosrat is amazing. And this book is an extensive study on cooking but distilled into one basic theory: master the use of four elements—salt, fat, acid, and heat—and anything you cook will be delicious. Samin Nosrat has taught cooking to home cooks, middle schoolers, Michael Pollan, and now continues the good work with her Netflix series. Where Harold McGee's book is the old school heavyweight in food science, Samin Nosrat's Salt Fat Acid Heat is a fun new voice in food science and cooking.
Combat-Ready Kitchen: How the U.S. Military Shapes the Way You Eat by Anastacia Marx de Salcedo
Quick: how many processed foods can you count in your pantry? Want to know why there are so many? Look no further than the military. For centuries, militaries have been engaged in the work of making food sustainable for troops on the move. And with that work comes the study of processed foods. Anastacia Marx de Salcedo's book takes a look at the long and twisty relationship of processed foods and the military and asks questions about how this diet will pan out in years to come.
Neurogastronomy: How the Brain Creates Flavor and Why it Matters by Gordon Shepherd
Neuroscientist Gordon Shepherd is fighting for our sense of smell. Specifically, he argues that our sense of smell did not diminish with evolution (thank you very much), and rather that smell is far more powerful and essential than previously believed. And with smell comes flavor. Shepherd's book focuses on brain activity—the way the brain processes smells as spatial patterns, and from those patterns, constructs flavor. The way flavor can have social, behavior, and even medical implications. If the brain is your jam, this is the book for you. It sounds so, so cool, I'm this close to one-click buying it.
First Bite: How We Learn to Eat by Bee Wilson
Bee Wilson's book takes us on a journey around the globe to look at the ways our eating habits are informed by family, culture, memory, gender, hunger, and love. Our eating habits are not merely a set of random circumstances, but a cultural language all on its own. Her broad take on different people and cultures paints an interesting portrait of where our tastes come from.
The Food Lab: Better Home Cooking Through Science by J. Kenji López-Alt
Ever watch a cooking show and think, okay, how does that turn out perfect for them and in my kitchen, my smoke detector goes off and I have to order pizza? (Just me? Okay.) The Food Lab is the book that ponders the science behind technique. J. Kenji López-Alt has figured out all of our questions by looking at the relationship between heat, energy, and molecules that ends with beautiful, delicious food. And the fun thing is that Serious Eats has an entire page devoted to The Food Lab, so you have a perfect web companion to this book.
The Dorito Effect: the Surprising New Truth About Food and Flavor by Mark Schatzker
Okay, don't freak out, but we are all being manipulated by flavor. In this argument from journalist Mark Schatzker, The Dorito Effect illustrates how with the rise of industrialized food (mass) production, flavor has been processed out of foods. And therefore, it has to be engineered. Enter the flavor business, which uses chemicals and calories to make food taste good. In the end, while the food has been engineered, our palates and our brains have been as well. With an eye on food education, health, and industrialization, this book is meant to be illuminating and a bit startling.
Molecular Gastronomy: Exploring the Science of Flavor by Hervé This; translated by Malcolm Debevoise
Hervé This, among his many other accolades, is the only person to hold a doctorate in the field of molecular gastronomy. If you've ever watched Top Chef and wondered how they decide to use flavored fog or make tiny suspended balls of lemon or whatever crazy science-magic they come up with, this is going to be the deep dive you want to read into. Molecular Gastronomy begins by debunking myths and long-held dictums about cooking, and ends with an eye to the future and the ways that creative thought and innovation can make for new dishes we've never seen before.
Hey, guess what! Every year, the average American eats 33 pounds of cheese and 70 pounds of sugar. (Hold on, gotta pick myself up off the floor.) The information on our nutrition label doesn't really paint the whole picture of what we're eating. Nor does it show how food has been engineered and tinkered with to create the optimum level of addiction to salt, sugar, and fat. This is going to be another unsettling but ultimately illuminating read.
Acclaimed neuroscientist Rachel Herz takes a look at the sensory, psychological, neuroscientific, and physiological factors that make us choose what we choose when it comes to food. In a style that is both intelligent and conversational, Herz shows the ways that our relationship to food is no simple matter of just deciding—there are so many factors at play, ones we're not even aware of ourselves.
---
For more from Book Riot on food and cooking, check out 6 Cookbooks to Turn Beginner Cooks into Kitchen Wizards. And, hit the comments to share your favorite food science books!