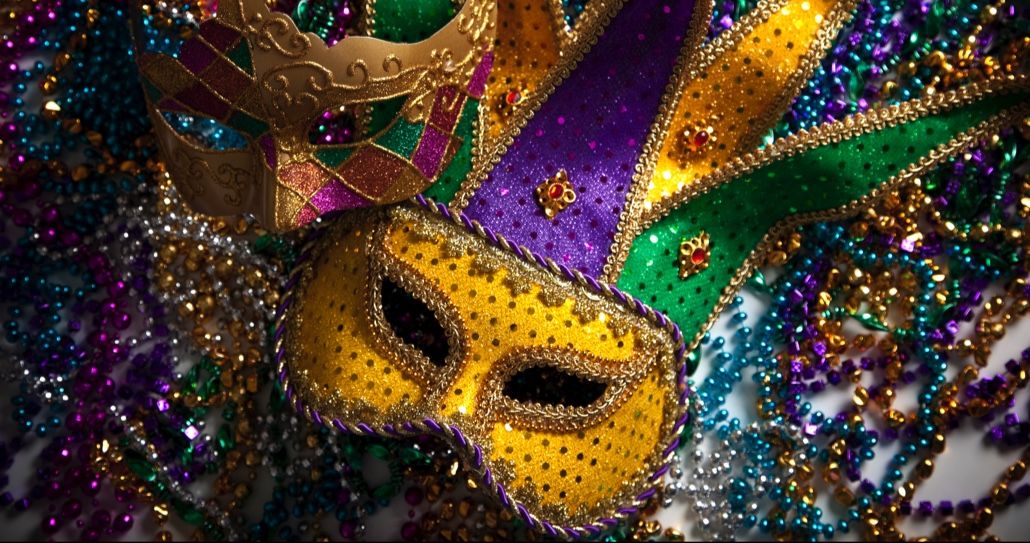 Lists
10 Books Set in Louisiana to Read This Mardi Gras, Plus a King Cake Recipe!
This content contains affiliate links. When you buy through these links, we may earn an affiliate commission.
Mardi Gras season is in full swing in Louisiana. Right after New Years, the Mardi Gras decorations came out. From banks to doctors' offices to supermarkets to schools, everywhere you look, you can find purple, green, and gold. Whether it's tassels, banners, masks, or beads, Louisiana is getting ready for the biggest holiday of the year. Here are 10 books set in Louisiana to read in the spirit of Mardi Gras.
YA and Middle Grade Novels
Josie Moraine is the spirited 17-year-old daughter of a brothel prostitute in 1950s New Orleans. Disillusioned with the dark secrets of the Big Easy, and frustrated with her self-centered mother, Josie works at a bookstore in exchange for a place to sleep other than the brothel. She makes plans to leave New Orleans and go to college. But Josie's plans are foiled when her mother is implicated in a murder investigation and flees town, leaving Josie with mob debt. This twisting narrative is rich with history, and Josie is a determined character you won't be able to stop thinking about.
Set in a small town in 1925 Louisiana, this book is an award-winning coming of age story. Thirteen-year-old Sal's family are immigrants from Italy trying to make it as strawberry farmers. When mobsters coerce Sal's father into helping them commit a crime, Sal struggles to know what to do. If he tells authorities the truth, his father could go to jail. But if he stays silent, the mobsters will keep terrorizing the community. Freedom can mean many things, and Sal has to figure out what it means to him.
Novels for Adults
Set in rural Louisiana, this book is a fictionalized version of Tademy's own ancestors, telling the story of four generations of African American women. Beginning with Elisabeth, a plantation slave born in 1821, the narrative continues through the Civil War and post-war segregation and racism, ending with the story of Emily, Tademy's own great-grandmother. Each woman carries her own quiet hopes and dreams, and each woman also faces the challenge of living as a black woman in America. This haunting and beautiful book will stay with you for a long time.
Louis de Pointe du Lac is a vampire, and this is the story of his history as told to a reporter. Louis recalls being turned by a vampire named Lestat. Louis struggles with his predatory tendencies. Things get complicated with Lestat turns a little girl named Claudia into a vampire. Eventually, Louis and Claudia attempt to kill Lestat and journey from New Orleans to Europe, seeking others like them. What they find, however, is not a place of safety. This classic page turner is truly about Louis's tortured and conflicted soul.
Dead Until Dark (Sookie Stackhouse #1) by Charlaine Harris
The first of the Sookie Stackhouse novels, this book introduces the main character, who is a telepath living in small-town Bon Temps, Louisiana. Her "disability" means that Sookie doesn't have many relationships, but Bill Compton changes that. Sookie falls for Bill, who's a vampire, and discovers that she can't read the minds of vampires. She and Bill get caught up investigating a series of local murders. This thrilling narrative is a must-read for fans of the paranormal.
Jefferson is a black man accused of murder in the small town of Bayonne, Louisiana. Though he claims innocence, Jefferson is judged as guilty, and a lawyer suggests that he's not as worthwhile as a hog. Jefferson's godmother asks Grant Wiggins, an educated black man and teacher, to visit Jefferson and try to get his spirits up. Jefferson resists Grant's efforts at first, but eventually the men forge a kind of friendship that deeply affects them both.
Nonfiction
Zeitoun by Dave Eggers
Abdulrahman and Kathy Zeitoun were living and working in New Orleans when Hurricane Katrina began to threaten the area. Kathy and the children evacuated, but Abdulrahman chose to ride out the storm. Afterwards, he traveled around the city in a canoe helping anybody or anything who needed help. This seemingly kind man was arrested on September 6, 2005, on charges of terrorism. This book is a controversial true story about one family in the aftermath of Katrina.
Originally written as a series of columns for the New Orleans Times-Picayune, this book is a series of stories about the aftermath of Hurricane Katrina. Rose recounts the physical and emotional landscape of New Orleans, telling the sometimes heartbreaking, sometimes hopeful stories of residents.
Poetry
Please by Jericho Brown
Louisiana-born Jericho Brown is a gift to American poetry. His poems are rich with imagination, sound, and dark truths. PLEASE is an exploration of the African American identity. These poems are dense with layers of meaning and explore the relationship between love and violence. Brown's poems are forceful, intimate, and haunting.
Magic City by Yusef Komunkyakaa
In this volume of poems, Komunyakaa recalls his childhood in Bogalusa, Louisiana. These poems show us a boy looking out into the world and learning what kind of place it is and how to be in it. Living with the reality of poverty and racism, the speaker comes into his own identity in the context of the 1950s South.
Once you've chosen a book, you can whip up your very own King Cake as a reading snack! Here's a recipe for a traditional Louisiana King Cake. And don't forget your King Cake baby to hide inside! Per tradition, the finder of the baby receives luck and prosperity!