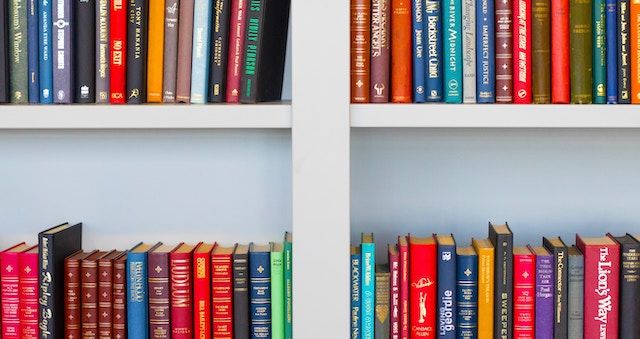 How To
How to Handle a Lot of Books in a Small Apartment
This content contains affiliate links. When you buy through these links, we may earn an affiliate commission.
I've spent the last several years living in small spaces. I started in a studio apartment that I labeled the Cozy Sea Cove, and now I'm moving into a one bedroom apartment that has more space, but is still clearly limited in terms of the floor-to-ceiling library I dreamed of as a kid. When you're dealing with small apartment living, how do you find room for all those books?
I know intimately how difficult it is to be a book hoarder when you live in a small space. Yes, we should borrow books instead of buying them, and yes, we should give books away when we're done. But some of us don't. So if you keep all your books, what now?
So what are some tips for small apartment living with a ton of books and not enough space? Here are mine, accumulated from years of being a book reviewer who reads 100–200 books a year, all while living in small studios.
Everything's a Bookshelf
"Wow, do you have a single piece of furniture that doesn't have a book on it?" A visitor asked recently when entering my apartment. The answer? No. The end-tables have shelves, which hold my taller art books. My nightstand is actually just a mini-bookshelf. My cookbooks lean on my kitchen cart next to my pub and wine glasses. There's a mini rolling cart that fits into a weird in-between space in the apartment, and my to-read books are all piled in there. There's a stack of books on the coffee table. On my cube storage container, two penguin bookends hold up all my travel books.
Whenever you buy a new piece of furniture, from the kitchen table to storage to nightstands to desks, try to make sure it has shelving space. Everything can be a bookshelf if you just try hard enough. A lot of these pieces of furniture take up empty space that can be used for storage: invest in ottomans that have storage, in end tables and nightstands that have shelves. It will help you utilize those in-between spaces that will otherwise go unused anyway.
Be Brutal
I won't lie, this is unfortunately a crucial part. I only get rid of about 5 books a month, because I'm very weak and bad at giving books away. Then I bring them to used bookstores if I can sell them, or otherwise drop them into little free libraries. But even giving away tiny, mini book stacks has a distinct and helpful impact on my shelves and on keeping them reasonable.
It's particularly vital to be realistic with your to-read shelf and what you'll actually get to. Try to limit it to a particular sized shelf, and narrow it down when needed. I also am strict about books I didn't like. I'm tempted to keep them, especially when they're classics, because after all I did read them, right? Wrong. Get rid of them. You didn't even like it.
Buy Strategically
Okay, so you have a weakness for pretty books…but do they all really have to be hardcovers? Unless it's a special edition, try to prioritize small, light paperbacks whenever possible. Whenever I buy classics, I gravitate towards the cute and small. Deprioritize buying new releases or big, heavy classics with the slip covers. The more small paperbacks on your shelves, the more room there is to keep them.
And I know, I know. Those books are pretty—you're talking to the person who has three copies of The Master and Margarita and two entire Harry Potter boxed sets. This won't always work for you. But striving for paperbacks at all times will at least help make the system manageable.
Sort Strategically
Similarly sized hardcovers or graphic novels go in a stack so that the vertical and horizontal room they take up is maximally efficient; double-shelve all those little paperbacks in the same place and the space is at its best. Weird tall art books go together, because then the space is used effectively; I put paperbacks on top of the boxed sets so that the empty space there comes in handy. Thinking through sorting your books like a Tetris puzzle will help a ton.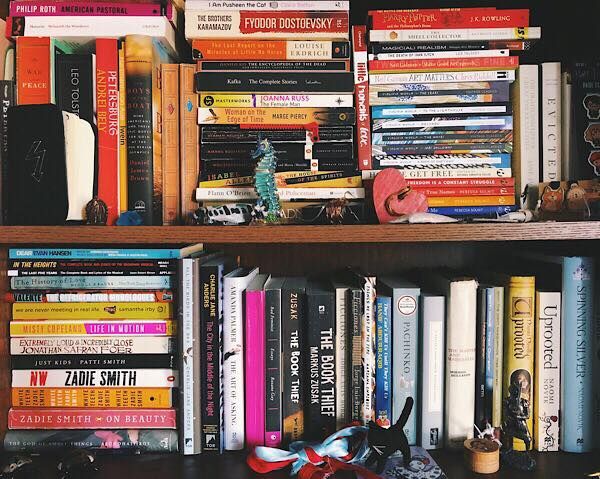 Under-bed Storage
Big plastic bins and fabric and plastic zippered storage that can slide into my closet or under my bed have been a godsend. The books are protected, safe, piled well, but they are stored, and they won't get dusty in there (as long as I can keep my cat from falling asleep on top of them, that is).
Books are the Priority
If all else fails…who needs anything that isn't books? I've literally cleaned out my closet rather than even look at narrowing down my bookshelves. I've emptied shelves to transform them from winter clothes storage into hardcover stacks. Part of living in a small apartment is figuring out what your priorities for storage actually are, and my priority is always, always books.
---
For more tips, check out advice on book storage in small apartments; a piece on minimalism and books; and a list of space-saving bookshelves.