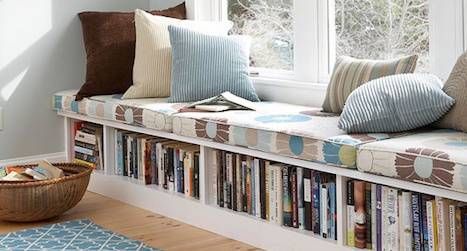 How To
Book Storage Ideas for Apartments and Small Living Spaces
In my bedroom, next to the door in front of a packed bookshelf, are six piles of books stacked three feet high. When my husband goes to sleep, he has to squeeze through the narrow path between the books and his side of the bed. About once a week, he will look at me with a disgruntled frown and ask, "Is there another place to store these?" And all I can do is give him my sweetest smile and say, "No."
Our apartment is 750 square feet, and my husband share it with two little humans, aka our daughters, plus three pets. Lately my husband and I have been talking about how to increase the book storage in our apartment, which for me means browsing Pinterest for book storage ideas. Yay!
Here are the results of my extensive research for the best book storage in apartments and small spaces. What do you do for book storage?
I think one of the best ways to maximize bookshelf space is to make the shelving units go all the way up to the ceiling. In this layout, I love how the television fits perfectly into that nook so no space is wasted and there is more room for BOOKS.
the pin
Via www.apartmenttherapy.com
Well this is awesome. Bookshelves in the bathroom.
the pin
Via https://www.fsgworkinprogress.com
I don't have stairs in my apartment, but if I did I would totally do this bookshelf idea. And the shelves would be totally full, not like the sparse amount of books in this photo!
the pin
Via www.apartmenttherapy.com
I could see this as a great way to increase book storage when you need to section off a room.
https://kategibb.blogspot.co.uk
There's not enough room in our bedroom to do this, but I love the idea.
the pin
Via https://www.lucycall.com
This Sunflower Chair!
the pin
Via https://chairblog.eu
I love how all the wall space is used for bookshelves, including all around the door frame.
This is a fun and easy way to keep cookbooks accessible.
the pin
Via https://the2seasons.stfi.re
Book storage under a reading chair. Brilliant.
the pin
Via https://www.behance.net
Book storage under window bench seating. I've always wanted a window seat…