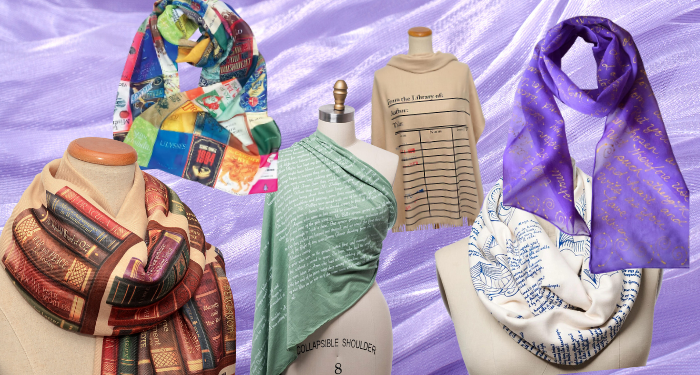 This content contains affiliate links. When you buy through these links, we may earn an affiliate commission.
For those of us in North America, thanks to Mr. Groundhog, we've got a bit more of winter left. Depending on where you're located, this may be more or less true for you. If it's still a bit chilly outside for you, then you've clicked on the right Book Fetish post! If you like a little bookish fashion moment, then I'm sure you could enjoy many of the items in this post!
When it's cold outside, we need all sorts of things like coats, mittens, and scarves. If we're going to wear those anyway, why not make it more fun? There are all types of scarves you can wear. Many for fashion, but also for warmth. Scarves are a good addition to any wardrobe and they can be worn during spring and autumn, too! When it comes to bookish goods, I'm a fan of handmade items made by smaller shops. Those two characteristics take me right to Etsy where I did a search for the best bookish scarves. For some of the scarves, there may be only a few left because they are more unique items.
While putting together the list, I tried to take into account the types of scarves a book lover would like. There are scarves that feature a stack of books while others have a page of a particular beloved novel printed onto the cloth. To be honest, it was hard finding more current books printed on scarves. Most shops focus on classics from Western literature. Whatever is your flavor, I hope you find something that covers your bookish need and neck!
While there are yet more bookish scarves to enjoy, I hope I gave you some help on your search for the next addition to your bookish wardrobe. Happy shopping and reading!