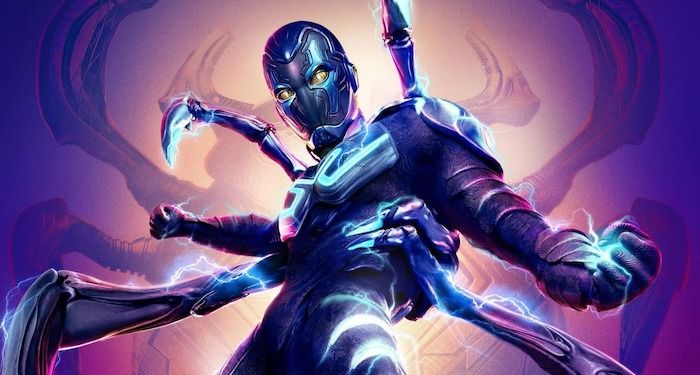 This content contains affiliate links. When you buy through these links, we may earn an affiliate commission.
DC's newest superhero movie, Blue Beetle, hits theaters on August 18. The film, which stars Xolo Maridueña as the titular hero, will be DC's first starring a Latine hero. It's also been a long time coming: test footage of a Blue Beetle TV show that never materialized was shown at SDCC way back in 2010, and countless Blue Beetle projects and rumors have been floated ever since.
I adore Blue Beetle — all three of them — so I've been eagerly awaiting this movie for years, and crossing my fingers that it lives up to all my hopes and dreams. But if you aren't a diehard Blue Beetle fan (yet!), here's a primer to get you up to speed on the character, the movie, and the comics.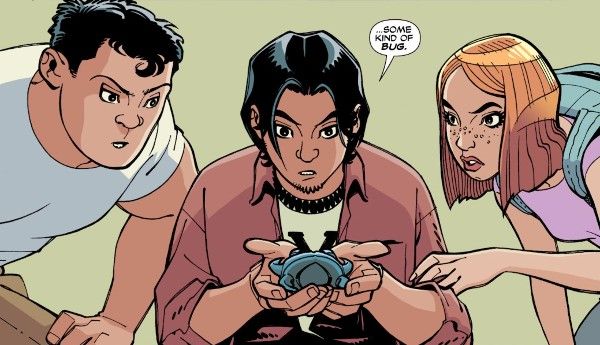 Who Is Blue Beetle?
Jaime Reyes, the protagonist of the film, is actually the third Blue Beetle.
The first was Dan Garret (later spelled Garrett), who debuted in 1939 and was a cop who used various gadgets and a mysterious "Vitamin 2X" to fight crime. In the '60s, he was revamped as an archaeologist who gained superpowers when he found a magical scarab on a dig; the powers were triggered when he said the magic words "Khaji Dha!"
This new version didn't exactly take, and in 1966, Dan was killed off and replaced by Ted Kord, a genius inventor with no superpowers but an ample supply of quips. Ted became a fan favorite as a member of the beloved Justice League International in the 1980s, though he remained essentially a C-list hero. He was killed off in 2005.
Jaime Reyes was introduced almost immediately after, in 2006, when he discovered Dan Garrett's long-lost scarab and it promptly fused itself to his spine. It was revealed that the scarab was not magic, but alien technology sent by a species called the Reach as part of their plan to conquer the Earth. Jaime, being the world's best boy, instead befriended the scarab — which turned out to be named Khaji Dha — and turned it to the side of good, thwarting the Reach.
The scarab can turn itself into shapeshifting armor that allows Jaime to fly, breathe in space, manifest all kinds of different weapons, see various spectrums humans can't access, and more.
Jaime himself is a sweet and earnest kid who basically immediately told his family and best friends that he was Blue Beetle because he was raised to value honesty and functional relationships. (Take note, every other superhero ever.) He is funny and charming, a bit of a science geek, and often tries to settle conflict with friendly overtures rather than fighting. I adore him.
Jaime recently graduated from high school and is figuring out his next steps. Ted, who isn't dead anymore because comics, is one of his mentors and is also going by Blue Beetle these days.
Though Jaime's comics have struggled sales-wise, he's been very popular in animation, with significant supporting roles in Batman: The Brave and the Bold, Justice League Action, and Young Justice.
What's The Movie About?
The movie will focus on Jaime (Maridueña) getting the scarab (Becky G) and learning to be a superhero. Jaime's a recent college grad, rather than the teenager he is in the comics. His family and friends are also slightly different: in the comics, his core supporting cast includes his best friends, Paco and Brenda, whereas the film adds a few extended family members (including an uncle played by George Lopez, so expect him to get all the best jokes), and Paco and Brenda seem to be AWOL.
Though I'll miss Paco and Brenda, the fact that the trailer is full of funny scenes where Jaime's family clearly knows he's Blue Beetle gives me hope. One of the strengths of Jaime's character has always been his close and honest relationship with his inner circle. Warner Brothers can add as many uncles as they want as long as Jaime doesn't gaslight them.
Interestingly, the cast also includes Susan Sarandon as Victoria Kord, a ruthless businesswoman who wants the scarab, and Belissa Escobedo as Jaime's love interest Jenny Kord. Victoria was only introduced into the comics a few months ago as Ted's morally suspect sister; since Ted had previously been an only child for 60 years, this was clearly done to create synergy with the movie. Jenny Kord is a brand new character for the film who has never appeared in the comics; I'm guessing she's Ted's daughter and that Ted is dead, but who knows?
At any rate, the fact that the movie includes two Kords, Ted's iconic vehicle the Bug (glimpsed in the trailer), and the minor Ted villain Carapax the Indestructible Man tells me that Jaime's predecessor's legacy is going to loom large over Jaime's adventures. Also: Carapax the Indestructible Man. Yes please to all comics goofiness translated faithfully to the screen!
Where to Start with Blue Beetle Comics
If you want to check out some of Jaime's comics adventures before or after seeing the movie, I have a couple of recommendations for you: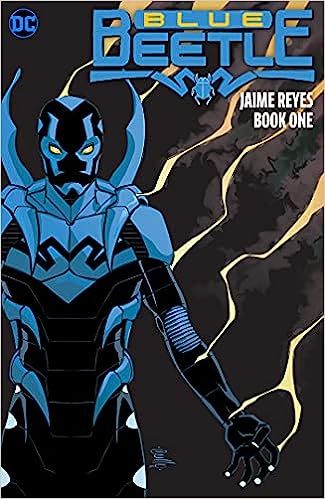 DC has recently been reissuing Jaime's original series in collected editions in preparation for the movie. The first two volumes will get you issues #1-25 of the 36-issue series, which is an absolute steal. This is the series that made me and thousands of other readers fall in love with Jaime's earnest heart and delightful supporting cast. Do yourself a favor and pick these up. (Note: the description of Book 2 is wildly wrong on every retail site except DC's, for some reason. Just make sure you get the one by John Rogers and Rafael Albuquerque.)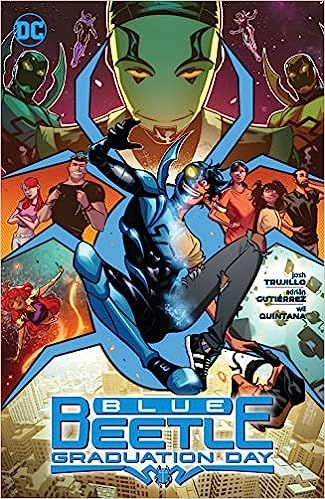 Jaime's recent miniseries was clearly designed to sync up with the movie, with its Palmera City setting and introduction of Victoria Kord. It's a little light on substance, but Jaime is his usual sweet self, and the book queues things up for a new series by the same creative team in September. If you're looking for something close to the film, this is likely your best bet.
---
DC's movies have…not been resounding successes, for the most part, but the trailers for this one look great. I'm crossing all my fingers that the rest of the movie lives up to them, because Jaime deserves it.
Still on the fence? Watch the trailer below!