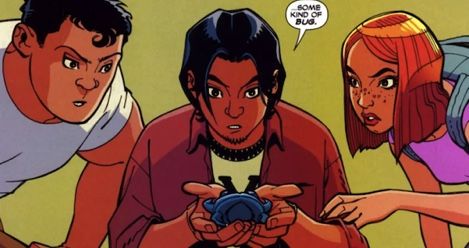 On Saturday, The Wrap reported that DC and Warner Brothers had hired Gareth Dunnet-Alcocer to write the screenplay for a new Blue Beetle movie, featuring the character Jaime Reyes in the title role.
Jaime, a Mexican American teenager from El Paso, is the third character to use the title of Blue Beetle. He gets his powers when a mysterious blue scarab (mystical in some versions of the story, alien in others) attaches itself to his spine and becomes his flying suit of armor/telepathic and slightly homicidal ride-along. Think Iron Man meets Venom, but 16 years old. Jaime is one of the few heroes whose close friends and family know his identity, and his supportive circle of loved ones is one of the most wonderful aspects of his story, as is his staunch moral center and warm heart.
I'm a diehard Blue Beetle fan, so I am cautiously extremely excited about this news. I've been saying for years that Jaime has serious star potential, and has been criminally underutilized by DC when he could be their answer to Kamala Khan or Miles Morales. He's actually done better in animation than comics, with featured roles in Batman: The Brave and the Bold, Young Justice, and Justice League Action.
And Jaime is a timely choice. As I said in the post linked above:
"Moreover, like Kamala, he belongs to a demographic that's being specifically targeted by our current administration. There are important stories to be told—ideally by Mexican-American writers—about what it's like to be Latino in a border state right now. More generally, there are millions of Latino kids and teens in this country who deserve to see a hero who looks like them having fun, exciting, well-written-and-drawn adventures. Escapism shouldn't just be for white kids."
The fact that Dunnet-Alcocer is Mexican is a great sign that WB is being thoughtful about how they're approaching this film, which would be the first superhero movie to headline a Latinx character.
But I did say cautiously excited, and that's because I've been burned before. Here's a quick timeline of Blue Beetle-related multimedia properties that never materialized:
2010: Geoff Johns tweets that a Blue Beetle TV show is in development, then shares test footage at SDCC.
2011: SyFy orders a pilot for a Booster Gold TV show (best friend of Jaime's predecessor Ted Kord, the second Blue Beetle) from Greg Berlanti and Andrew Kreisberg, who would wind up producing Arrow, Flash, etc. instead.
2015: Marvel screenwriter Zak Penn is wooed away from Marvel to write a Blue Beetle (Ted Kord version) and Booster Gold buddy comedy film for DC, to be produced by Berlanti.
2016: The Blue and Gold movie is now a Booster Gold movie, written by Zack Stentz, still with Berlanti.
2018: But what Berlanti really wants to do is direct. AND TORTURE ME, APPARENTLY.
Still, hope springs eternal. In a perfect world, both the Blue and Gold films would materialize, but for now I'm willing to put my hopes and dreams behind this Jaime project—and like I said, I think it's the one the world needs the most right now. Don't let me down, DC!