Summer is here and with it comes a real, serious yearning in me for some heady, detail-soaked summer poems.
Summer itself is hectic, a frenetic series of events and experiences that are scrunched into three short months; affecting our lust-and-heatwave-skewed brains. That is part of why the concept of easy beach reads are so common, not as challenging to focus on when you are feeling a bit droopy like an unwatered plant! Another option is to spice up your summer reading with poetry as it's short, immersive and can definitely set a mood. These summer poems gorgeously capture the season's sweltering days and adventurous nights. The mix of classic poems, beat poetry, slam poetry and Instagram poetry are ones that firmly fix me into the summer mood.
1. "BLEEKER STREET, SUMMER" BY DEREK WALCOTT
Excerpt:
Summer for prose and lemons, for nakedness and languor,
for the eternal idleness of the imagined return,
for rare flutes and bare feet, and the August bedroom
of tangled sheets and the Sunday salt, ah violin!
When I press summer dusks together, it is

a month of street accordions and sprinklers
laying the dust, small shadows running from me.
2. "FOREST FIRES" BY SARAH KAY
3. "HEAT" BY H.D.
Excerpt:
O wind, rend open the heat,
cut apart the heat,
rend it to tatters.
Fruit cannot drop
through this thick air–
fruit cannot fall into heat
that presses up and blunts
the points of pears
and rounds the grapes.
4. UNTITLED BY ARTHUR PEREZ JUNIOR
https://www.instagram.com/p/BlnevYRnMJx/?utm_source=ig_web_copy_link
5. "JUNE" BY SABRINA BENAIM
6. AUGUST MORNING, UPPER BROADWAY BY ALICIA OSTRIKER
Excerpt:
As the body of the beloved is a window
through which we behold the blackness and vastness of space
pulsing with stars, and as the man
on the corner with his fruit stand is a window,
and the cherries, blackberries, raspberries
avocados and carrots are a rose window
like the one in Chartres, yes, or the one in Paris
7. UNTITLED BY CAROLINE KAUFMAN
8. "ODE TO KOOL-AID" BY MARCUS JACKSON
Excerpt:
You turn the kitchen
tap's metallic stream
into tropical drink,
extra sugar whirlpooling
to the pitcher-bottom
like gypsum sand.
Purplesaurus Rex, Roarin'
Rock-A-Dile Red, Ice Blue
Island Twist, Sharkleberry Fin;
on our tongues, each version
keeps a section, like tiles
on the elemental table.
9. "REAL COMPLEX SHIFTS" BY AMANDA NADELBERG
Excerpt:
Toward summer or its dependence
On demarcations in the sandy vial
Some tree spelling astronaut onto a
Planet's arm, it stopped making sense.
I am not an apothecary or a wave
Or a dog by the 15th hole, I am not
A light sparking a whole country's demise.
10. "SUMMER AFTERNOON" BY SABA
11. "MY LOVE FOR NATURE" BY FATIMAH ASGHAR
Excerpt:
All this tall grass has ruined my gold
acrylic nails & I know something's dead
just beyond my window. I grew up
with rats running my floorboards
& know the smell straining from a body
once caught in a trap. In the city
what little I have of an ass
is always out, a simple wind blow
from Marilyn Monroe-ing the street.
12. "THE PERFECT DATE" BY NAYYIRAH WAHEED
https://www.instagram.com/p/BlLYTbIBXsX/?utm_source=ig_web_copy_link
13. "PORTRAIT NUMBER FIVE: AGAINST A NEW YORK SUMMER BY JACK GILBERT
Excerpt:
I'd walk her home after work
buying roses and talking of Bechsteins.
She was full of soul.
Her small room was gorged with heat
and there were no windows.
She'd take off everything
but her pants
and take the pins from her hair
throwing them on the floor
with a great noise.
14. "IN THE MOUNTAINS ON A SUMMER DAY" BY LI PO
Gently I stir a white feather fan,
With open shirt sitting in a green wood.
I take off my cap and hang it on a jutting stone;
A wind from the pine-trees trickles on my bare head.
15. "PHOTO OF A GIRL ON A BEACH" BY CARMEN GIMÉNEZ SMITH
Excerpt:
Once when I was harmless
and didn't know any better,
a mirror to the front of me
and an ocean behind,
I lay wedged in the middle of daylight,
paper-doll thin, dreaming,
then I vanished. I gave the day a fingerprint,
then forgot.
16. "JESSE IS BACK THIS SUMMER" BY ALBERT GOLDBARTH
Excerpt:
Jesse Is Back This Summer,
planting windbreak trees
on his parent's Kansas farm.
He's tired, of course, but confident
he's busy doing the right thing.
17. "MORE THAN ENOUGH" BY MARGE PIERCY
Excerpt:
The first lily of June opens its red mouth.
All over the sand road where we walk
multiflora rose climbs trees cascading
white or pink blossoms, simple, intense
the scene drifting like colored mist.
18. "SUMMER SONG" BY WILLIAM CARLOS WILLIAMS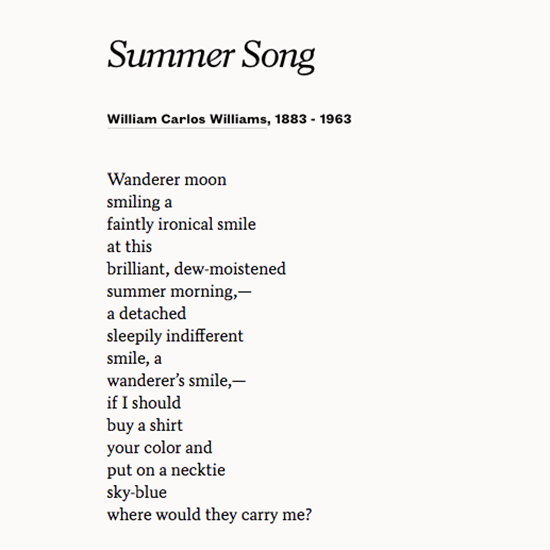 19. "BLACKBERRY-PICKING" BY SEAMUS HEANEY
Do you have favorite summer poems? Or, do you save yours to read in the winter in an effort to stave off grey days? Let me know in the comments if you have different summer poems that you prefer, or check out this list of ocean-based poems.